One touching tale. In the local paper, the Yap Networker, I saw a front page story about a Yapese man aged 42 having been killed in Iraq, his name was Steven G. Bayow. Yapese can join the US army, as Micronesia has a loose association with the US. And our last morning we were having breakfast on this floating wooden Indonesian bark that's the restaurant of the Manta Bay Inn, and there were some US soldiers there. Embry said Hi to one of them, and found out they were there from Guam as the honor guard for the fallen Yapese soldier's funeral. It gave me such a turn, to see the winds of global war spinning a little eddy all the way down here to Yap like this. Reminded me of Bruce Sterling's SF novels, with the workings of distant governments filtering into the furthest backwaters, and I had a kind of chill or shock of recognition, thinking that it's actually 2005, and I'm in Yap, and that my life really is science fiction.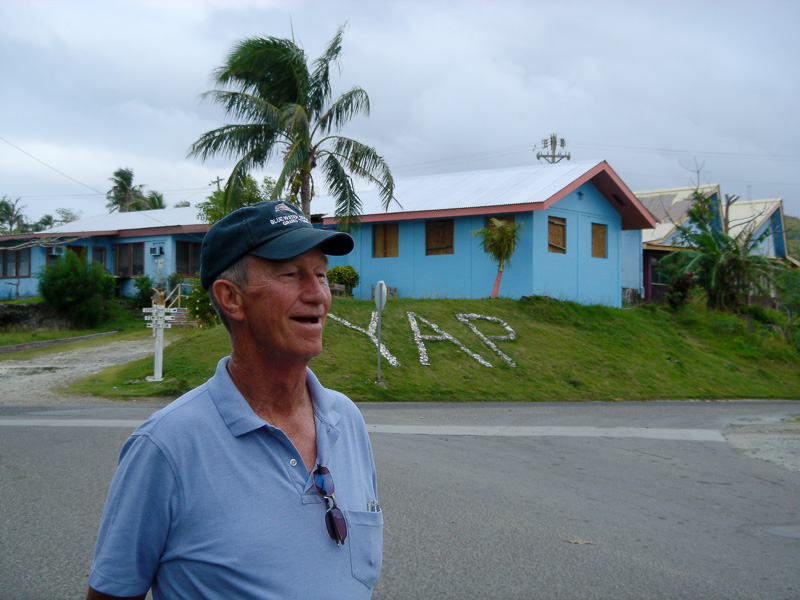 We were staying at the Palauan-owned and Yapese-run Hotel ESA (the monogram of a family name), very clean and cheap and pleasant — initially we'd thought it wasn't quaint enough, but after the Pathways we were glad to get back there. In the afternoon I saw a man walking into the restaurant there carrying a huge fresh tuna, its skin peeled away to reveal its luscious-looking purplish flesh. "Is that going to be on the menu?" I asked, and the man and one of the Yapese women working at ESA just kind of waved me off, like "This is for something else."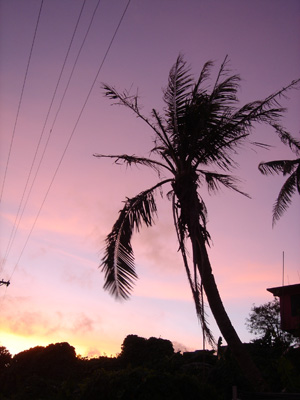 And that night as Embry went out to dinner we passed the ESA restaurant, and inside was a long table with the soldiers and some Yapese, two of them near the head, a woman and a man, the man who'd been carrying the fish. And I realized he was the father of the dead Yapese soldier, Steven Bayow. His expression looked so — gently baffled. Nothing makes sense anymore when your son is killed. My heart went out to him and his wife. I wanted to go in and say, "As an American I wanted to say that I really appreciate and honor the sacrifice that your son has made." I was too shy to say it in person, but now I write this here.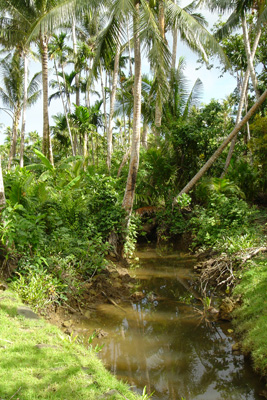 Right before bed I took a last walk down the street near our hotel. One the left was a thin little bay, on the right some shacks, the decaying Pathways hotel compound (7 huts), a store. Then, on both sides some warehouses made out of shipping containers, used for building materials. The stars overhead, brilliant among the scudding clouds, the air moist and palpable. I heard a radio voice coming from a parked car, someone listening to a preacher, who was working to stir up the fear of death in his flock. "Think of Bobby Kennedy and Martin Luther King gunned down in their prime, think of coronary heart attacks, think of cancer, of plague, of terrorism, of death in car accidents, etc." So odd to here this demented negatory ranting in Eden. The voice of the Serpent. Resist him, oh dear Yap!