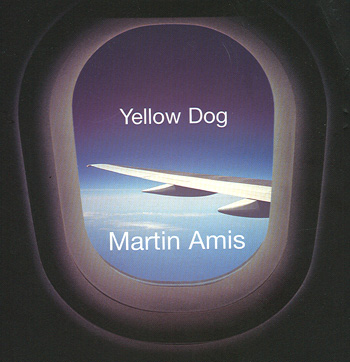 I just read Martin Amis's 2003 novel, Yellow Dog in a 2005 Vintage pb edition. Some people say that everything slimy and vile about American culture stems from our pasty-faced British heritage. All on glorious display here.
This said, I loved the book and I was sorry when it was done. Such fun with the language. And such outrageous stuff, as good as the old Zap comix. I'll list a few quotes that caught my eye.
"…women naturally like to prolong routine departures. It is the obverse of their fondness for keeping people waiting." p. 4
"In the west a garish, indeed a porno sunset had established itself. It resembled a titanic firefighting operation, with ethereal engines, cranes, ladders, the spray and foam of hose and standpipe, and the genies of the firemen about their massive work of hell-containment, hell-control." p. 12
As a maturing writer, I notice a tendency to censor myself, to make my work more palatable. Amis has a character attack such authorial softening.
"You mean you toady to the reader. Well, there is a feeling of ingratiation. A kind of pan-inoffensiveness. And you seem to subscribe to various polite fictions about men and women. In my view. As if all enmity is over and we both now drink the milk of concord." p. 234
"As he climbed from the car a boobjob of a raindrop gutflopped on his baldspot." p. 287
What a guy.
When I was in high-school, I really loved Lucky Jim by Martin's father Kingsley. Over the years, Kingsley's stuff weakened, his later books seem almost like attempts to justify authorial pig-headedness. Martin, on the other hand, seems to be improving as he goes on, and his characters' nastiness remains, most of the time, external to his writing voice, which is increasingly humane.
His memoir about, among other things, his father Kingsley, Experience, is really good too.