Transreal Trilogy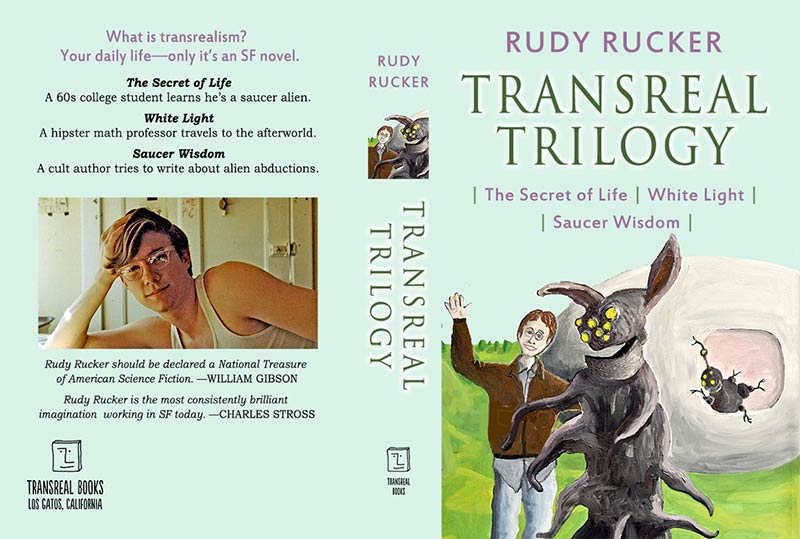 by Rudy Rucker
Hardback and ebook from Transreal Books
Paperback is out of print.
641 pages. 59 illustrations.
Buy hardback or ebook editions of Transreal Trilogy.
Transrealism is about transmuting your ordinary life into SF. Rucker's three most transreal novels will be found in Transreal Trilogy, arranged in the order of the events they describe—as if in a transrealized myth of the writer's life.
* The Secret of Life: A 60s college student learns he's a saucer alien.
* White Light: A hipster math professor travels to the afterworld.
* Saucer Wisdom: A troubled author's tries to write about alien abductions. (With 57 line-drawing illos by me.)
Some of the material in these novels also appeared in Rucker's autobiographical novel, All The Visions, newly reissued as well.
Preface to Transreal Trilogy, describing the origins of transrealism and the three novels.
Book page for Saucer Wisdom.
Podcasts of the author's talks and readings.
White Light
In White Light Rucker commandingly synthesizes mysticism, pop imagery, the great mathematicians and their ideas, 'head culture,' and even voodoo into a novel that takes us on a wild journey to infinity, to the Absolute, and back again. As for sheer writing, there's probably no one like him. — John Shirley, author of the Eclipse trilogy.
White Light is a marvelously inventive and lunatically logical story, where not only is the scaling of infinity a mad, convincing adventure, but where ordinary human happiness matters too movingly. — Ian Watson in Vector.
The Secret of Life
Rucker is an artist well worth discovering, reading, and keeping up with. The Secret of Life sparkles with deadpan wit and a natural storyteller's flair, blending mathematical speculation, such concepts as Hilbert space, rock'n'roll, drugs, and sex with imaginative ideas worthy of H.G.Wells. — Washington Post Book World.
Saucer Wisdom
Saucer Wisdom is, first and foremost, a wild and exhilarating ride through the next 2,000 years of human history, throwing up enough bizarre concepts to sustain two or three careers of SF writing. What saves the book from overload is Rucker's characteristically snappy, wisecracking style. A pop-science novel like no other. — Locus.
Rucker's sensibility is a combination of gonzo humor, fictionalized autobiography in the Kerouac mode (what Rucker calls "transrealism"), and the sheer, bugs-in-your-teeth thrill of scientific extrapolation taken to blitz-punk extremes. — Mark Dery in Salon.
Email Rudy Rucker if you're interested in doing a review or an online interview about Transreal Trilogy for your newspaper, magazine, zine or blog.