The Secret of Life, by Rudy Rucker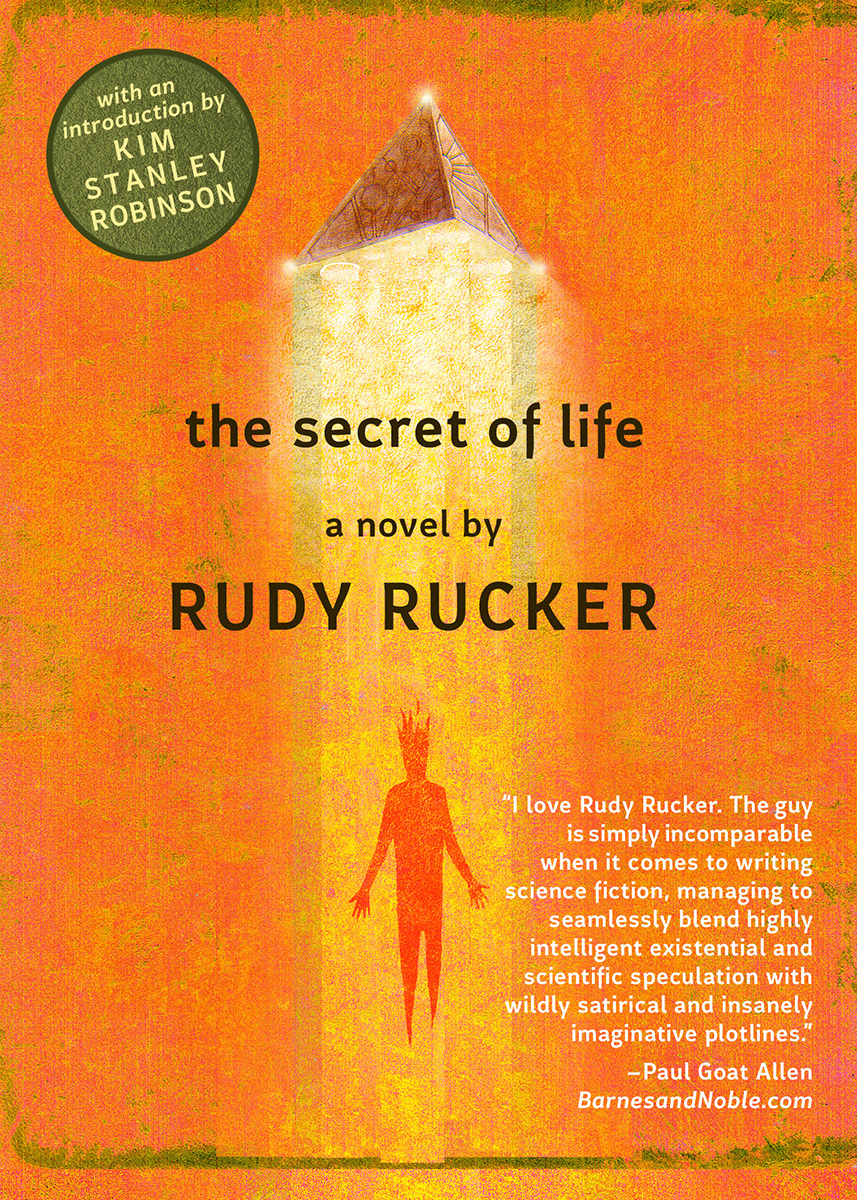 The Secret of Life
Paperback: Night Shade Books, November, 2019, 4th Edtion, with introduction by Kim Stanley Robinson.
Ebook: Transreal Books, 2016, 3rd Edition.
288 pages. Paperback ISBN: 978-1-94910-202-4

Paperback: Amazon or Barnes & Noble
Ebook: Amazon or Barnes & Noble or Transreal Books.
See Rucker's other nine Night Shade books.
Summary
A 60s college student learns he's a saucer alien. As if he hadn't suspected it all along. As Conrad Bunger faces his true nature, he takes on a series of awesome powers. He can change his face, shrink to the size of a thumb, fly around the Eiffel tower—and hand out joints to everyone at his college's annual student assembly. And this is important because government snipers are out to kill him. Why did youth rebel in the 60s? This transreal book will help you understand how it happened, and what the underlying feelings were.
Transrealism is about transmuting your ordinary life into SF. The Secret of Life is one of Rucker's first transreal novels. A different slant on the material in Secret of Life appeared in Rucker's Kerouac-scroll-style autobiographical novel, All The Visions.
You can browse an online version of The Secret of Life here.
Reviews
Rucker is an artist well worth discovering, reading, and keeping up with. The Secret of Life sparkles with deadpan wit and a natural storyteller's flair, blending mathematical speculation, such concepts as Hilbert space, rock'n'roll, drugs, and sex with imaginative ideas worthy of H.G.Wells. — Washington Post Book World.
From the Author
My work towards The Secret of Life began with a Kerouac-style memoir-novel called All the Visions—which depicts my alter-ego Conrad Bunger's life up until the point when I typed out the Visions. To fully mimic Kerouac, I wrote All the Visions on a single long roll of paper. I rigged up the roll on a length of broomstick propped up behind my good old rose-red IBM Selectric typewriter. The typed scroll was about eighty feet long when I was done. The resulting book appeared from a small press, Ocean View Books, and All the Visions remains in print from Transreal Books. But it was far from being a best-seller like On the Road!
No matter. The earlier project served as source material for my transreal SF novel, The Secret of Life. This book is what they used to call a bildungsroman, that is, a novel of a young person's education. Secret is set during my high-school and college years—during which the photo on the back cover of this omnibus was taken. Having my character learn that he's a UFO alien is a nice objective correlative for the classic teenage sense that you couldn't possibly be the child of the "parents" you're living with.
I spent nearly a year working on The Secret of Life. It felt important to me, as if I were deciphering the patterns of my past. While writing it, I was rereading the existentialist Jean-Paul Sartre's memoir/novel Nausea, which happened to be a high-school favorite of mine. And I found four apt quotes from Nausea to use as the epigraphs for the four parts of The Secret of Life. As usual, I was, as usual, hoping this new novel might break me out of the SF ghetto and into the sunlit world of mainstream lit.