Chapter Eleven: Notes On Transhumanity
On the morning of Sunday, June 15, 1997, we rose early and headed straight up through the pine woods towards the Devil's Tower. We didn't bother taking a trail, just headed though the woods cross-country. I thought again of the conclusion of Close Encounters Of The Third Kind—of how the hero makes a bee-line for the tower, sure that he'll find a great alien revelation.
By ten in the morning we'd come to the Tower Trail that encircles the base of the tower. Happily we walked it, marveling at the great, bundled columns of stone. We circled the tower once, twice, three times, talking all the while. By then too many tourists had started to arrive, so Frank and I left the trail to spend the rest of the afternoon in a little clearing near the base of the tower's north side, sitting there picnicking and talking.
One aspect of the transhumanity notes which most readers will find completely unbelievable is Frank's insistence that people will still be reading our Saucer Wisdom in the year 4004. It would be nice! In reality, Frank had a fairly transparent motivation for adding this embellishment to his tale. He wanted me to believe that our book was going to make a lot of money, so that I'd be willing to give him a few thousand dollars as an advance on his twenty percent of the book's supposed future earnings. I declined to do so, pointing out that I'd just paid for the plane trip to South Dakota, and that I had a lot of writing and marketing work still ahead of me, with no guaranteed pay-off yet in sight.
As well as going over the transhumanity notes and asking me for money, Frank discussed various little corrections to my existing manuscript of Saucer Wisdom: the notes on future communication, on aliens, and on future biotechnology. To my relief, he didn't get into arguing with anything I'd written about my encounters with him.
Editing The Body
Helene finally gets sick for a day. I'm alone in the Black Hills High IRC. I fumble the attractor together, the saucer comes. It's three humans from the future! Goola, Perl and Balaam.
I want to go back to 1994 to prevent the breakin, I want to keep Mary. They won't help me. "You have to finish Saucer Wisdom."
They want to tell me about transhumanity. Editing, copying, and transcending the body.
Aug dogs at the juice bar in Rapid. Fingers around a girl's neck. Tails, a shoulder rose that looks like a nudibranch egg ribbon. A Russian sleaze-ball puts a deer-antler bud in a girl's head, she gets old and dies.
A Black farmer with two extra hands, they run along on their fingers next to him. His wife watches him with a Von Dutch eyeball. Back in the house, she's in a tub of amniotic fluid getting rejuvenated.
Their son Rize has turned himself into a merman. Phone up and meet his fiancée. It's lonely to grow old.
The Human Saucerians
After Steffi and the rope-aliens drop Frank at Mount Rushmore—the exact date turns out to be June 27, 1996—he makes several efforts to phone up Mary. It take almost a week to track her down, and meanwhile he's living in a cheap motel near Rapid City, paying his bills with a shit-job as the night janitor at a McDonald's.
When Frank finally talks to Mary, he finds out that she's remarried. She doesn't want to get back together with Frank at all. The only good thing is that Mary set aside Frank's share of the money from their joint savings and from the yard sale of their things. She mails Frank a check and he lives a little more comfortably for a few months. He's scared the police are still looking for him in California. He can't think of any particular reason to go anyplace just now, so he stays in Rapid. Autumn is beautiful in South Dakota.
When the winter comes on, Frank gets a job at the Instructional Resources Center at Black Hills High School, just north of Rapid. His boss at the IRC is a skinny woman named Helene Lundy. She has lank colorless hair, and her mouth becomes a disapproving 'o' whenever sex is mentioned in her presence, which is not very often. Her pale skin is pink around the nostrils from a perpetual case of the sniffles.
One of Frank's reasons for taking the IRC job is that he hopes to use their equipment to contact the aliens. He's in a state of denial over losing Mary; he feels that if he can just get back in touch with the aliens, his familiar old life will somehow start up again.
But Helene Lundy is always there in the equipment room, day in and day out, keeping a strict eye on everything, softly blowing her nose into wadded little tissues. Finally on Wednesday, April 9, 1997, Helene fails to report for work. This is Frank's big chance.
He locks up the IRC for lunch hour and stays inside. The voices and footsteps of the students echo through the long waxy high-school halls, a tender nostalgic sound that makes Frank ache for his past. Frank makes sure the blinds on all the windows are pulled down, and then he arranges three cameras and TV monitors. The equipment is unfamiliar and Frank's hands are trembling. It takes him much longer than usual to tune in the right kind of pattern, but finally he gets the proper tangle of bright, smeared blobs and lines.
A saucer moves out of the TV screens and envelops Frank. He groans with joy. Unlike the other times, the masters of this saucer rotate themselves into Frank's field of view without even being asked. To Frank's great surprise, they're humans, or rather transhumans: our descendants from the fifth millennium.
There are three of them, a man, a woman, and an androgyne. In physical form they're very handsome, almost god-like. The woman, named Goola, is dark-skinned and has flowing blonde hair. The man is Perl; he is an Apollo with strong, green teeth. The third is Balaam, a winsome plump figure with a sweet round face and an acid tongue.
"How now, Frank Shook," says plump, fey, butch Balaam, seamlessly translating her/is words into an odd, campy dialect. "You look to be even more of a schnauzer than I expected. We're here because of your little book. 'Tis our fate to make the prophecies come true. 'Mektoub,' as the Arabs say. 'It is written.' A cliché, but so is life. I just flew in from California, and boy are my wings tired."
Rather than responding to any of this, Frank immediately hollers out his big request. He's been rehearsing it to himself for the past eight months. "Take me back to 11 PM, June 30, 1994! Rudy Rucker's house in Los Perros! If I get there in time, I can stop myself from breaking in! And then I won't have to run off to South Dakota and lose two years. I'll start up my old life with Mary."
"Assume we were willing to help you," says the inhumanly handsome Perl, who speaks like a British actor impersonating a scientist. "If we helped you change your past, then you wouldn't be here now. And if you weren't here now, then we certainly wouldn't be helping you. And in that case your past wouldn't change and you would be here now. So if we're willing to help you, then you're here if and only if you're not here. A contradiction. The universe doesn't allow contradictions. Therefore the initial assumption is false. Meaning that we're not going to help you. Q.E.D. The a priori is very powerful." Perl's green teeth flash in a satisfied smile.
"How's the universe going to know if there's a contradiction?" protests Frank. "Maybe it's not paying attention."
"The cosmos is God's bod," says dark-skinned Goola, tossing her long blonde hair. Her mode of discourse is hipster/ecstatic. "All space and all time. Each moment is tweaked to make the greatest harmony across the spacetime dimensions. Reality is like the smooth plastic wrapper around a basket filled with gnarly fruits. Like a silk sheet over a bed filled with phantom lovers. Like the final telling of a perfect tale."
"But—what happens if you try and force a contradiction?" insists Frank.
"Nothing," says Balaam a little impatiently, "Because, my dear, no can do. What's written is the holy writ. We're going to fill your little brain up with transhumanity and then you're going to finish the notes for Saucer Wisdom."
"You've read it?" exclaims Frank.
"Oh yes," says Perl, warming up. "It's quite the classic, on a par with Plato's Dialogues. I'm dead chuffed to meet you. It's like meeting Socrates."
"Yeah?" says Frank. "Yeah? Well what if I decide to cause a contradiction by changing my book's name, huh? Teach you a lesson. I'll call it Frank Shook's Alien Visions Of The Coming Millennia."
"What a tacky, tacky name," titters Balaam, leaning his/her head on Perl's shoulder. "Rudy Rucker has far better taste than that." S/he smirks and shrugs. "You can't change the future any more than you can change the past, Frank Shook. People don't do the opposite of what they know they're going to do."
"What about this," presses Frank, still trying to find a way back to his past. "What if you take me back to June 30, 1994—and then I branch into a different universe! That way there wouldn't have to be a contradiction. Oh, please take me back. I can be with Mary in an alternate world."
"There's only one universe," says Perl. "If time branched, then nothing would matter. Everything would always happen irregardless. Instead of a single, wonderfully thought-out line, time would be a stupid pudding of anyhow outcomes."
"But I saw alternate futures when I was previewing my meeting with Rudy at the Jahva house," protests Frank. "Weren't those real?"
"Those were virtual futures," says Perl, idly fondling Balaam. "Mental constructs like dreams. But only one of those futures actually happened. If everything happened, no work would be accomplished by our living out this particular cosmos. There wouldn't be any reason for us to exist."
"I don't understand," says Frank.
"The world is a cosmic work of art," says Goola, running her hands over her body. "Like a sculpture from a block of marble. If all the worlds existed, you'd just have the virgin block—the same as if no worlds existed. Everything and Nothing are easy; it's what's in between that's hard. There's only one big aha, and we're it."
Frank still doesn't understand, but he knows that he's smitten by Goola. He reaches out towards her and— "Let's be on our merry fairy way," interrupts Balaam. "We'll give Frank an inspirational looky-look at the highlights of transhumanity, drop him back to gross-out Helene Lundy, and then we're for the galactic beyond!"
The saucer rises up out of Black Hills High School, up into the gusty, wet April sky. A thaw is on; melting snow is everywhere. To the south lies Rapid City and the Black Hills, their dark pines emerging from the winter's frosting. In the other directions the soggy prairie rolls as far as the eye can see, patches of Easter-green grass peeking through the grayish old snow. The saucer darts towards Rapid's meager sprawl.
"What's transhumanity?" asks Frank.
"Editing the body, copying the body, transcending the body," says Perl, extending a perfect finger for each one. "We're going to show you all about it so that you can write it up. And then people will know the way."
"I'll be your guide to body editing," says Balaam. "It's done me a world of good."
"And I, as the scion of a long line of clones, will show you how body copying is done," says Perl.
"Transcendence is my thing," says Goola promisingly. "So I'll be dessert."
"He looks confused," says Balaam. "Let me make it country simple. Transhumanity means being like us! We never get sick, for instance. What's that like, anyway, Frank? It must be so pukeful to sneeze uncontrollably. A whole chain of them? Does that ever happen to you?"
"Sure," says Frank. "There's a tingling in your nose and then kind of an explosion. It's really bad for you to try and hold in a sneeze. I did that once when I was bending over, and it threw a crick into my back that lasted six weeks."
"You poor man," says Goola. "I think you're so brave." She keeps smiling at Frank, and he's trying not to stare at her too hard.
"Find our first stop, Balaam," says Perl.
"I'm scanning now," says Balaam, her/is playful eyes glazing over. "I'm looking for the local aug dogs. Yes, by the late 23rd century they'll be here in Rapid too. We'll just scan ahead and—ooh, this scanning through time is a gas, isn't it Goola?"
Goola bends over as if too see better, which places her inviting ass right in Frank's face. Frank can feel the warmth of Goola's body, can smell the scent of her skin.
Beyond Goola, the view from the saucer is gray and indistinct, but now Balaam makes an abrupt turn and things snap into focus. Outside it's a Rapid City summer's eve, 2297.
"Now we channel the scene at the High Plains Smoothie stand," says Balaam. "I'll interpret the people's speech into Frank's kind of English. What with me being such the thespian."
The saucer shrinks, grows transparent, draws closer to the juice stand.
Aug Dogs
As a building, High Plains Smoothie is a biotechnological marvel. Its exterior is a twenty-foot high transparent dome, organically grown. Frank and the saucerians fly in through one of the dome's high, arched doorways. Within the dome, seven tough-looking tree trunks rise up to form an umbrella of linked leafy branches.
The room is filled with teenagers, in some ways not so different from the kids Frank's used to seeing at Black Hills High. They're clothed in tank-grown leathers and intricately patterned loom-plant cloths, with belts and vests of flickering piezoplastic. What really sets these 23rd century youths apart is their extensive body augmentations.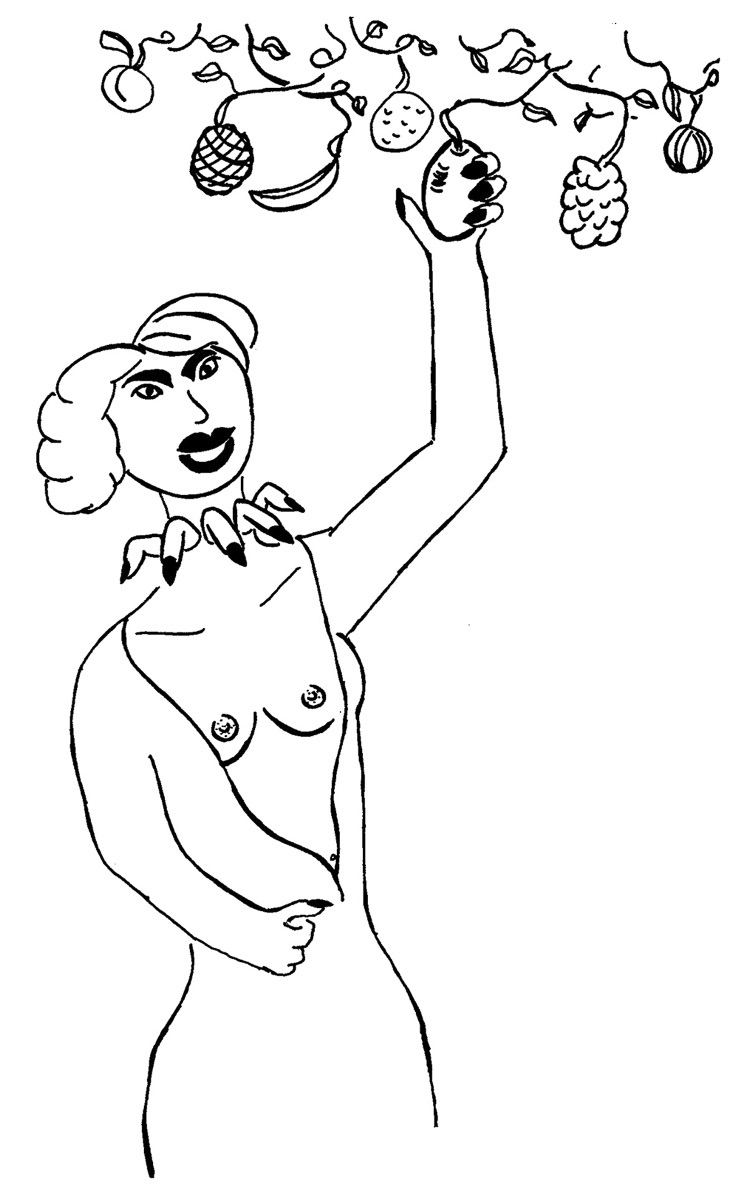 Figure 51: Durleen's Neck Fingers
"They're 'aug dogs,'" explains Goola, her breath hot against Frank's cheek. "A slang expression, you wave. This is the Rapid aug dog hang-out."
Fruits of all kinds hang up in the branches: strawberries, guavas, peaches, bananas, pineapples, oranges, raspberries, kiwis and more. Each fruit is about the same size; that is, the raspberries are relatively large, while the pineapples are accordingly small.
One girl is evidently the stand's manager. Though she mingles with the customers; she stands apart because she wears a starched white jacket, left open so as to show her breasts. The others call her Durleen. She wears a necklace of—fingers.
Upon closer inspection, Frank sees that it's not actually a necklace, it's a permanent body modification. There are thirteen fingers growing out of the base of Durleen's neck, arranged like spikes in a dog-collar, all pointing out, each finger with its own meticulously painted fingernail.
The fingers curl and gesture as Durleen animatedly talks with a boy named Stig, a pale blond fellow who looks quite normal until Frank notices that he's leaning back on what would seem to be thin air. When the saucer circles around behind the boy, Frank sees that Stig has a great, thick lizard tail growing out through a hole in the back of his scaly leather jeans.
"My Jena's gonna plant an antler bud by one of her ears tonight!" Durleen is telling Stig.
"For true?" says Stig. "Me, I'd roar some pig-tusks." He touches his jaw. "Snarfy!"
"Wouldn't match your tail, Stig," says a boy named Junit. Junit's skin has a shiny, liverish sheen and is dappled with changeable spots. "I say always aug to one plan." There are suckers on the backs of Junit's hands, and his silky sea-green shirt's openings show scattered little tentacles on his hairless chest.
"Oh don't be so desult," says the girl named Jena. She's small and blonde, with round gray eyes. "Random has rhythm." She has a flesh-colored rose attached to one shoulder, an extra tongue in the hollow of her neck, a pair of long lobster-like feelers growing out of the left side of her head, a stout penis dangling from one side of her bare midriff, and what look like insect mandibles on the backs of some her knuckles. She laughs knowingly and gives one of Durleen's neck-fingers a butterfly-kiss.
An older man named Volga asks Durleen for a kiwi juice. He has a heavy Russian accent and seems a bit stoned. Durleen pulls something that looks like a condom out of her coat pocket, then reaches up to stretch the piezoplastic sac over one of the dangling kiwi fruits. The piezoplastic makes quick, savage kneading motions, then drops down from the tree into Durleen's hands. She gives it to Volga, who wetly sucks the pulped juice from the sac. Overhead a small kiwi has already formed at the old one's spot, and is visibly growing to the standard size.
"How do the fruits come back so fast?" wonders Jena.
"Desoxy-gibberlin-5," says Volga. "Is speeding up the biological clock. That's vhat I use for my augs as vell. Are you ready for zat antler now, Jena?"
"Sure," says brave little Jena.
Volga finishes his juice and tosses the empty husk to Durleen. And then he produces a bloody little gobbet of something—the antler-bud.
"From a deer I vas killing last night. Lie yourself down, Jena."
Jena lays her sweet young head down on a couch. Volga produces a protean piezoplastic tool that seems to convert itself into whatever he needs. It starts as a power-nozzle that sprays an anaesthetic mist above Jena's ear, becomes a scalpel that snips away a disk of her skin, and then mutates into a abrasive wheel that grinds a little depression into Jena's bared skull.
Volga sets the antler-bud into place, patches the hole with the disk of Jena's skin, and smoothes on a healing ointment. His hands seem clumsy and shaky; it's painful to watch him work.
"How fast will it grow?" murmurs Jena.
"This is depending on how much gibberlin I use," says Volga, converting his little tool back into a spray-nozzle.
"Use a lot," says Jena. "I can't wait forever."
As Volga is misting in the desoxy-gibberlin-5, his fingers slip and he loses control of the nozzle. A tight plume of gibberlin shoots directly into Jena's nose.
"Hoo boy," says Volga, cutting the thing off. But it's too late. The gibberlin is in Jena's blood-stream and she's aging at an insane rate. The antler shoots out of her head like a tulip in a stop-action nature movie.
Jena dashes around the High Plains Smoothie so fast that the air grows warm, one by one she tears down every single fruits and gobbles them, she's living out weeks and months in just a few minutes. Finally the stuff wears off and she collapses, weak with hunger, her hair and fingernails preternaturally long. The antler curls up over her head like a bonnet. Durleen falls to her knees and cradles Jena in her arms.
"Whew," says Jena, catching her breath. "Chill out, Durleen, I'm perfectly okay. I'm just glad I was wearing my uvvy for all that time. It felt like six months. I did all my homework for the rest of the year. But that could have killed me if I hadn't been in here with all this food. Stupid Volga has to pay for it, not me."
As Stig raises his great lizard tail and moves menacingly towards Volga, the little saucer darts back up into the sky.
Archipelago People
"We'll be able to pick up on not one, not two, but three different transhumanity trips with the Embrey family," says Balaam, his/er eyes rolled partway back into her/is head as s/he studies the incoming megachannel UV scan. These saucerians don't need Frank's help in winnowing through human data. "Archipelago people, rejuvenation, and mermen."
"The highly optimal Balaam," says Perl, admiringly.
"It helps to have read Saucer Wisdom," puts in Goola, just a bit snippily. There's some undercurrents of jealousy in this ménage à trois.
The surroundings go briefly gray, and then the saucer is angling down to a narrow gravel road. It's just after dawn on winter's day. They follow the icy road around a corner, take a driveway into a barnyard of rutted drifts, and catch up with a Black farmer named Otis Embrey. The rising sun gilds the snow with orange and turns the shadows purple. The sky is a crystalline blue. It's a beautiful morning.
Otis has an expressive, thoughtful face—big eyes and a wide mouth with calm thick lips. Vertical smile wrinkles and patchy black stubble on his chin. He's wearing fluorescent orange quilted overalls. Two small dark animals follow him across the barnyard, scampering along in the fresh footsteps he leaves in the crunchy snow. A third little animal flies through the air, circling Otis's head.
The saucer zooms closer, and now Frank can see that the "animals" on the ground are two strong black hands, running along on their fingertips. Each hand ends with a rounded knot of muscle at its wrist. Set into the knots of muscle are small, shiny eyes. As for the thing that's flapping in the air: it's an eyeball with a pair of bat-wings. The three curious little creatures wear uvvy patches of piezoplastic, as does Otis.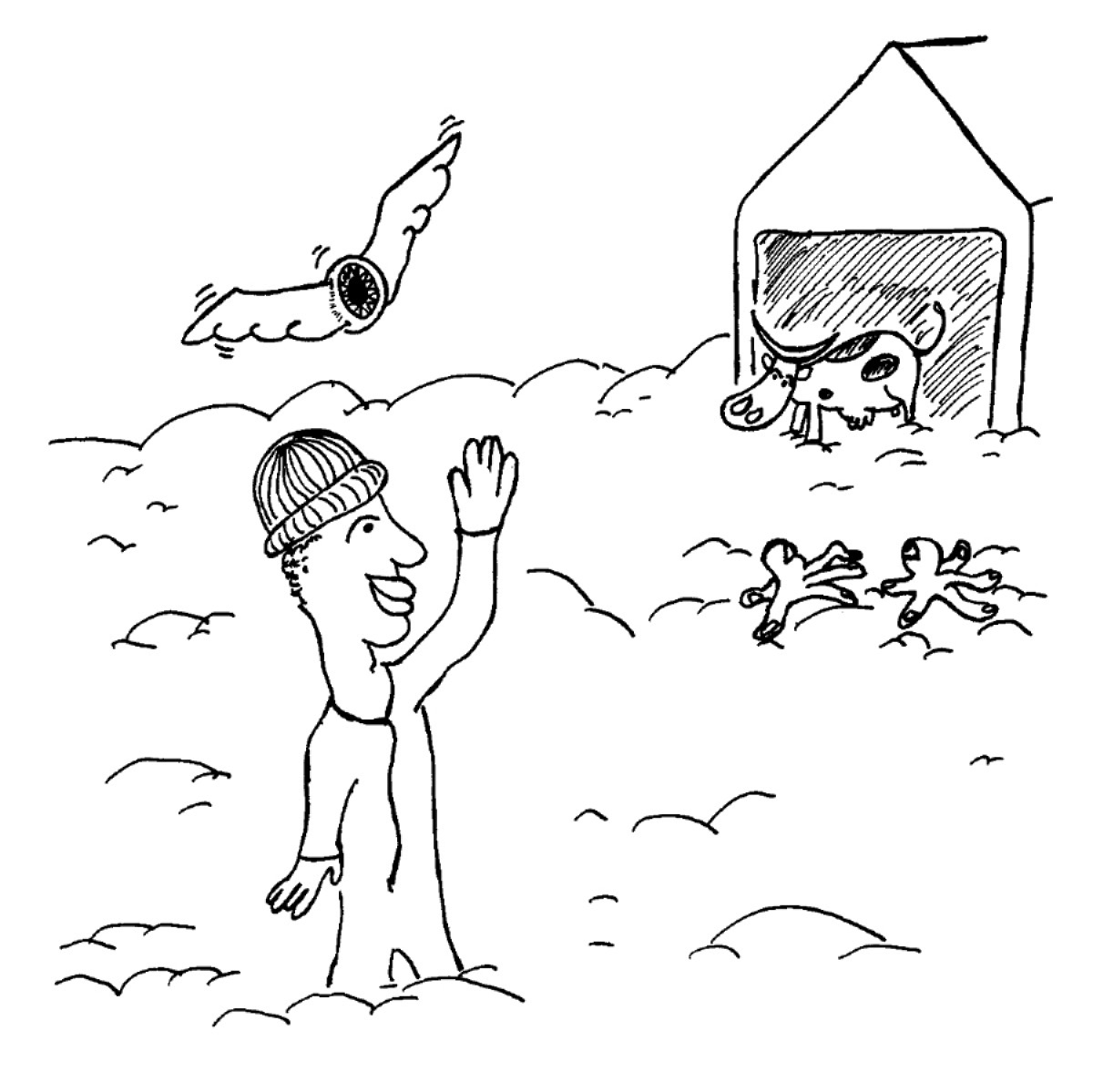 Figure 52: Otis's Extra Hands
"Cow, cow, cow!" calls out Otis, stepping into the barn. "Good mur-ning to you!"
Recognizing Otis's rich, cheerful voice, the cattle in the barn raise their heads and moo. There's six cows and a bull. Otis sets to work filling their mangers. Meanwhile his two extra hands milk the cows. Frank notices that the cows' milk is stored in thermos bottles, each cow's bottle with a different kind of label.
"They're pharmaceutical cows," explains Perl, sensing Frank's unspoken question.
"And what about the flying eyeball?" asks Frank.
"That's from his wife, Camilla," says Goola.
"Let's do a peek-a-boo on her," says Balaam.
The NuYu Do-It-Yourself Fourteen-Day Rejuvenation Bath
The saucer skips a half hour further in time. Otis is in the farmhouse kitchen making himself some toast and scrambled eggs. His extra hands are resting by the sink, rubbing Bag Balm Ointment into themselves. The eyeball perches on the back of a chair, watching Otis.
"Let's listen," says Perl, and they tune in on the uvvy conversation between Otis and the eyeball.
"Only three more days," the eyeball is saying. It has a woman's gentle voice.
"I'll be glad to have you back," Otis answers through his uvvy. "Mighty cold in bed by myself these long winter nights." He sets his plate down on the table and begins eating. "You feelin' okay today, Camilla?"
"I—I guess so. I looked at myself this morning and it scared me. I look like a skinned rabbit. At least my joints and organs are done, and my muscles are back in place. Thank goodness I can't feel anything."
"Me, I sure wouldn't go through all this mess," says Otis.
"But I'll be so healthy and so—beautiful."
"Hope you don't end up too good-lookin' for me," says Otis. "Hope you don't go out and find you a younger man."
"You still look good to me, darling."
"And you looked good to me just the way you was befo'. It's that Rize put this crazy idea in your head. Our son the fish." Otis finishes his eggs and pours himself a fresh cup of coffee.
"I thought maybe we could try and call him today," says the woman's voice. "After you tend to me."
"I'd like that," says Otis. "I miss the boy." He gets to his feet and puts his dishes in the sink. His extra hands set to work washing them.
"Hang on, Mama, 'cause here I come," calls Otis as he starts up the staircase to the second floor. The farmhouse is an old-fashioned human-built structure with creaky wooden steps. The eyeball flutters along in Otis's wake as he heads down the hall and into the bathroom.
The tub is filled with a straw-colored liquid that reminds Frank of automotive transmission fluid. Pale winter light slants in through the window, lighting up the depths of the tub. Submerged there lies the form of a woman, a woman with no skin, a flayed figure of sinew and muscle. The eyeball alights on the shower-rod and sits over the tub.
"Whew," says Otis, averting his gaze. "Sho' hope this works, Camilla. Guess I'll fire up today's instructions."
He accesses a program stored in his uvvy, and a to-do list seems to appear in the air before him. Hooked in as he is, Frank can see it too.
"Day Eleven," reads Otis. "Step One. Replenish amniotic fluid with six liters of lukewarm water and one envelope of NuYu SkinGro."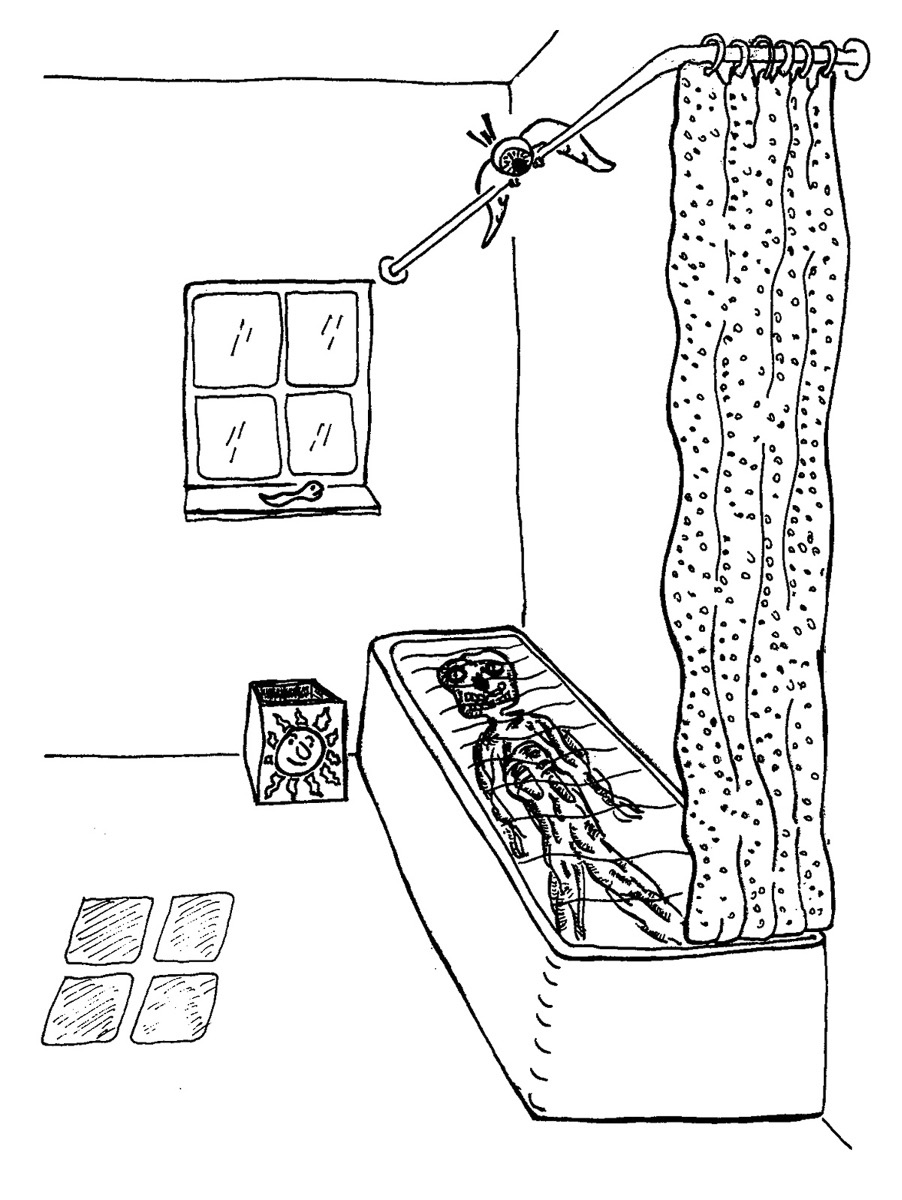 Figure 53: The Tub And The Eyeball
There's a large cardboard box of NuYu supplies sitting on the floor by the tub. The box has a NuYu logo on it, which is a picture of a smiling sun.
"Only white people could of made up something this dumb," mutters Otis as he measures out the water and tears open a wax-paper envelope of powder. The envelope has a NuYu logo on it too. "I hope you still a Black woman when we done with this, Camilla." He sprinkles the powder into the tub.
"Of course I will be," says Camilla. "I specifically ordered light bronze skin. You helped me pick it out. Doesn't it say so on the envelope? Hold it up." The eyeball leans forward to peer. "You see? Says Light Bronze right there."
"Well, it might turn out like when you pick out a can of paint and it never look the same as the sample," grumbles Otis, discarding the empty envelope. "Be just like the Man to try and turn everybody white."
"You're feeling ornery today, aren't you?" says Camilla.
"Yeah, I guess I am," sighs Otis. "Gettin' lonely." He reads again from the floating list. "Step Two. Place the NuYu Aesthetician Sluggie into the amniotic bath." He walks over to the window and picks up a sluggie that's sunning itself on the sill. "You got work today," he tells the sluggie, and drops it into the tub. It writhes and stretches itself before settling onto the bare muscles of Camilla's belly.
"Step Three," reads Otis. "Wait eight hours, remove the NuYu Aesthetician Sluggie from the tub, rinse it off, and place it in a warm, well-lit place." He ventures one more glance into the tub, where the NuYu Aesthetician Sluggie is very busy. Otis shakes his head and turns off the floating list. "We done for now, Camilla. Let's go back down in the kitchen and give that boy Rize a call."
Mermen
Frank and the saucerians follow Otis and Camilla's remote eye back downstairs. Otis starts trying to make an uvvy-call to Rize, but he's not getting through. He goes outside to scrape the snow and ice off his special antenna dish. His extra hands help him; for this intensive task they're wearing leather gloves.
The day is spoiling; the wind has picked up and the sun is behind clouds. Otis finishes with the antenna and hurries back into the kitchen, cozy with a wood fire burning in an old metal stove. Now at last Otis and Camilla make contact. Frank and the saucerians listen in.
Rize is a merman; they see through his eyes. He's looking at a mermaid who swims by his side. Her finned legs are separate, not fused into a fishtail like the traditional mermaid image. Her face is green and pretty. There are gill-slits in her neck.
Rize looks down at his own green body, at his finned legs and webbed hands. His eyes can see remarkably far down into the deep. There are fish below, and a school of small, silvery squid. "Hello, Rize," calls Camilla. "How are you?"
"Fine, Mom. How's your rejuvenation going?"
"Tolerable. I'm tired of thinking about it. Tell me what you've been up to."
"Lots of work, lots of play," says Rize. "Look back there at the development I've been working on." Rize turns his head, and Frank can see scores of glowing round Sea Homes hovering like Christmas ornaments.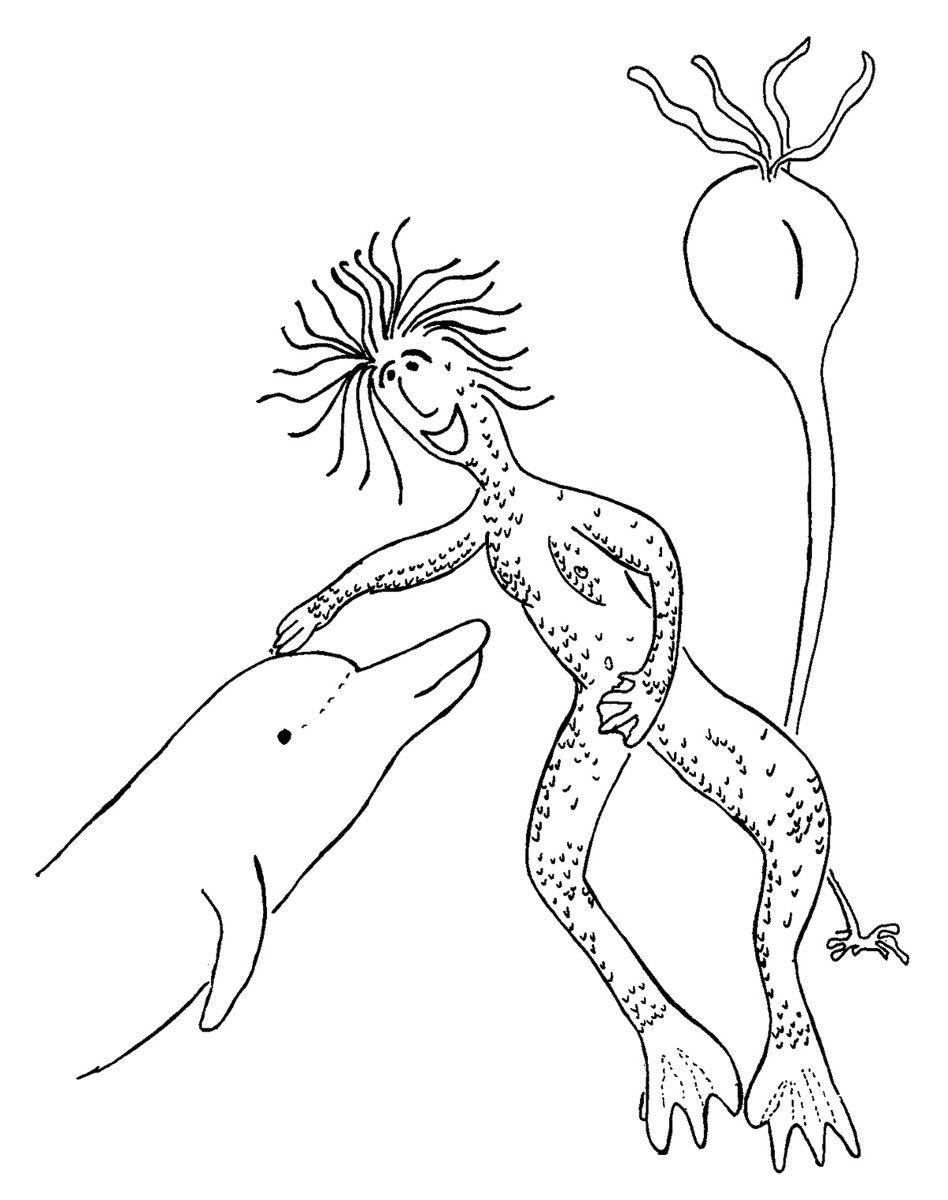 Figure 54: Silla the Mermaid
"I miss you, boy," says Otis. "Who's your friend?"
"This is Silla," says Rize. "We're going to get married next month!"
"Is she Black?" Otis wants to know.
"She's green, Dad," says Rize. "Green like me."
"Hello, Mr. and Mrs. Embrey," says Silla. "It's nice to meet you."
"Are you in construction, too?" asks Camilla.
"I talk to the dolphins," says Silla. She makes a sharp chirping noise and two bottlenose dolphins appear at her side. "They help us find good places to anchor the house-kelp holdfasts."
"You can understand them?" marvels Camilla.
"A little bit," says Silla. "I have part of a dolphin's brain grafted into mine. The hearing lobes. Dolphins can see by sound, you know. And since their faces don't show much expression, they also use their sound patterns to show emotion." Silla opens her mouth and lets out a prolonged twitter. The grinning dolphins nod vigorously to Rize.
"They're saying hello to you, Mom and Dad," says Rize. "They're going to come to our wedding."
"Well, I 'spect we'll be there too," says Otis.
"It's going to be underwater," says Rize. "But I can get you some really nice piezoplastic dive-suits."
"We can hardly wait," says Camilla.
They talk a little more, and then the connection breaks. Otis sits in the winter kitchen talking things over with his wife's remote eyeball. They're happy about the coming wedding and the chance to see their far-away son.
Copying The Body
A sick old man like a medieval painting of "The Death Of The Miser". Mr. Sloane. He doesn't want anyone to know he's dying. They use a life-box to put his mind in a clone. And squeeze juice out of his brain. The clone walks!
I think Goola likes me. I wonder if I have a chance at her. It's been such a long time since I had a woman.
Boba Shekk is a guy like a screenwriter. 26th C. He can't keep up. He gets two ohmies, these are better clones than Mr. Sloane had in the 24th C. Mark and John. Boba programs them by sneezing all over them. John takes Boba's place.
The Ang Ous. Funhouse mirror of the thousand minds. The people's will vs. the kamikaze clones. Turn them into space bugs and shoot them into orbit.
"In another couple of centuries after the Embreys, the human race masters a primitive technology for copying one's body and mind," says Perl. "It's something I'm particularly interested in, so now I'm taking over. Good job, by the way, Balaam."
"Thanks," says Balaam. "You're going to show him Shekk's ohmies?"
"Spot on," says Perl. "But first we'll watch an old-fashioned brain juice extraction."
"Things were so wild and shaggy in ancient times," exclaims Goola. "So whatever. Can you imagine driving an automobile? Oh, I bet Frank's done it! Is it mad and wonderful?"
"Well it takes a steady hand," brags Frank, basking in Goola's warm attention. "I'm considered quite a good driver. I wish you could come for a ride in the van I just bought, Goola. Solid as a rock at eighty-five miles per."
"Oooh," says Goola, her eyes sparkling. "And with the other cars careening by only inches away! Full of drunk drivers? How exhilarating. And all the stage-coaches? Have you ever been ambushed by Native Americans?"
"Just last month some kids outside an Indian gambling casino asked me for five bucks for watching my van," says Wild West Frank. "But it was no big thing. I was ahead seventy bucks from the craps table." Goola is sitting down next to him now, all ears.
"Are you going to be able to find a good brain-juice scene in Rapid City, Perl?" asks Balaam.
Perl quietly tries for a minute, scanning away, then suddenly slaps his forehead. "Right-o, there aren't any here! Don't you remember from Saucer Wisdom? We take Frank back to California for the rest of his tour. Rapid City doesn't have the things we need to show him."
"Hold on there!" cries Frank. "I don't want to have any more missing time!"
"Not to worry," says Perl. "If we bring you back here to Rapid when we're done, it'll all come out roses."
"You won't be missing but a nanosecond, Frankie-pie," adds Balaam. "We're doing you a big favor burning up all those glorks on you. Mektoub, isn't it?"
Sloane's Clone
The saucer makes a curious roaring sound and tears across the Western plains, the sky flickering from day to night to day many hundreds of times a minute. Though Frank's not sure of this, it looks as if the hurtling Sun is sweeping across the skies from West to East. Which seems good, because this ought to mean an accumulation of extra time to make up for the missing time that the trip back to Rapid will produce. Frank starts to ask about this, but Goola forestalls his question with a reassuring pat on the leg.
Below them is Russian Hill in San Francisco. It's a stormy winter night of gusty wind and pouring rain.
The saucer homes in on a great castle-like house grown from fine, rare woods. In a vaulted bedroom lies a frail old man in a great ebony bed. The room is lit by candles; there are thick red velvet curtains and mirrors in golden frames.
Sitting by the dying man's bed is a trim little woman with a tight blonde bun. She wears a gray flannel skirt and jacket. Resting on a delicately lacquered table beside her is a small, glowing red cube.
"Can you hear me, Mr. Sloane?" asks the woman.
"Yyesss, Carol," wheezes the old man. His fingers are picking distractedly at the sheet. Frank recalls having heard somewhere that dying people do this, and that there's even a special word for it, which he can't remember.
Balaam senses Frank's wondering about the word and murmurs it to him. "It's called 'floccilation,' Frankie. Mr. Sloane is floccilating."
The saucer moves around to get a better view of the dying miser. His nose and Adam's apple protrude hugely. His toothless mouth gapes, sucking in air. And attached to the back of his neck is a piezoplastic uvvy.
"We've made a very complete life-box file for you now, Mr. Sloane," says Carol. "It's right here in the S-cube. You can rest easy about passing on."
"I can't see," whispers Mr. Sloane. "The light is too bright."
"I'll put out another candle," says Carol, pinching out a flame that's within reach. "You'll be happy to know that your new body is almost ready."
The old man's eyelids flutter and his mouth twitches. "Not ready yet? Body not ready?" His fingers continue to pluck at the sheets.
"To do it properly we can't grow it any faster," says Carol. "Otherwise there might be anomalies. Even with gibberlin, a top-quality clone still takes a year to grow to adult size. But as soon as it's ready we'll use your life-box file to program you right in. You'll only be—out of circulation—for a short time."
"Don't tuh-tell," murmurs Mr. Sloane, and dies.
Carol leans over him, holds a mirror to his mouth, pulls the sheet over his face. She stands, picks up the glowing red S-cube, and walks next door to a laboratory room that is as futuristic as Mr. Sloane's bedchamber was medieval.
The most prominent feature of the room is a long glass tank in which floats the partially formed figure of a young man. Two high-cheekboned, burr-cut Vietnamese men are in the lab, already on their feet as Carol enters.
"It's time?" says one.
"Yes, Dieu," says Carol. "Quick, you and Thieu get the body and cut it up."
Dieu and Thieu hustle into the bedroom and carry Mr. Sloane out on a stretcher. To spare Frank and themselves the sight of the corpse's dissection, the saucerians jump an hour forward in time.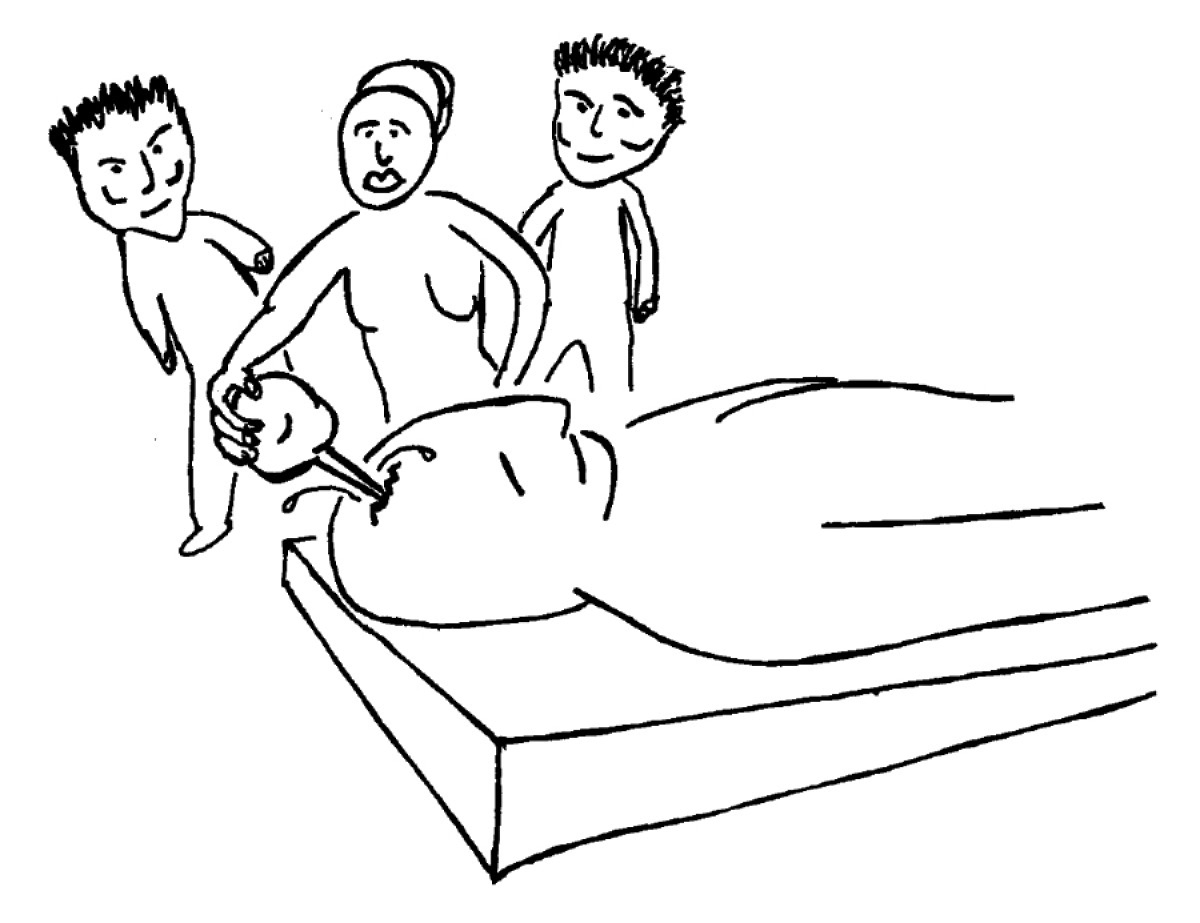 Figure 55: A Sluggie Sack Brain Injection
Now Dieu and Thieu are using the corpse's tissues to help seed and nourish the clone in the tank. And Carol has the dead man's brain in a sluggie sack which is distilling out memory molecules. Three little tumor-like bumps on the sides of the sack are accumulating the refined juices.
As they work, there is a ringing sound and the face of a young man appears on a view screen. "May I speak to my father?" His voice is cold and snobby.
"Of course, Mr. Sloane," says Carol, with a knowing wink at Dieu. She patches the S-cube into the uvvy call, and now Mr. Sloane's life-box begins carrying on a conversation with his son.
"How are you feeling, Dad?" says the son. "I wish you'd let me come by and visit."
Next, Carol attaches the S-cube to a large, hood-like uvvy which she slips over the clone's head. The seconds tick by. Carol does something else to the S-cube, and now a twitching starts down in the clone's toes and travels up his body. The clones legs tremble as if marching in place; his fingers began to flutter. Another couple of seconds elapse, and now the clone abruptly sits up and pulls the uvvy hood off his head.
"I'm back!" exults the clone. The timbre of his voice is just the same as the old man's had been.
"Do you want to tell Brett the bad news?" says Carol.
"I—" The Sloane clone pauses, staring off into the air. "I've just been with God, Carol."
"Sir?"
"God is love. And I'm alive again. Why should I further torture my poor son?"
"Mr. Sloane," puts in Dieu, "If you don't mind my saying so, your son Brett is a jerk. He doesn't deserve anything from you."
"Yes and no, Dieu," says the clone. "Yes, he's a jerk, but he exactly deserves everything I have. Maybe it's a reward—or maybe it's a punishment. Just go ahead and tell him old Mr. Sloane is dead. Me—I'm taking off to bum around the world. I don't need any money. I'm young and strong, with a lifetime's wisdom. More than a lifetime."
The Sloane clone pulls on the clothes they've laid out for him and walks across the lab. He stops at the door and glances back. "Carol. Want to come along?"
"Cut!" chuckles Balaam and skips out into paratime.
Shekk's Ohmies
"As you just saw," says Perl. "The 24th Century cloning process had certain imperfections. One, a person had to die in order to get their memory molecules properly extracted, and, two, even then the clone's behavior was not reliably similar to the anticipated outcome. By the 26th Century the situation was somewhat improved. Inevitably the life-box technology got better. And people found a fairly crude biotech method of synthesizing the memory molecules. Creating programmed clones of oneself became quite the rage. People called the programmed clones ohmies, though I'm not sure why."
"It stood for 'other me,'" says Goola. "Perl's going to show us some of the ohmies right now, Frank. I've always heard they weren't very vibrant. And that the second and higher-level ohmies were even more zombie-like."
"Well I'm not surprised," says Balaam. "Those pre-femtotechnology times were so squalid, so barbaric. Have you scanned Shekk yet, Perl?"
While Perl scans, Goola is busy leaning over Frank's lap to look at his note-pad. "Those marks Frank makes on his paper are to help him remember things, right Frank?" she says. "I think it's delicious to be so archaic!"
Right about then Perl finds what he's looking for.
The saucer zooms in on a 26th Century man named Boba Shekk. Boba Shekk is an unkempt fellow with a big nose, prominent wrinkles, thinning hair and blemished skin. The one attractive thing about him is his broad, slightly deranged smile, not that he smiles very often. As Frank and the saucerians tune in on him, he's engaged in a business call through his uvvy. As usual, the saucerians are translating the future voices into an appropriate-seeming idiom of 20th Century English.
"I'm working as fast as I can, Manny," Shekk wheedles. "The hurrieder I go, the behinder I get!"
"Boba, Boba, Boba. You're contracted to deliver me the pilot for My Mermaid by next week. And now I'm hearing you're not outta life-box devo yet? And, excuse me if I heard you wrong, but you say you want two more months? You think Hyenadon Productions is maybe a foundation for the nurture of great artists?"
"My special touch, it takes time," snaps Shekk. "If you want the hurry-up garbage, then go to some schlock crafter who's gonna use off-the-shelf life-boxes for his simmie actors. But if you want a show that's gonna connect to people's hearts, if you want a hit, then you gotta let Boba Shekk craft you some real characters to carry the plot."
"Six months of character crafting already?"
"The public only sees one-tenth of the ice-berg, Manny. For my characters to sing, they gotta have the life experiences, the quirks, the personal anecdotes. It takes gold to make gold."
"I'm giving you three more weeks, Boba, and then I'm gonna pull the plug. In fact I'm gonna call Schneidermann and get him to start work on a back-up pilot for My Mermaid today. You're not ready in three weeks, we go with Schneidermann. It's your call, big boy." Manny closes the connection.
Boba Shekk slumps in the chair niche of his grown home, rubbing his temples. His partner enters the room. She's a Japanese woman with animated green and purple hair that echoes her motions with graceful swirls.
"I'm losing it, Etsuko," says Boba Shekk. "The ideas aren't coming. I'm trying to craft as if it doesn't matter, to just put down anything, but even that's not working. I'm gonna lose this gig."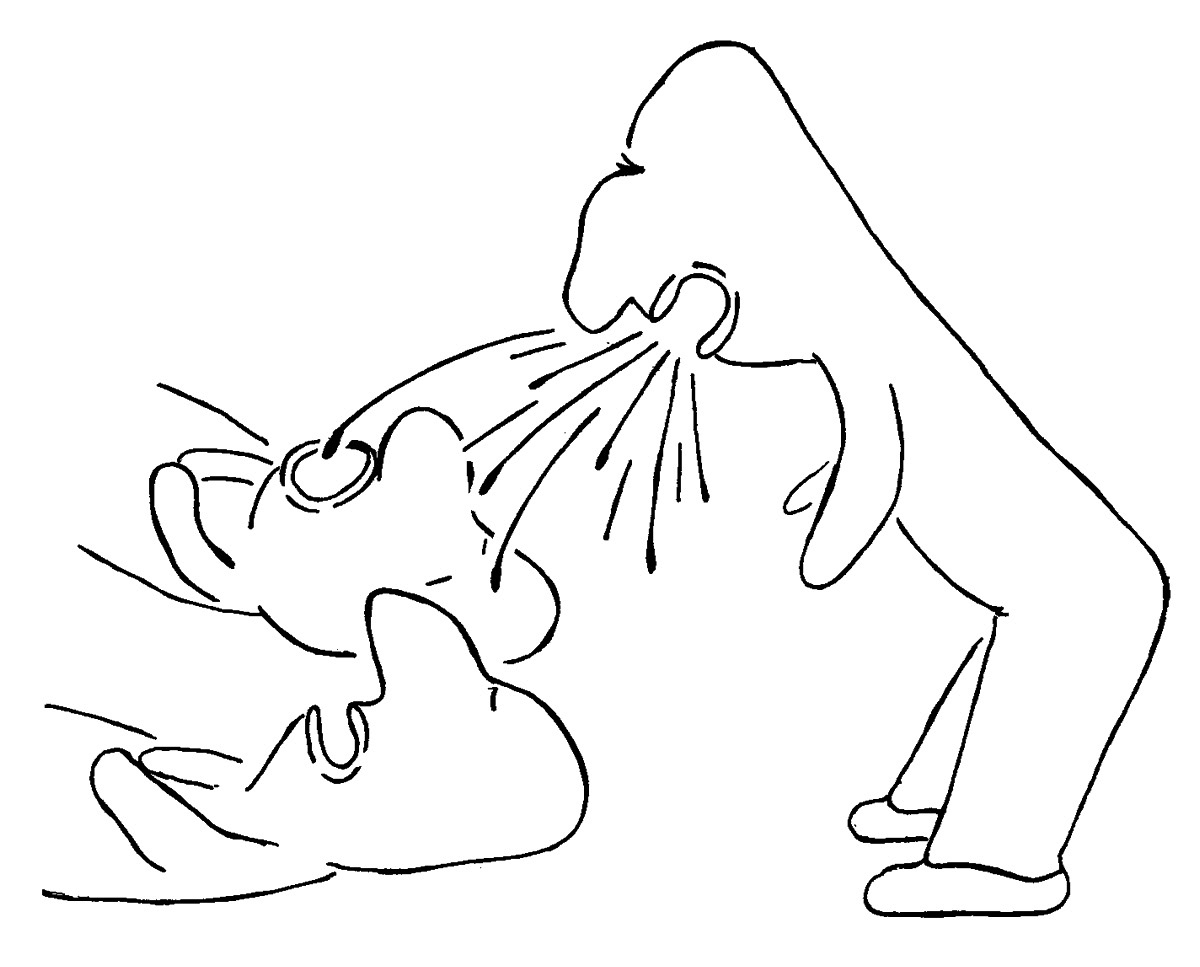 Figure 56: Boba Sneezing On His Ohmies
"Why not get yourself a couple of ohmies to help you?" says Etsuko. "We could afford it, just barely. It's a risk, but it could be a powerful investment. I can't stand to see you so unhappy."
So Boba Shekk makes an uvvy call and orders up two ohmies, biological tank-grown clones of himself that will arrive already programmed with Shekk's massively detailed life-box file.
Balaam skips them forward a week, which is all the time it takes in 26th Century to force-grow a clone to full adulthood. Frank and the saucerians find Boba Shekk treating the still unconscious ohmies with his synthesized memory molecules. It's a strange procedure.
Shekk has a red nose and keeps sniffling. Etsuko is watching him from across the round wooden room. She's wearing a complicated biological filtration mask. The two ohmies, who look exactly like Boba Shekk, are laid out on the floor side by side, still unconscious, still wrapped in the pale blue cloths they came in.
"What if the prions linger?" says Etsuko, her voice muffled from behind the mask.
"They won't," replies Shekk. "The prions are tailored to last no longer than about fifteen minutes. Their gene ends break off extra fast or something." His voice is manic with excitement. He checks the time. "Okay, it's been ten minutes since I infected myself. Meanwhile the prions have been through thousands of generations and they've started mimicking my memory molecules. All I gotta do to finish programming these handsome ohmies is to sneeze on them. And here it comes."
Boba Shekk leans over the sleeping clones, wildly sneezing. Aboard the saucer, Goola, Perl and Balaam exclaim in disgust. Meanwhile the clones continue their slow deep respiration, breathing in untold numbers of Shekk droplets.
"Your personality is like a disease they're catching?" says Etsuko. "Your memories? What if you went out into a crowd?"
"It would be a beautiful thing, wouldn't it," grins Shekk, loudly blowing his nose. "Gesundheit, baby."
In another five minutes the memory prions have died off and Boba Shekk's nose stops running. But Etsuko's loath to take off her mask.
"You're gonna scare them wearing that thing," says Shekk. "I'm about to wake them up."
"I'm not taking off the mask till tomorrow, Boba," says Etsuko. "If you can handle it, so can your ohmies."
So depleted is Boba Shek's imagination that he names his ohmies Mark and John. They're a bit soft and unformed looking, like people who've recently spent time in an institution. But Boba Shekk likes them a lot; he spends the rest of the day kickin' with his ohmies.
The saucer skips forward a few days, and it's evident that the clone-programming process has worked really well. The ohmies are hard-working crafters just like Boba Shekk at his best. They have lots of ideas, but not quite the same ideas as Boba would have had.
"Thought is so chaotic that even the slightest differences in initial conditions send us off on different trajectories," Shekk muses to Mark and John. "It's a wonderful thing. Let's all take a little stroll, each in a different direction, and get back together with our ideas for My Mermaid in an hour or so. I'm sure we'll all come back at the same time anyway."
The saucer skims along in fast forward, watching. Boba is totally accepting of what his ohmies do. There's no sense of competition. There's complete unanimity. And there's no financial problems, as Mark and John live with Boba and share all income. The ohmies get their own female partners, Japanese women just like Etsuko, and they add two more house domes to the Shekk compound. Everyone swaps partners freely. It's the perfect idyllic commune.
"But now they'll start fighting," says Perl. "That's the way it always happened with people and their ohmies."
The saucer jumps a little further, and now Boba is telling Etsuko, "More and more I feel like there's something fundamentally bogus about the crafting that Marc and John do. They're superficial. Inauthentic. Not real. Not true."
"But Hyenadon likes the new stuff a lot," says Etsuko. "My Mermaid is a major hit. Manny's offering you better and better deals."
"I don't care, I want to get rid of the ohmies."
"You're not getting rid of John. No way. He's more of a man than you'll ever be."
When Frank and the saucerians check a few months later, they find that John is the king-pin at the Shekk compound. The three women are spending most of their time in his dome, and John rarely uses any of Boba's ideas for the shows he's crafting. As the ultimate indignity, John has started insisting that he's the original womb-born Shekk in the group, and that Boba and Mark are his ohmies. Perversely, Mark agrees.
A year later, Boba starts believing it too.
The Ang Ous
"Onward to the Third Millennium," says Perl. "The age of femtotechnology at last."
"I saw some of that on my last trip," Frank says. "I saw about Femtotechnology Unlimited and how they were using big heavy disks of strange matter to make perfect femtoclones of things. Of people, too. And then this woman named, um, Lulu Ma found a way to do it with software or something. It was confusing."
"I'll try and make it simple for you," says Perl. "I'll go on up into the 35th Century, when the alla and femtocloning technology is quite well established. The copies are completely exact. Eidetic."
"Show him the thousand Ang Ous," suggests Goola. "That was a key turning point."
"Perl's on it, love," says Balaam.
The saucer zeroes in on building like a honeycomb, down near the waters of the San Francisco Bay. There's a crowd of angry people outside the building. Glaring out of the building's windows are hundreds upon hundreds of identical orange-skinned men, each of the men with the same bowl haircut, each with the same lime-green shirt, each with a thin, wispy mustache. Someone in the crowd yells something unpleasant, and each and every one of the men in the windows shakes his fist. Their raised arms moving in unison like the bows in the violin section of an orchestra.
"Those are the thousand Ang Ous," says Perl.
"Which one is the real him?" asks Frank.
"They're all equally real," says Perl. "That's the thing about femtocloning. There's no difference, even in principle, between a thing and its femtoclone. Femtocloning specifies an individual's information so exhaustively that the copy is the same as the original. It's just like the way that any two oxygen atoms are the same: once you say 'eight protons, eight neutrons, and sixteen electrons,' you've said it all. That's how it is with the femtotech description of an Ang Ou."
"But doesn't the original one know?" says Frank.
"Frank won't understand till we tune in on Ang himself," says Goola. "Take us closer, Balaam."
The saucer goes into Ang Ou's building, an organically grown structure with long, thin rooms. The particular room they enter is standing-room-only with Ang Ous. There's even more of them than Frank had seen through the windows.
At the far end of the room is a little titanium tri-bar device with glowing wands of light coming out of it. An alla. The air in the alla box shimmers and a fresh Ang Ou steps out, and then another and another. It's like an automatic bubble-blowing machine that's turning out people.
Frank and the saucerians hop through a series of walls looking at more of the crowded rooms of the Ang Ou building. In each room there is another alla puffing out ever more Ang Ous.
Balaam links Frank into Ang's mind. It's a strange mental space to comprehend, because Ang is seeing out of all his of the many bodies' eyes at once. The many brains are linked together by a radiotelepathic contact made perfect by the fact that they're all eidetically the same.
"But they're not wearing uvvies," protests Frank. "How can they do telepathy without uvvies?"
"From the 32nd Century on, people's uvvies are internal," explains Perl. "It's a permanent aug that almost everyone has programmed into their genes. So each of has an electromagnetic uvvy organ in the back of his or her neck. If memory serves, the aug was originally based on some wetware from an electric eel."
As Frank adjusts to the feeling of the Ang consciousness, he begins to feel a sense of exhilaration. So much mental space! It's like having the walls of a confining prison cell fall away to reveal an open plain. What wonders a person could achieve, with a thousand brains to think with! Ang's thoughts seem to involve mathematics, physics, and an odd kind of mysticism.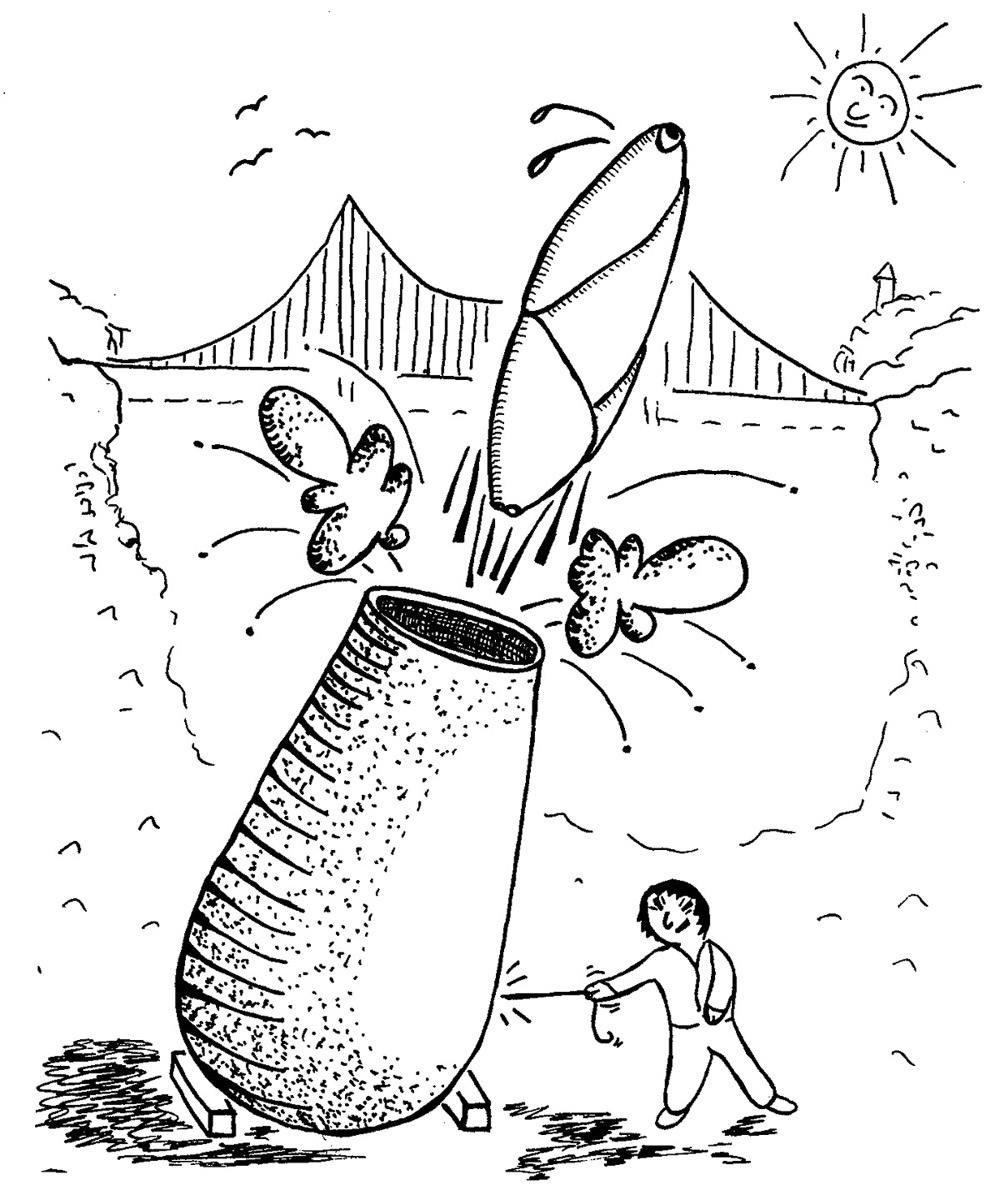 Figure 57: Launching A Space Bug
But for now Ang is preoccupied with the hostile street-crowd. People are battering down the honeycomb building's doors, forcing their way inside, and fighting to turn off the Ang Ou allas. Sharing in the Ang Ou consciousness, Frank feels like he's struggling with hundreds of people at once. It's terrifying. Ang is fighting like a tiger, careless of which of his bodies lives or dies.
The word of the battle spreads across the city, and more and more people arrive to attack the Ang Ous. Frank is pleased to see that in the Third Millennium, there is no organized police or army, simply the massed will of the populace.
In a short time, the pullulating Ang Ous are overwhelmed. All 1,234 of them are out in the street, tightly bound by their hands and feet. The shared pain of their thousand-plus bodies is vast and somewhat pitiful. The Angs are thinking about pink, sunlit clouds.
"You're so selfish and greedy!" people are yelling into the Ang faces. "You can't stay on Earth!"
The saucer jumps two months further in time, and Frank can see how the Angs have been dealt with. It would have been too inhuman to exterminate them. Instead, they've been subjected to massive amniotic-bath treatments to convert them into leathery spindle-shaped beings with symbiotic colonies of algae in their skins.
"Space bugs," says Goola.
One by one, the Ang Ou space bugs are being launched up through the atmosphere, sent out to live together in space near one of the stable attractor points of the Earth/Moon orbit. A thing something like a cannon is shooting them high out over the Pacific Ocean.
Looking into the mind of Ang Ou, Frank can see that Ang's resigned to this state of affairs. He's planning to do a lot of scientific thinking, out there in space with his thousand-fold group mind.
The view through Ang's eyes is remarkable. Some of his bodies are already up in the sky. Merging further into Ang's mind, Frank can get a slight understanding of the specific problem Ang wants to work on. Ang's thinking about the fact that people need high-tech equipment like allas in order to turn a person into femtotech source-code and to pop the code back into reality. Ang feels like there should be a way to do this solely with the programming of the human mind. A way to make self-extracting personality waves.
Ang feels confident that he will solve the problem. Perhaps it will take his thousand minds two hundred years. That's all right. A space bug should have very good longevity. And when Ang has the answers, the normals will let him return.
Transcending The Body
Teleportation:turn, squeeze, lift. Little Goola like a moth.
The transhumans grow their own saucer.
Eve takes us to the astral plane. It's wonderful. God is love.
Teleportation
"Let's pick up the pace a little," says Balaam, as Perl jumps them back into paratime. "I'm bored, Frank's pooped."
"Don't get bitchy," says Goola. "Not when it's finally time for me to do my thing. Would you like me to teach you transcendence, Frank?"
"You bet," says Frank. He's sitting next to Goola, drinking some water out of his eternally refilled cup. "I'm loving every minute of this. I don't want it to be over. I don't want to be back in South Dakota."
"All right," says Goola, rising to her feet. "I'll show you teleportation. It was none other than the Ang Ou swarm who discovered the trick. And in 3666, the Angs taught it to everyone. People were so grateful, they agreed to let the Angs have an Ang Ou island right back here in the San Francisco Bay. They alla-formed it themselves, and there's still Ang Ous living on Ang Ou Island in our own time—in the 41st Century. It's a lush place to visit. The Ang Ous have fabulous gardens."
"Gardens?" wonders Frank. "A superintelligent group-mind like Ang Ou is into gardening?"
"Nature is computing ever and always at the maximum possible flop," says Perl. "People never surpass Her, they learn only to wonder at Her the more. Like me with dear Goola."
"Fast forward," urges Balaam. "Focus."
"So now I'll show you the day I learned teleportation!" exclaims Goola.
The saucer angles back into time to show a girl sitting in a field of flowers. She's dark-skinned and she has flaxen blonde hair. Her eyes are big and alert. The young Goola.
"Oh!" exclaims the Goola in the saucer. "I was so eager then, so tender."
"You still are," says Balaam.
The girl's lips are moving, she's repeating something to herself over and over. And now all of a sudden she disappears and reappears fifty feet away. She does it again and again, hopping back and forth all over the landscape.
Small and invisible, the saucer gets close to the chanting girl. The words she's repeating are surprisingly simple: "Turn squeeze lift. Turn squeeze lift. Turn squeeze lift…" Each time she says them, she teleports to a different location.
The saucerians link Frank into the girl's mind, and he can see that the murmured words are connected to specific mental gestures. At each utterance of 'turn,' the young Goola's view of the world undergoes a kind of mirror-reversal, an inside-out shift. When she says, 'squeeze,' this altered visual world is somehow condensed into a shining droplet. And with the 'lift,' the world comes back, but with Goola in a new location.
"You teleport with no technology?" Frank asks the saucerians. "Just by doing some kind of head-trick?"
"Oh, there's technology," says Perl. "But it's more like a software than a hardware. It's a script that Ang Ou invented for the human mind. It has to be programmed in. But once you have it—"
Down in the flowery field, some other children have joined Goola. They skitter about the landscape, appearing and disappearing like sudden raindrops on a river. Like fireflies at dusk. Like shooting stars.
Growing a Saucer
"So that's how we learn to flip," says Goola. "Between being solid people and being personality waves."
"And there's more," says Balaam. "Once you can make a body, you can make an object too."
"Such as this flying saucer," says Perl, rapping a knuckle on the metallic wall.
"You were able to mentally create this ship?" asks Frank. "From nothing?"
"I'll show you our take-off," smiles Goola.
The saucer whirls dizzily and now they're into the fifth millennium, hovering high over the region once known as Silicon Valley. The year is 4004. Being drawn so very far into the future gives Frank a hollow feeling in the pit of his stomach.
From the air it looks like pristine wilderness. There's great flocks of birds on the clear waters of the San Francisco Bay, which extends south beyond the old San Jose as far as the eye can see. The hills are covered with oaks, redwoods, and chaparral. The low-lands are green with grasses and scrub. As the saucer drops lower, Frank can see that many of the trees are in fact homes, and that a lot of the chaparral plants bear edible fruit.
The saucer hovers over a ceremonial-looking round clearing in the woods. There's a hissing noise and suddenly one, two, three people appear in the clearing, materializing from nothing but invisible higher-dimensional radiation. It's Goola, Perl, and Balaam. It's strange for Frank to be with them in a saucer watching other versions of them on the ground.
The three figures in the clearing hold hands. A wire-frame outline of a flying saucer appears around them. Curved surfaces fill in the gaps of the wires, slowly solidifying into something like shiny metal.
The metallic saucer spins, vibrates, and shoots up into the sky.
The Divine Reality
"That was such an exciting take-off," says Balaam. "But—ugh—it makes me sick to watch myself."
"Like looking in the mirror too long," agrees Perl. "Let's finish up with Frank and be on our way out into the cosmos, Goola."
"The cosmos," muses Frank. "Is everyone leaving Earth to be a saucerian?"
"Not at all," says Goola. "Many more people are into centering. They dematerialize and rematerialize in the same place. And as they do it, they dip into the astral plane. In fact that's just about the last thing I'm supposed to show you."
"Eve?" says Perl.
"Yes, now we're going to take Frank to meet Eve," says Goola. "It's always wonderful to see Her."
The saucer goes somewhere in time: perhaps further into the Fifth Millennium, perhaps back to the dawn of history, perhaps into paratime. Sitting in the shade of a redwood tree by a little stream is a pleasant-looking woman. This is Eve. The saucer hovers before her.
"Hello," smiles Eve. It's clear that she can see Frank and the saucerians. Frank feels the calm, gentle touch of her mind.
Eve dips her hand into the stream, then raises her hand up into the sunshine. Her wet fingers sparkle in the light and a rivulet runs from her palm. The flow trickles to a stop, and a last fat drop of water hangs from the side of Eve's hand.
Something odd happens to the perspective here, and the hanging drop of water looms large and weighty as a moon, as a planet, as a sun. Every fiber of Frank's mind becomes focused upon it.
The immense droplet shimmers, shivers, and then slowly, massively, it pulls free of Eve's hand. Its surface is a great play of complex undulations that seem to be happening ever slower in time.
The sensations generated by the drop's motions extend beyond sight and into touch and sound; Frank can feel and hear them. The touch-sensation of the drop's motions is as the caresses of a fitful zephyr that's patterning the air with hollows and whorls.
The sound-sensations from the drop are like a choir of voices, angelic voices that seem to have been singing forever, voices that Frank's only noticed just now, for the first time in his life, after all these years—his eyes fill with tears of joy and wonder.
The thoughts and feelings sent off by the great water drop intensify. Frank feels as if his mind must come unhinged—and perhaps it does.
He's somehow located next to space, looking into everything from every side. He sees the veins in Eve's body, and the innermost rings of the redwood tree. He sees the worms in the ground and the bubbles in the stream. There are faces and forms to go with singing voices, elfin bodies that flutter against Frank. Some are aliens, some are human, some are unknown inhabitants of the astral plane.
Eve's calm smile floats behind the great droplet, illuminated by the clear light that shines through everything. And Frank knows that the light is God.
"I'm always here," says God's voice. "I love you, Frank. I'm always here."
Frank breathes in the peace and love, the serenity, the wisdom. He will be a better man.
Eventually Frank becomes aware of others around him. His eyes flutter, and he's back inside the saucer. Goola, Perl and Balaam are looking at him.
Frank And Goola
"There's one last thing," smiles Goola. She purses her lips and gives Frank's lips a little kiss. She smells so good, or is it really a smell? More like a direct tweaking of the pheromone-sensitive receptors in Frank's nose. Whatever—it works bigtime. Frank becomes powerfully aroused.
"Oh, Goola," sighs Frank dizzily.
Goola reaches out her hand and undoes Frank's belt buckle. His pants slide down his legs. Now Goola touches Frank's aching penis, lightly running her fingers along its trembling length. "Why, yes, it might be lifty to take a little wetware sample from you, hmmm? Just like a good saucerian is supposed to do."
"Really, Goola," tut-tuts Perl. "You don't have to behave as if—"
"It's what Frank expects," sighs Balaam. "He needs this for the end of his book. Mektoub. But I say we get it over with toot sweet."
Goola shucks off her dress, straddles Frank and sits down on his penis, slipping him deep inside her. She kisses Frank full on the mouth.
Outside, the great American West is sweeping by beneath them. Balaam is flying the saucer from San Francisco back to Rapid. The sky is strobing as before, but Frank's too agog to think about it. He trusts the saucerians to do the right thing.
Although the sex-act feels very good, it doesn't feel quite—real. Goola's flesh is warm but somehow insubstantial. Slippery but not wet.
Just as Frank approaches his climax, Balaam maneuvers the saucer back down to the IRC lab, April 9, 1997, and sets Frank down in his office chair. Frank feels the touch of the chair's wood against his bare butt. He ejaculates. There's a tiny tingle near the tip of his penis—Goola decoding a cell's DNA? And then Goola and saucer lift up off of him and bid him the briefest of telepathic farewells.
"Goodbye," murmurs Frank. "Thank you. I love."
The saucerians fade away. Frank is alone in the darkened room with his pants around his ankles, a sticky patch of semen on his shirttail, and his penis slowly softening against his naked thigh. Rather than being wet as if from real sex, the skin of the penis is bone dry.
And then—whoops!—the door swings open, the lights come on, and there's Helene Lundy staring at Frank, her mouth a tiny 'o' of utter shock and disapproval. It seems that although Helene didn't feel well this morning, she's decided to come in for work this afternoon.
There's a sudden speeded-up rush of screaming and jabbering. The Rapid City police actually get called in, but the investigating officer seems to feel, well—some poor geek of an equipment tech jacking off in a locked storeroom on his lunch hour—"It's nothing to make a court case out of, Ms. Lundy, although I'm sure it was mighty unpleasant for you. I'm inclined to believe Mr. Shook when he assures me that he would not of been behaving in this manner if he'd of thought there was even the slightest inkling of your walking in on him."
The Black Hills High principal and assistant principal are there to hear this as well. The principal is having trouble keeping a straight face. Helene is such an old maid and Frank such a doofus. This is shaping up to be the funniest mishap of the year. The smiling principal starts to tell Helene to just forget the whole thing and to let Frank get back to his job.
"I bet he's a professional pornographer!" interrupts Helene. "What else would he have been doing with all that TV equipment?"
"I already checked for porno," says the investigating officer. "There's no tapes in the VCRs. Though I suppose Mr. Shook might have one in his coat?"
"No, I don't!" cries Frank, glaring at the bland, mocking faces. "If you must know, I was using the TV equipment to contact a flying saucer. They took me on a trip far away from here. And a saucer woman made love to me."
This doesn't go over well. It's only been a month since the mass suicide of the Heaven's Gate saucer cult members. The amused smiles change to anxious frowns. And Frank the lowly temp worker is fired on the spot.
*
When Frank finished telling me all this, the sun was setting. We were already making our way down the slope from the Devil's Tower towards our campsite. Although I was incredibly impressed by everything Frank had told me, I felt an impish urge to tease.
"I thought you didn't approve of people who have sex with saucerians," I grinned. "Seems like this time you put yourself right on a level with them."
"It wasn't just sex with Goola," said Frank. "It was something much higher. It was a mystical vision. And my wetware's going across the galaxies."
"That's what all the abductees say," I laughed.
"You know, Rudy, I'm really sick of you," said Frank, suddenly flaring into extreme anger. "And now, thank God, my part of our book is done and I'll never have to talk to you again. I've been trying to get you to see how rich and wonderful a world we live in, to help you understand a little bit of saucer wisdom, and it's like you're intent on just throwing away everything I tell you."
"I'm sorry, Frank! I take it back! I do understand a little bit. I just couldn't resist—"
"I am so fucking sick of people like you laughing at me."
We didn't talk much more than that. We walked the rest of the way to our camp, ate some noodles, crawled into our tents, and went to sleep.