This page shows some photographs of me that fit in with my book. I am currently running a Kickstarter to raise money for publishing the book, see Journals 1990-2014.
The photos range from 1990 to 2014, running down this long, scrollable page.
The images by me are Copyright (c) Rudy Rucker 2015, but they can be freely reproduced---with credit to me and for noncommercial purposes.
This page was last updated April 11, 2015.
---Rudy Rucker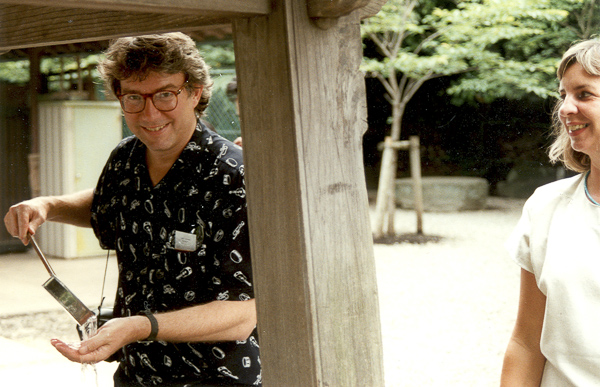 1990. Visiting the Zen garden at Ryoanji temple in Kyoto with Sylvia. Doing a book tour in Japan. The fountain I'm drinking from has ideograms saying something like "I learn only to be contented," or "The knowledge that is given is sufficient."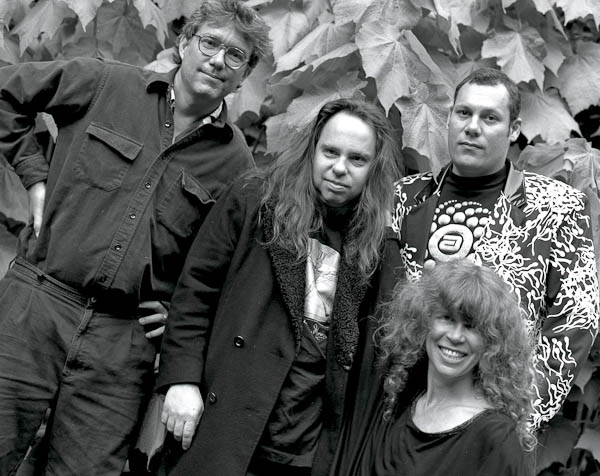 1992. With the Mondo 2000 crew: R. U. Sirius, Bart Nagel, and Queen Mu. Berkeley, California. Photo by Bart Nagel. Gearing up for the launch of The Mondo User's Guide.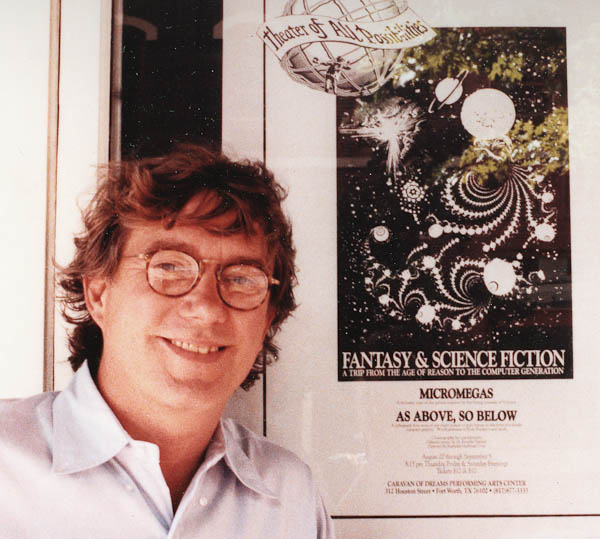 1992. An ad for my Mandelbrot set play, "As Above, So Below," produced in Fort Worth, Texas.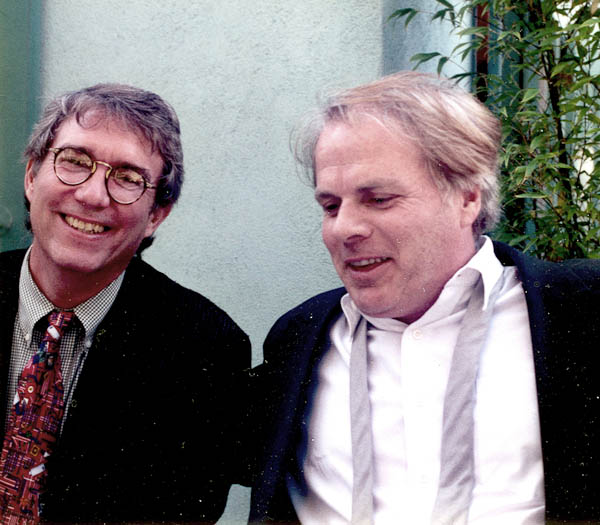 1995. With Jon Pearce at a celebration in Santa Cruz.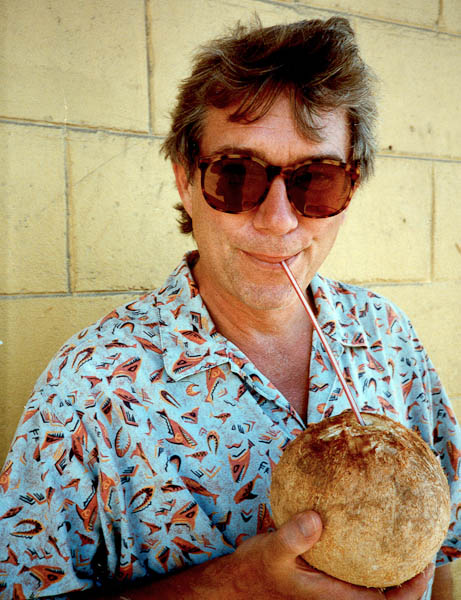 1996. Drinking coconut milk in the South Pacific kingdom of Tonga, a month after giving up alcohol.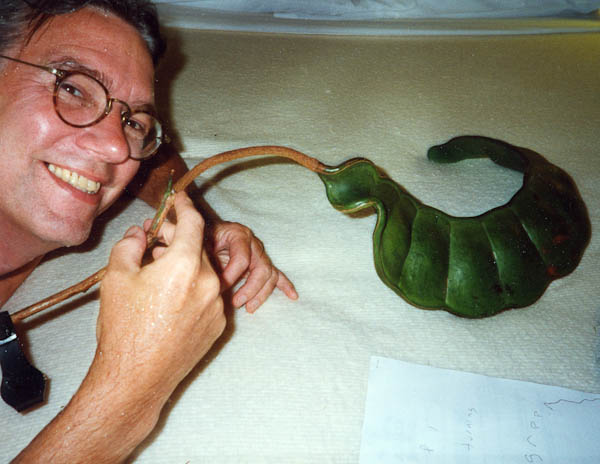 1996. With a giant bean I found in Tonga, see Realware for details.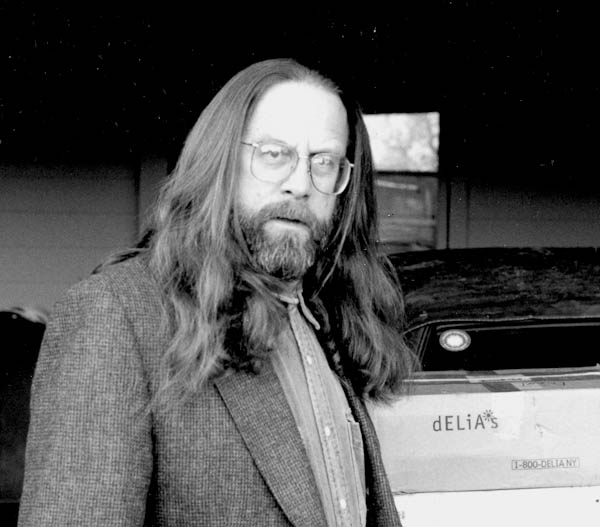 1997. Greg Gibson posing as saucer abductee Frank Shook for a Wired magazine pitch meeting for my novel Saucer Wisdom.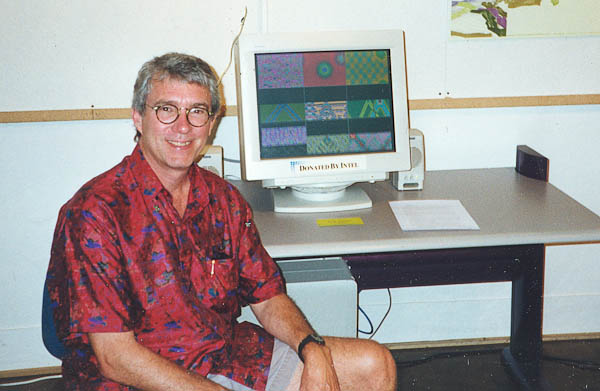 1998. Demonstrating cellular automata at an Artificial Life convention at UCLA, Los Angeles, California.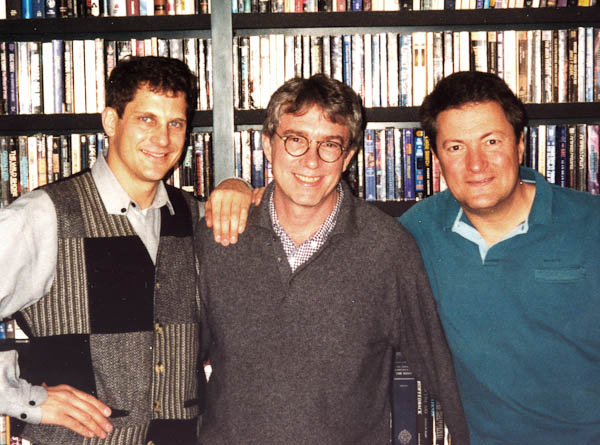 1998. Hollywood meeting about Software movie plan, with Stuart Volkow and director Scott Billups.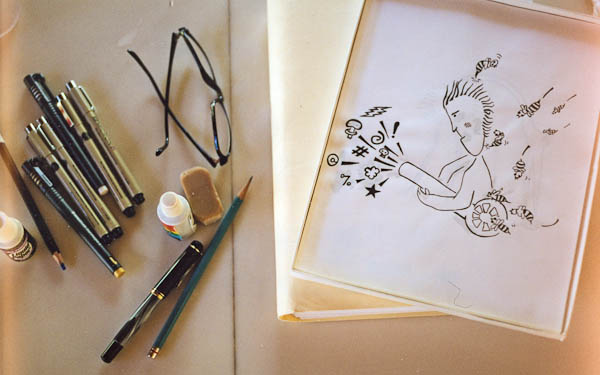 1998. Working on a drawing of a leaf-blower for Saucer Wisdom while in Kauai, Hawaii.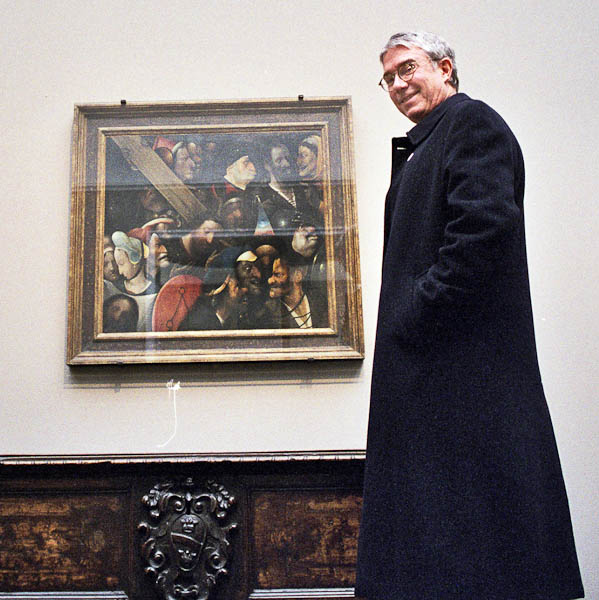 2002. With a Bosch painting in Ghent, Belgium. Feeling like an outsider.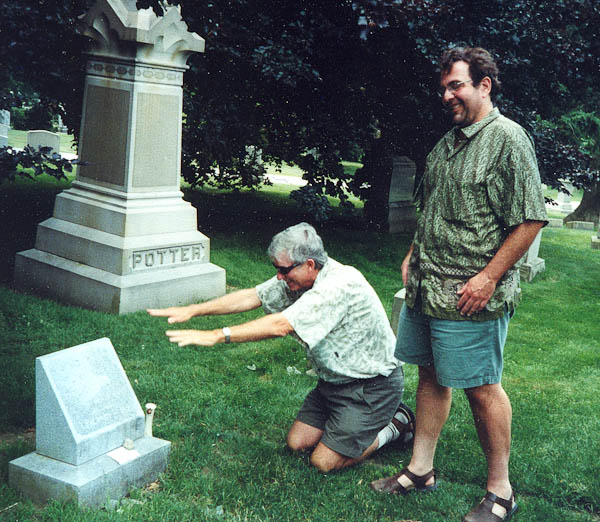 2003. With Paul Di Fillipo at H. P. Lovecraft's grave in Providence, Rhode Island.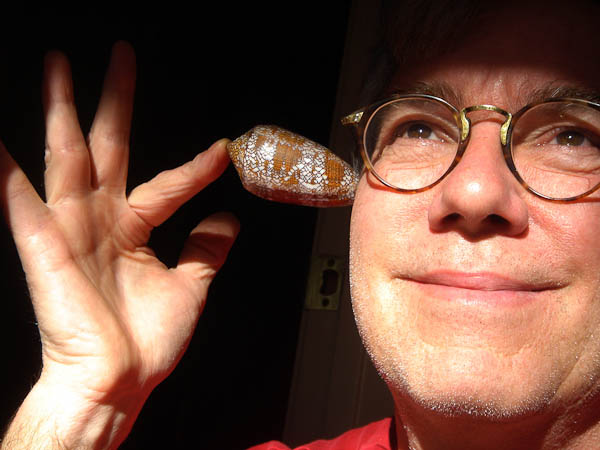 2004. Me with a cone shell—an inspiration for Mathematicians in Love.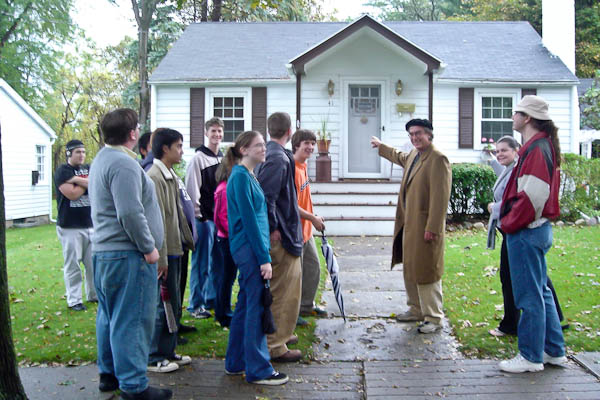 2004. I visit Geneseo, NY, and show the transreal scene of my novel White Light to a class of students studying my work. The first house that Sylvia and I ever lived in.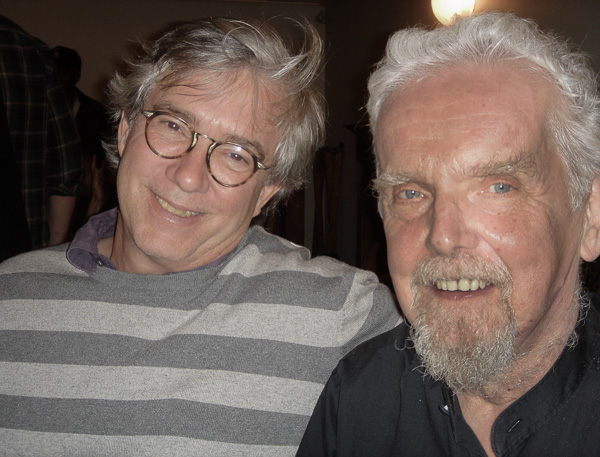 2004. With my literary mentor Anselm Hollo after a reading at Naropa University, Colorado.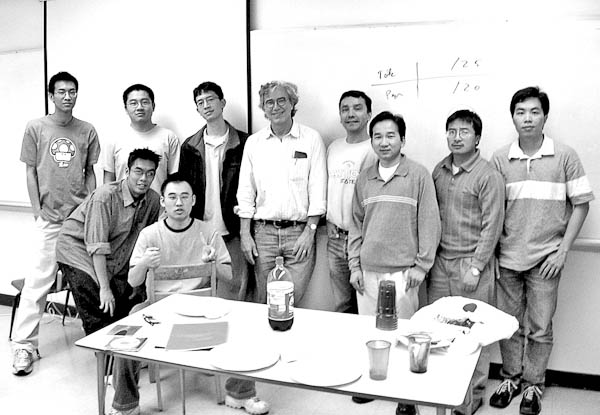 2004. My final class at the San Jose State. Photo by Alvin Cho.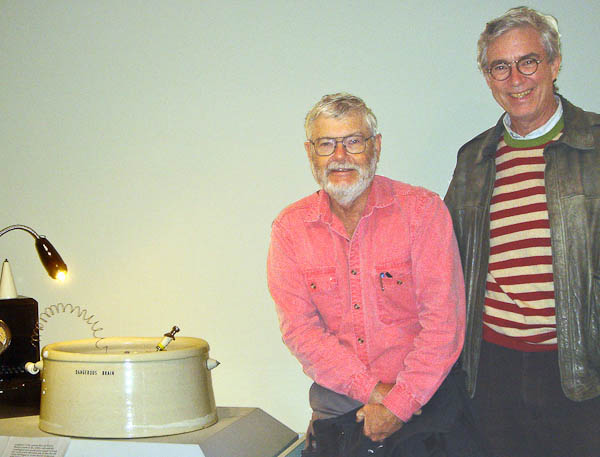 2005. With Gregory Benford at the Cantor Art museum at Stanford. Goofing around.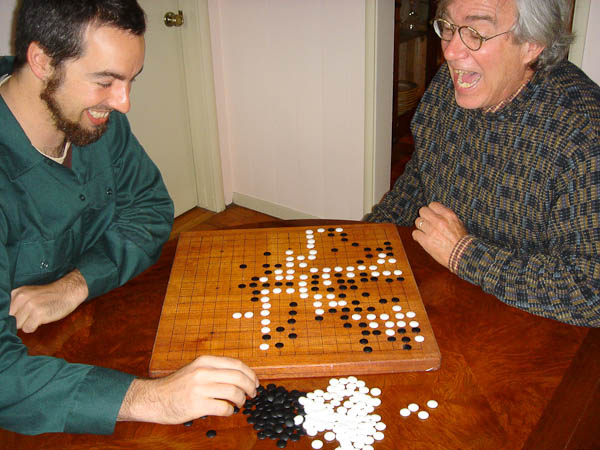 2005. Rudy Jr. beats me at Go once again.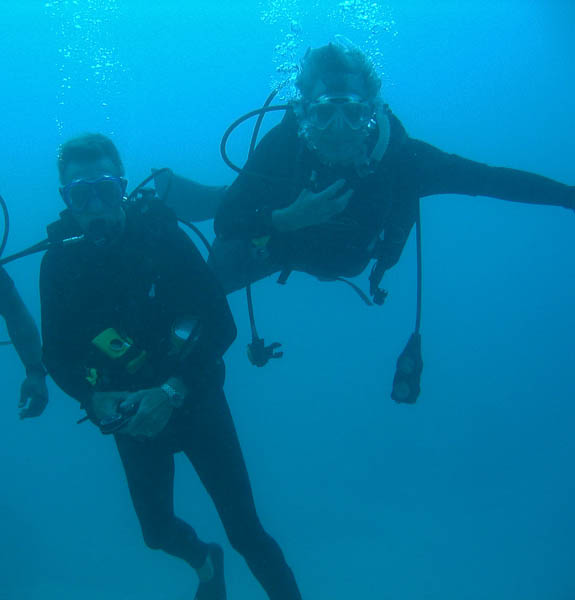 2005. Underwater in scuba gear with brother Embry near the island of Yap in Micronesia in the South Pacific.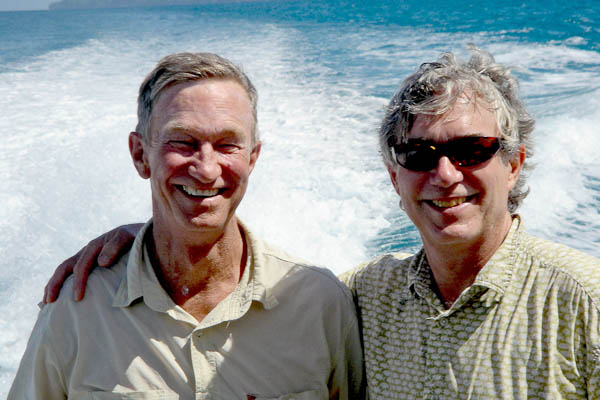 2005. With Embry on a dive boat near Palau, coming back from the Blue Corner. The best dive day of my life.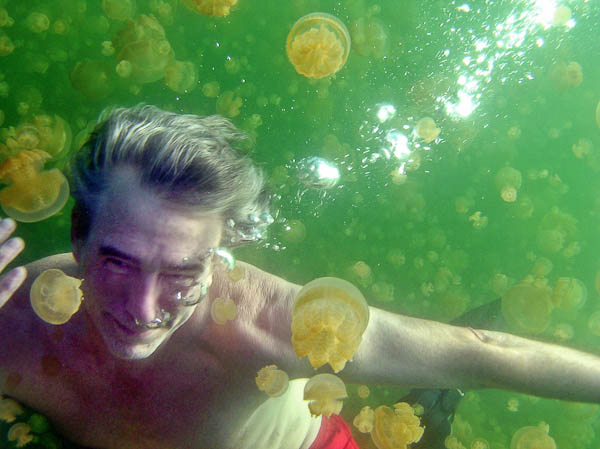 2005. In Jellyfish Lake near Palau. I worked this into Mathematicians in Love.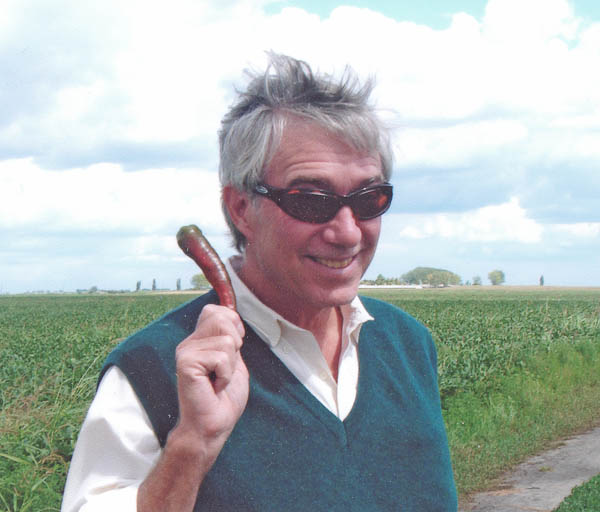 2005. A fresh paprika in central Hungary.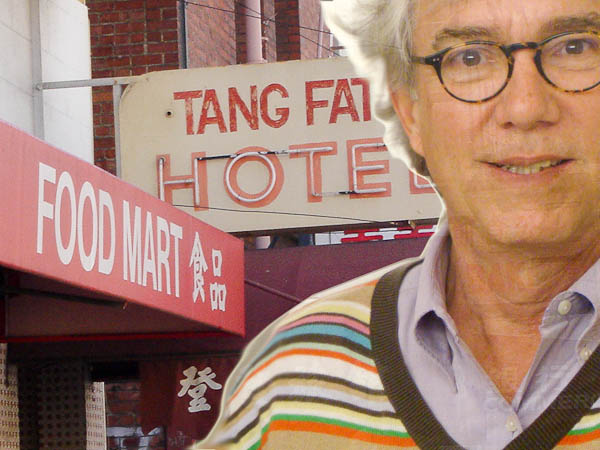 2005. Collage with the Tang Fat hotel in North Beach / Chinatown area of San Francisco. I set a scene there in Mathematicians in Love.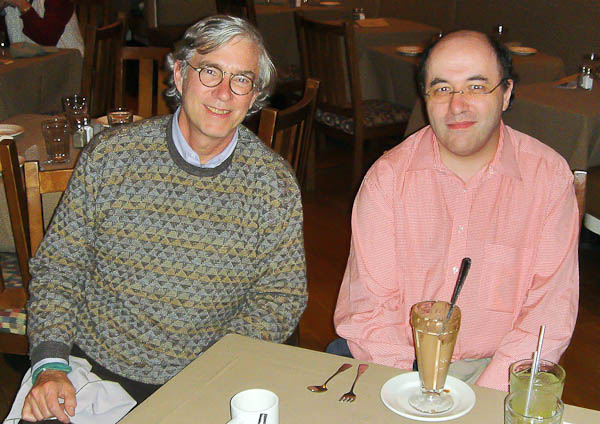 2005. With Stephen Wolfram in Cambridge, Massachusetts.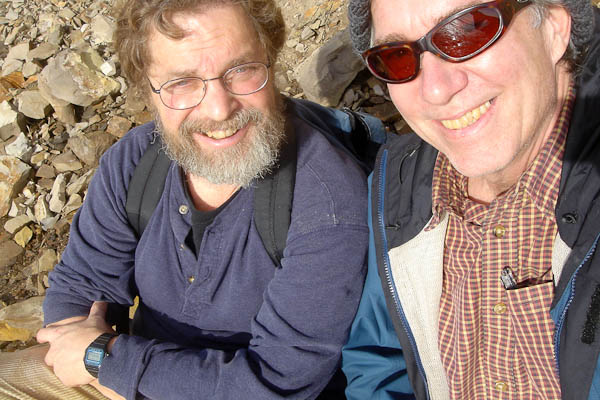 2006. With fellow mathematician and computer scientist Michael Beeson in Santa Cruz.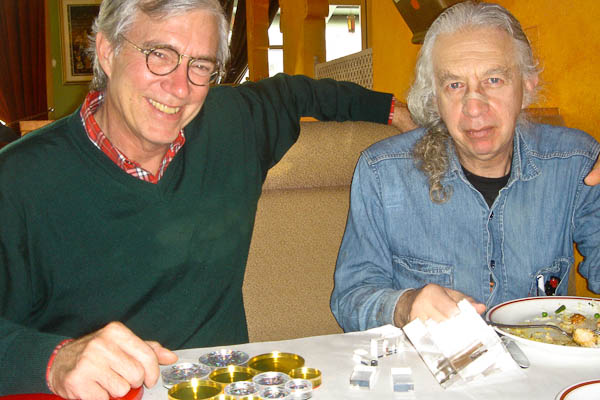 2006. With hacker-king Bill Gosper in Mountain View, California.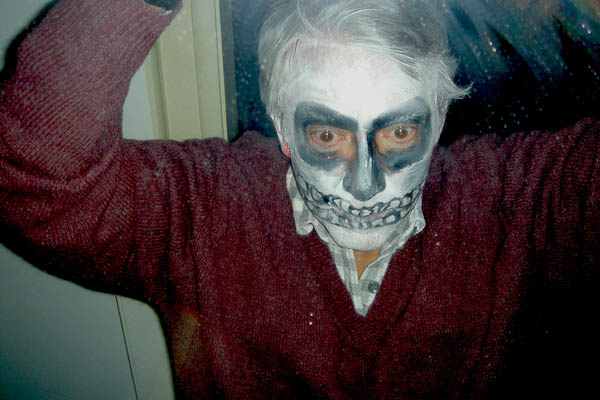 2006. Dressed for a Halloween rock concert by The Cramps at the Fillmore.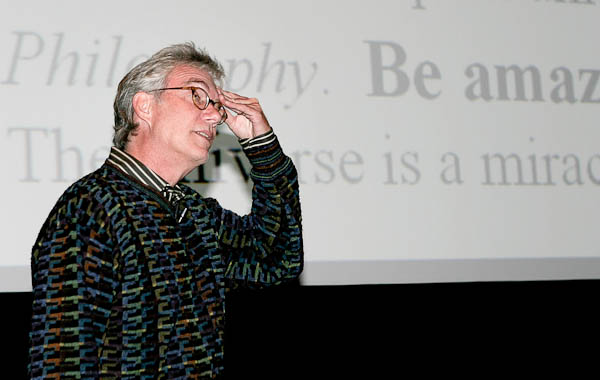 2006. Speaking at Industrial Light & Magic in the Presidio of San Francisco.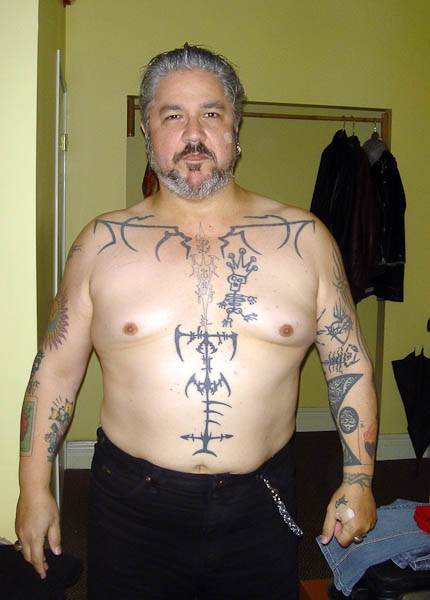 2006. Fellow author Richard Kadrey in San Francisco, showing off his tats.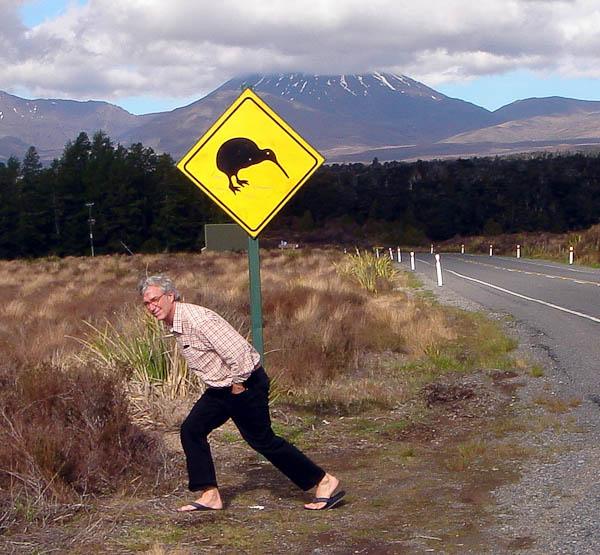 2006. Doing kiwi near "Mordor" in New Zealand.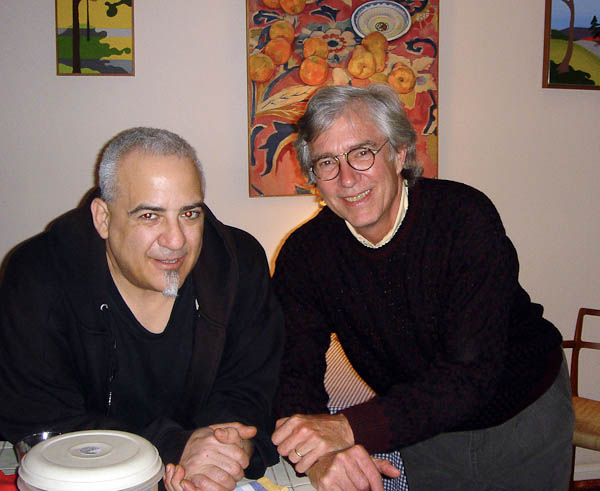 2006. With artist friend Paul Mavrides, see Freeware.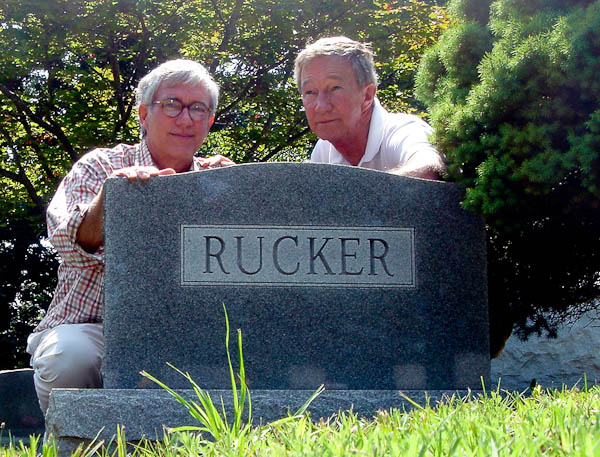 2006. My father's gravestone, with my brother Embry.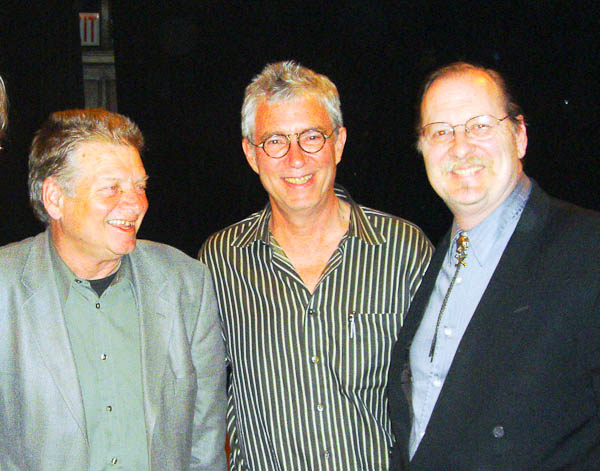 2006. With Bay Area SF writers Terry Bisson and John Shirley.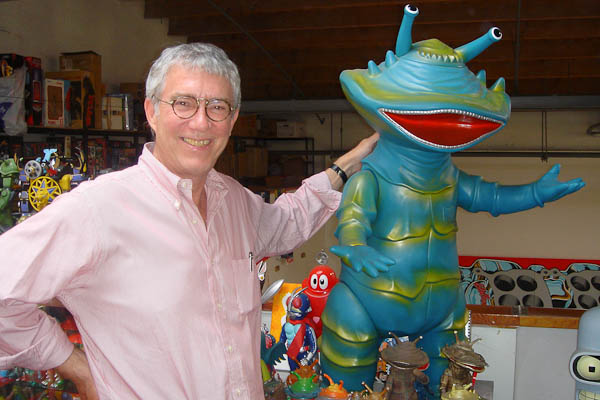 2006. At the Los Angeles studio of Chris Cooper, a.k.a. COOP, with a giant statue of a "Unipusker," see Frek and the Elixir.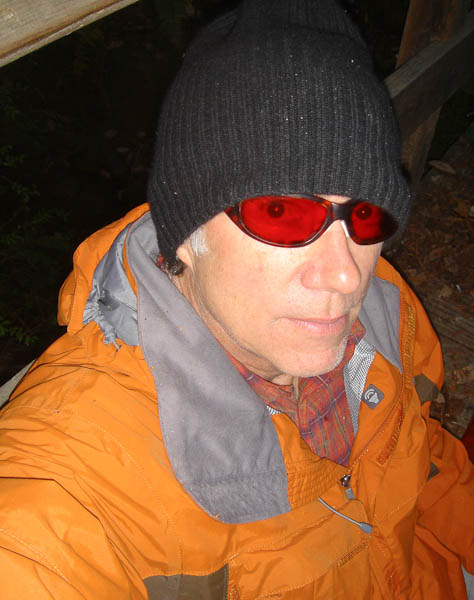 2007. Lost and scared in Big Basin Park, near Boulder Creek, California. See Hylozoic.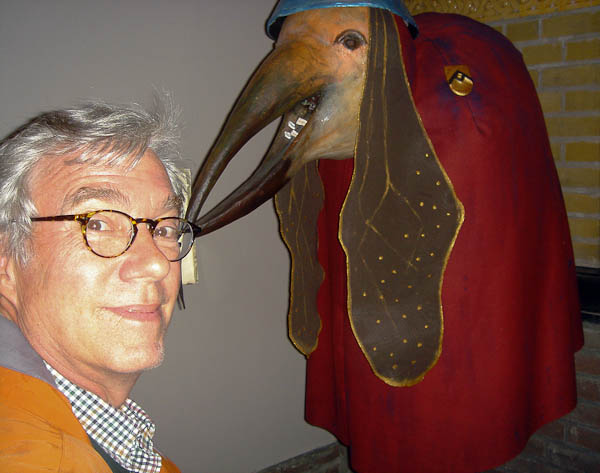 2007. At the Hieronymus Bosch center in s'Hertogenbosch, his home town in the Netherlands. See Hylozoic.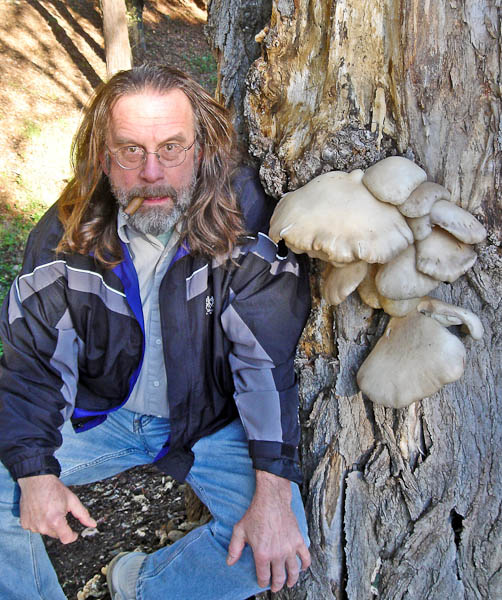 2007. Another shot of Gregory Gibson as Frank Shook of Saucer Wisdom.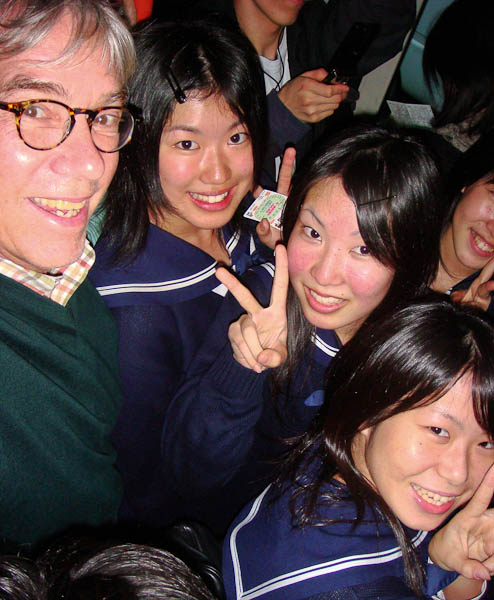 2007. Mobbed by Japanese schoolgirls aboard a bus in Kyoto, Japan. They wanted to practice talking English on me.
2007. Practicing my Peace sign in Kyoto. Colonel Saunders reborn.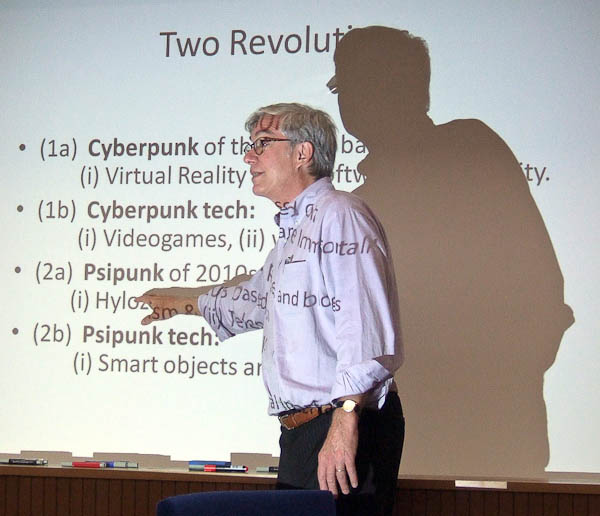 2007. A talk on cyberpunk and psipunk at the University of Osaka, Japan.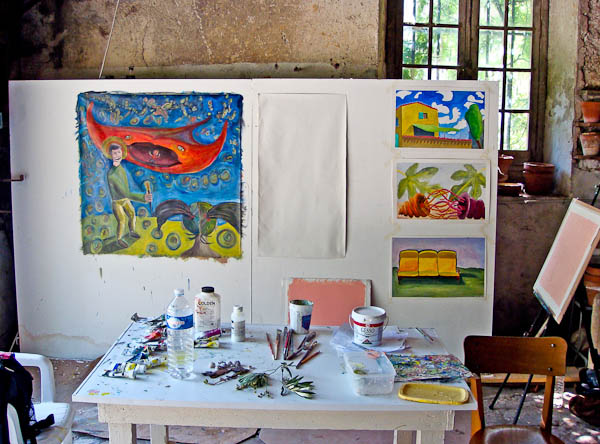 2007. My work area at a painting workshop at Caunes in the south of France. Big painting pre-visualizes a creature from Hylozoic.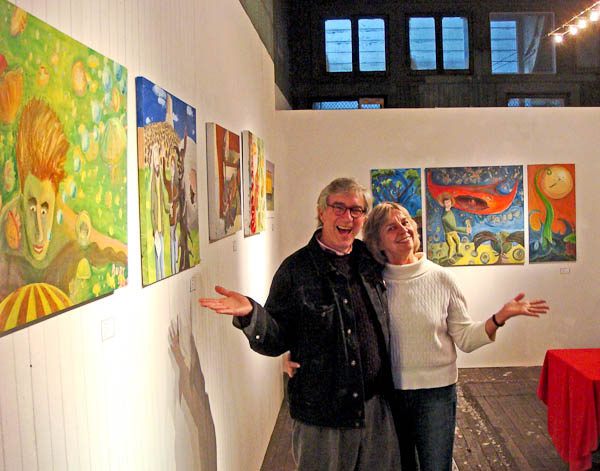 2007. With Sylvia at my show in the Live Worms gallery, North Beach, San Francisco, California.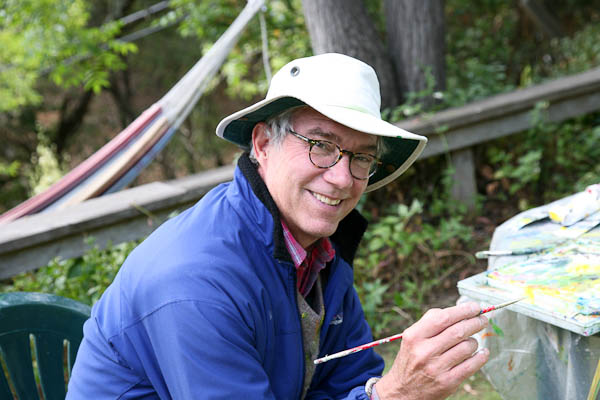 2008. Painting in my back yard.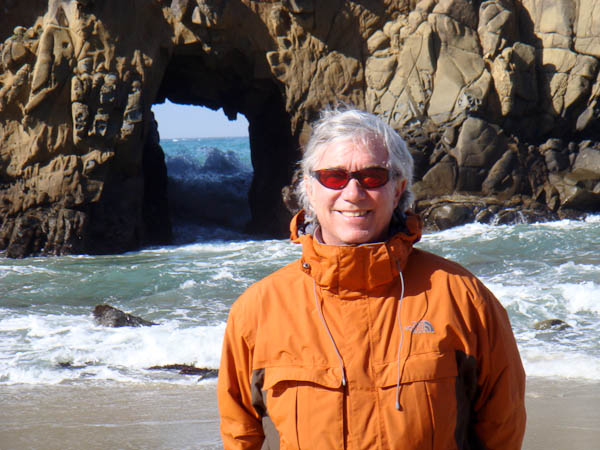 2008. At the "magic door" arch at Pfeiffer Beach in Big Sur, California. See Mathematicians in Love.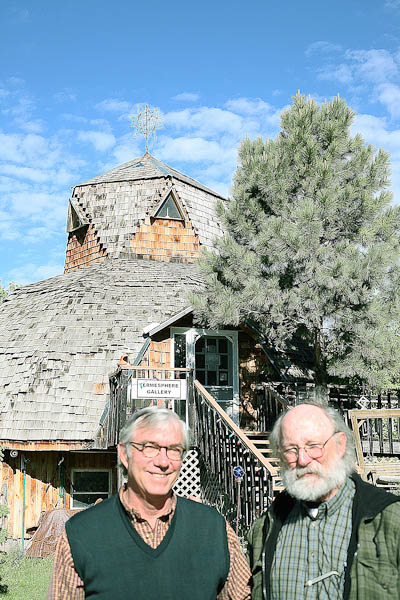 2008. With sphere-painting artist, Dick Termes in Spearfish, North Dakota, doing research for Saucer Wisdom.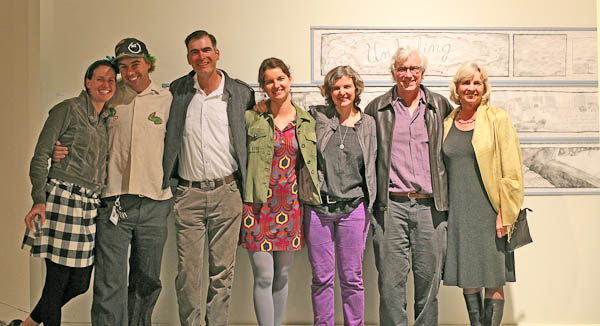 2009. My family at daughter Isabel's exhibition of Unfurling, a graphic novel in the form of a giant 450 foot long cartoon strip, SoMARTS gallery, San Francisco.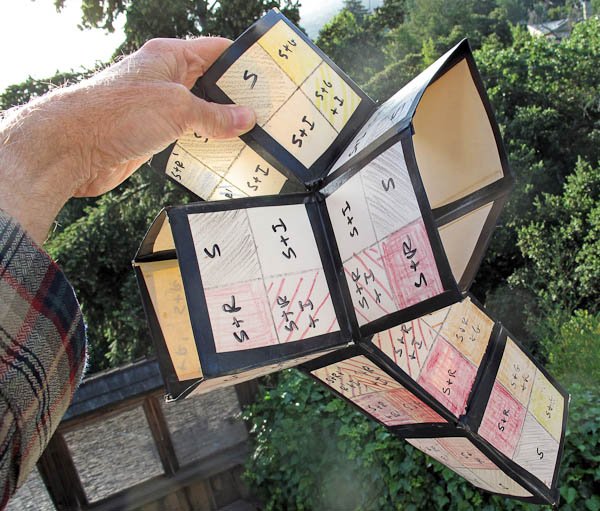 2009. My paper model of a hypercube. Used as an anniversery card for Sylvia (S), with each of the 4D axes representing one of the other members of the family: Me (R), Georgia (G), Rudy Jr. (R'), and Isabel (I). The glamor of life with a mathematician...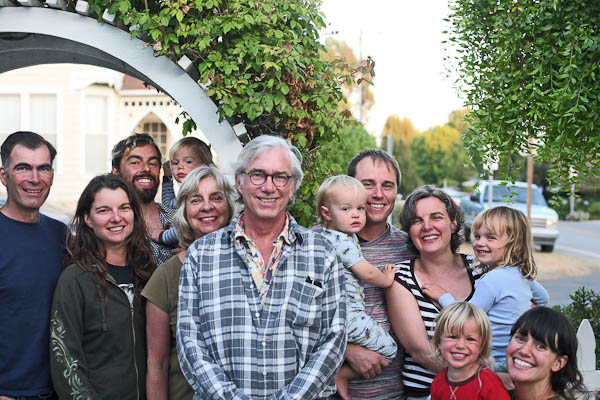 2009. My family on a beach vacation at Santa Cruz.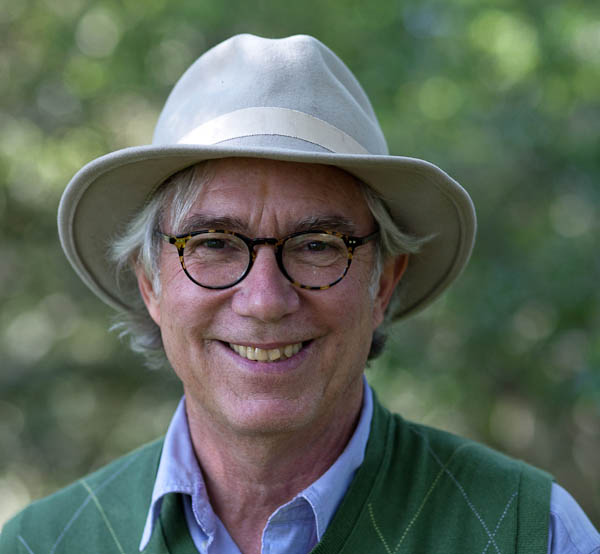 2010. Walking in the woods near Mount Umunhum on my sixty-fourth birthday. Photo by Sylvia.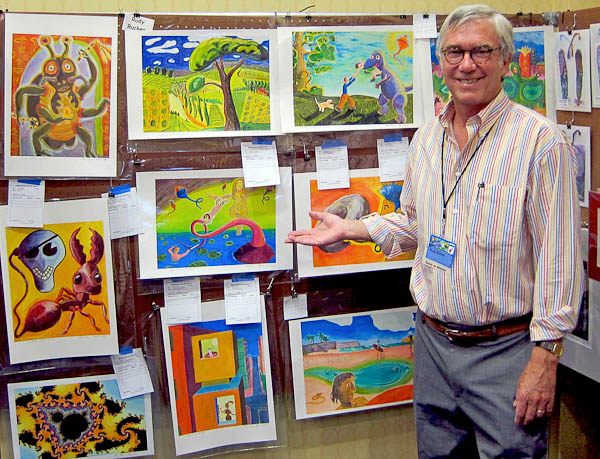 2010. Selling prints of my paintings at a Guest of Honor gig at an SF con in Pasadena, CA.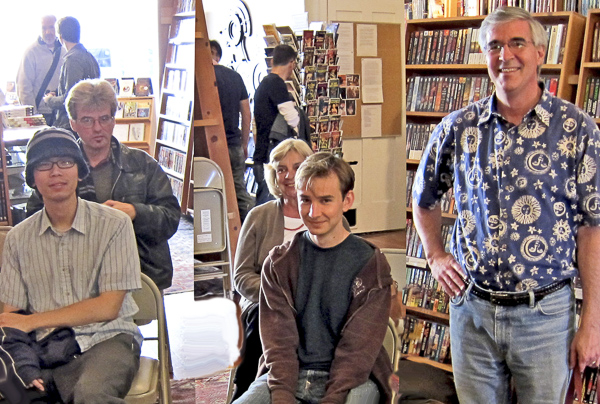 2010. Getting ready to give a reading at the venerable Borderlands Books on Valencia Street in San Francisco. I give a reading for just about every one of my books here—and often nowhere else.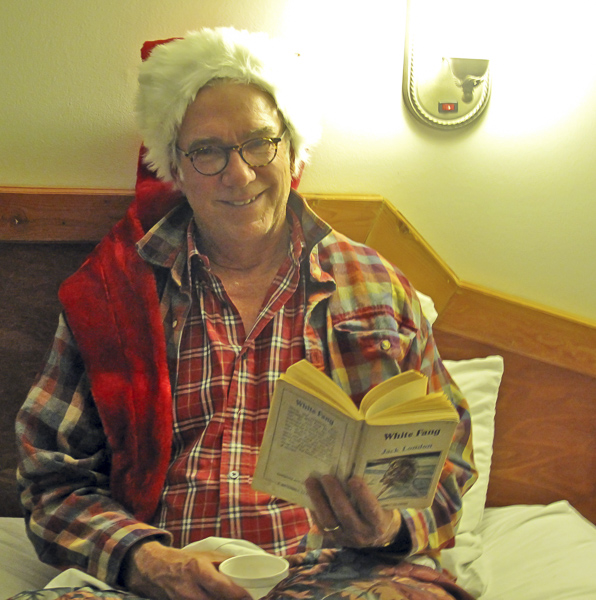 2010. Cozy at Xmas in a cheap motel in Pinedale, WYO. Reading Jack London's Call of the Wild.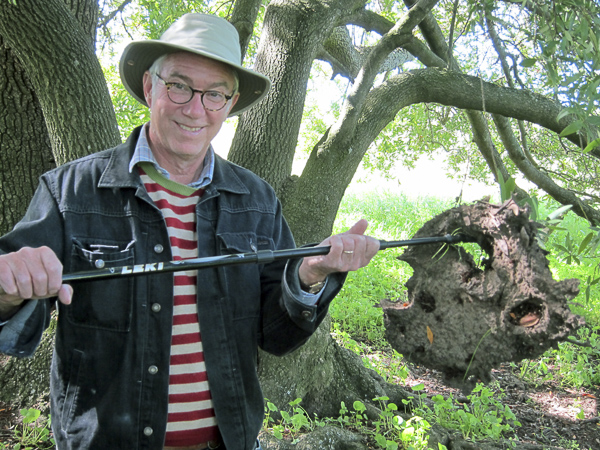 2010. Professor Rucker discusses the geometrical form of a dried cow pie found near San Jose, CA.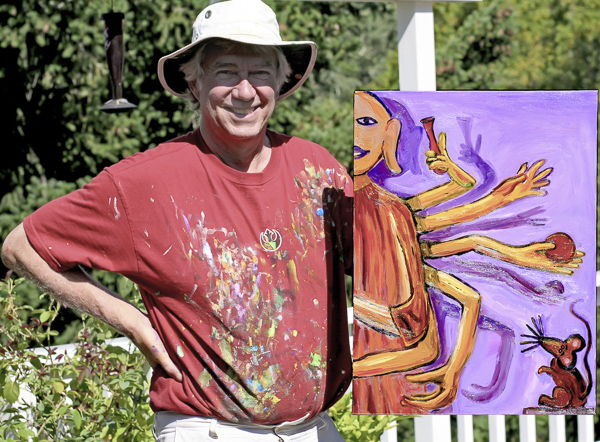 2010. My painting, "Buddha and the Mouse."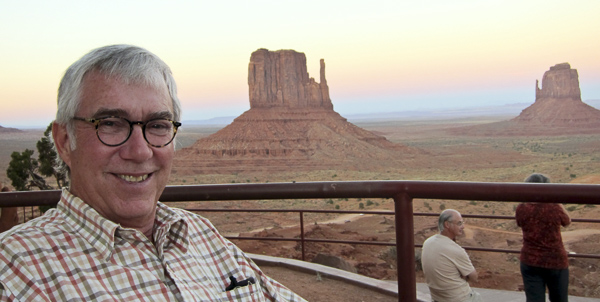 2010. At Monument Valley. I hiked out around those "mittens" at 6 am.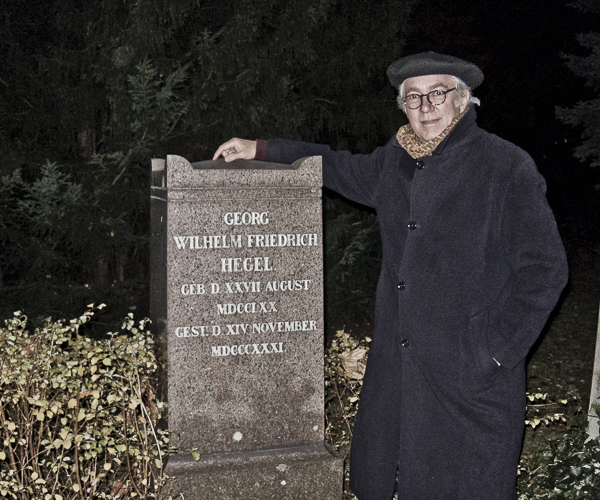 2011. My great-great-great-grandfather's Georg Hegel's grave in Berlin.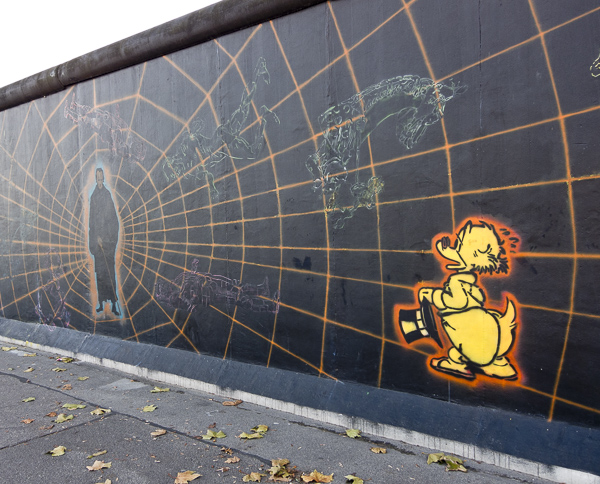 2011. I collapse my body to a 2D figure on the Berlin Wall—bewildering Unca Scrooge.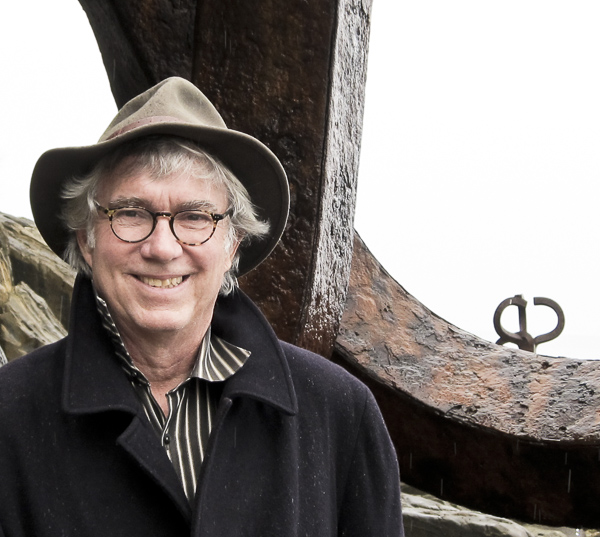 2011. In Spain for a talk at Bilbao, visiting the beach town of San Sebastian.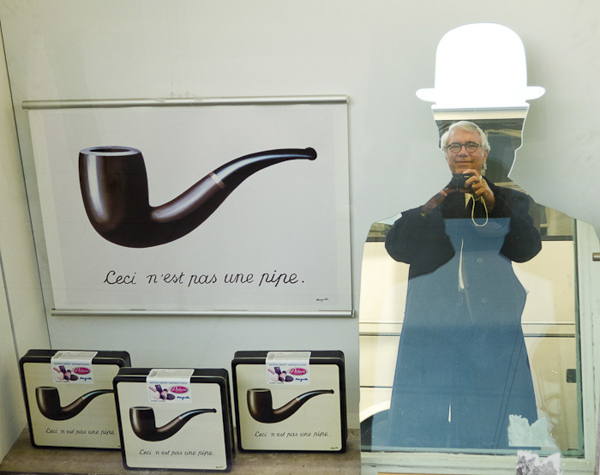 2011. Outside the Magritte Museum in Brussels.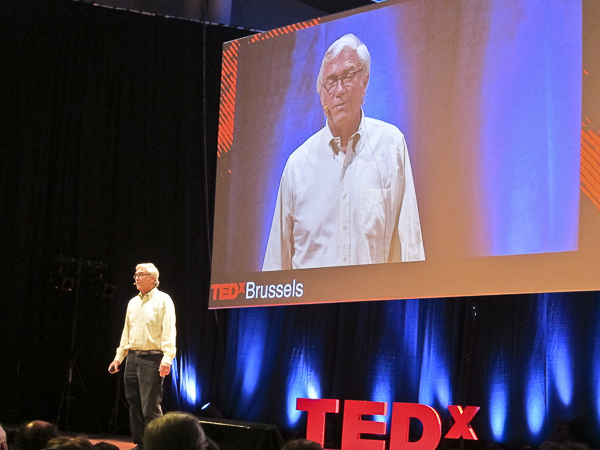 2011. Giving a talk at a huge Ted X event in Brussels. Biggest live audience I ever had.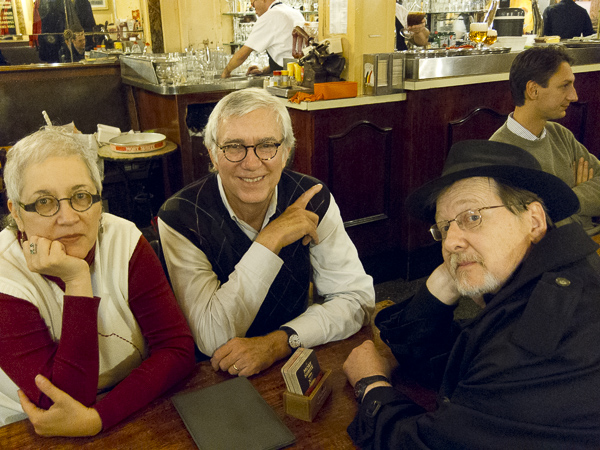 2011. At a Brussels café called La Morte Subite (Sudden Death) with John Shirley and his wife Mickey.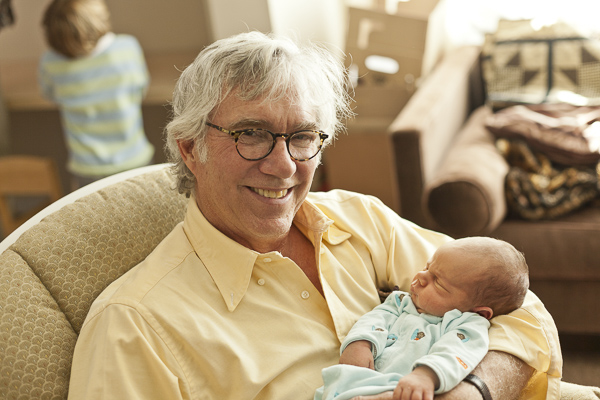 2011. My second grandson, only a week or two old.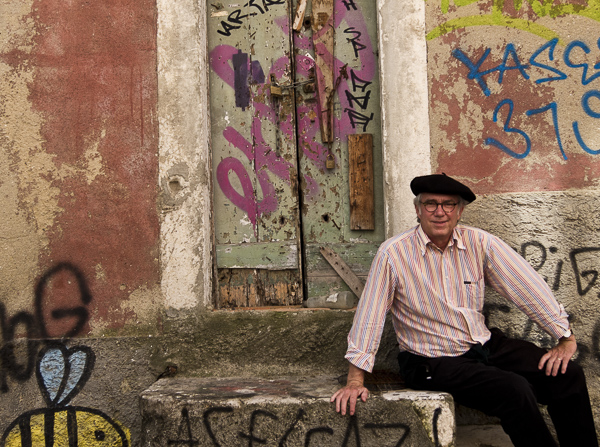 2011. Hanging around in Lisbon, Portugal. Awesome graffiti there. I was wearing a beret all the time there.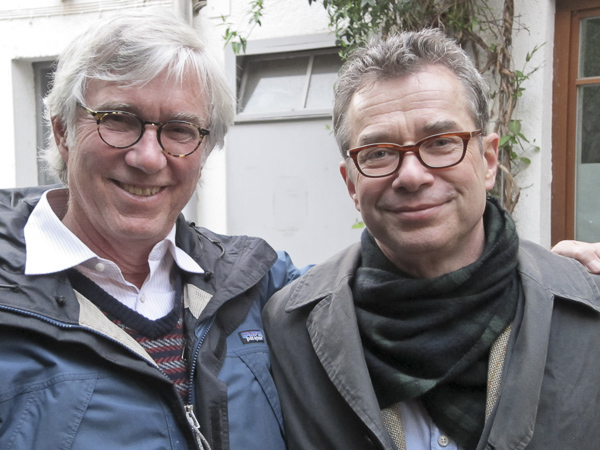 2011. With my cousin Rudolf von Bitter in Munich.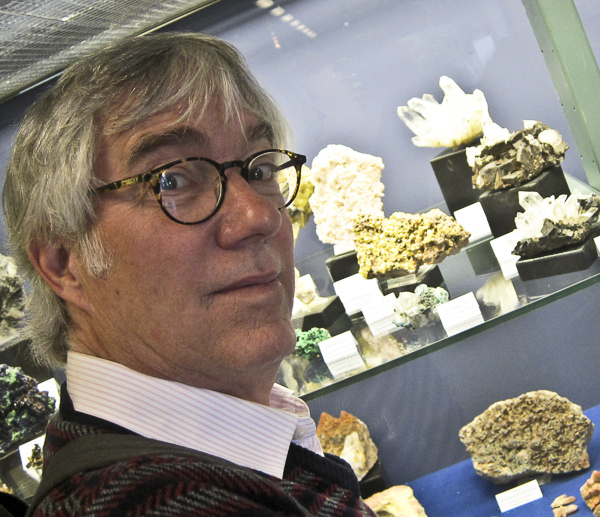 2011. A case of crystals at the geology department of some university in Munich. The crystals reminding me of a dream I had while writing White Light.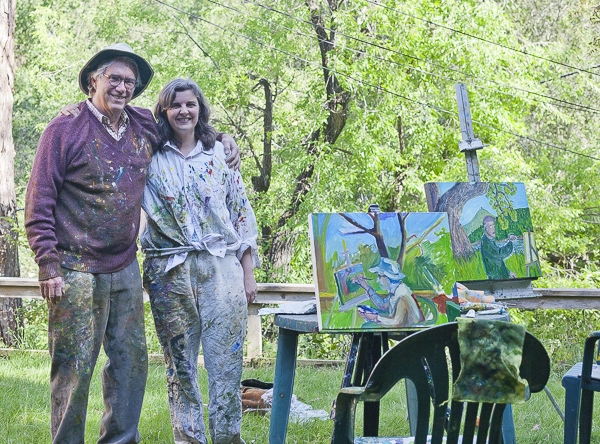 2011. Painting in my back yard with daughter Georgia here on a visit.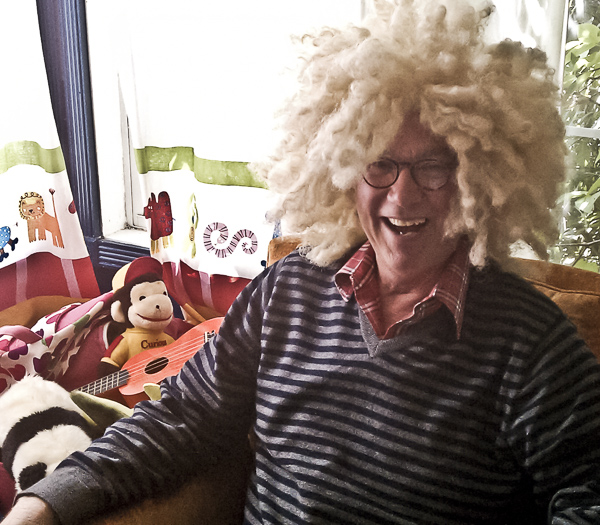 2011. Wearing a clown wig I found at Rudy Jr.'s house. Feeling merry.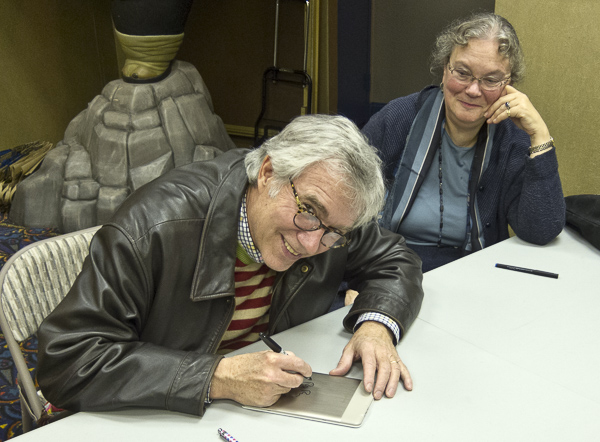 2011. Signing someone's Kindle version of one of me ebooks. Unclear to me if my signature would really be preserved.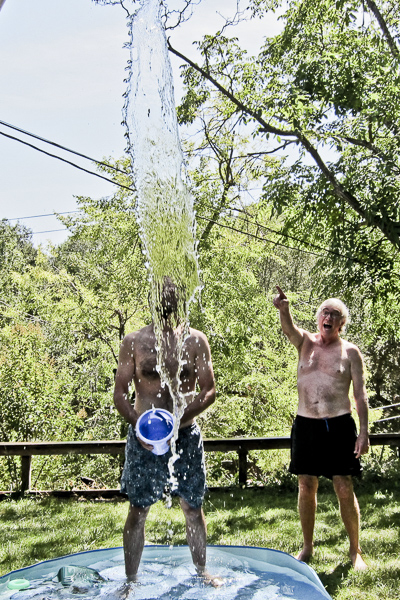 2011. Playing in our back yard with son Rudy and his family. We were doing a thing of making huge surface-tension sheets of water and photographing them high-speed.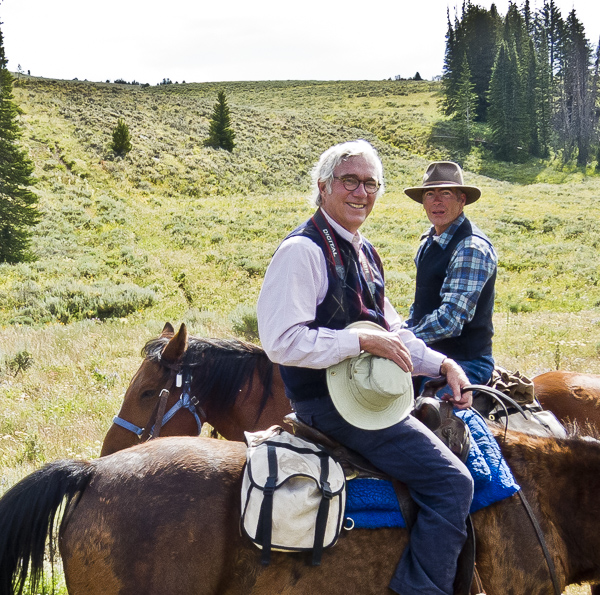 2011. This is the only time I ever rode a horse in my life. On the Darwin Ranch. My son-in-law in the background. We rode about ten miles, up and down a fairly high ridge. Fascinating.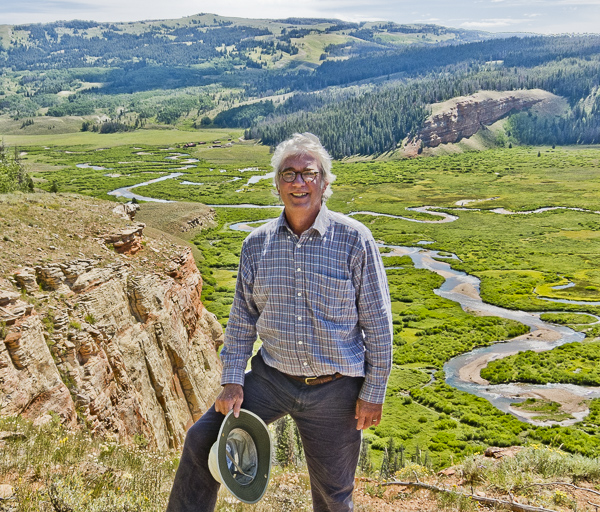 2011. At the Darwin Ranch resort, not far from Pinedale, Wyoming. Did a long hike along the edge of cliff. Insanely great views.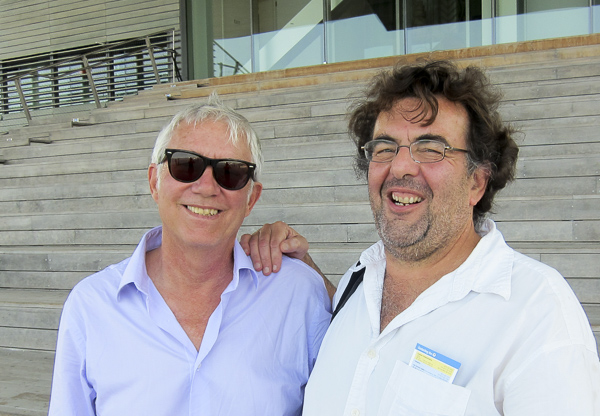 2012. With fellow SF writer and frequent collaborator Paul Di Filippo in Boston.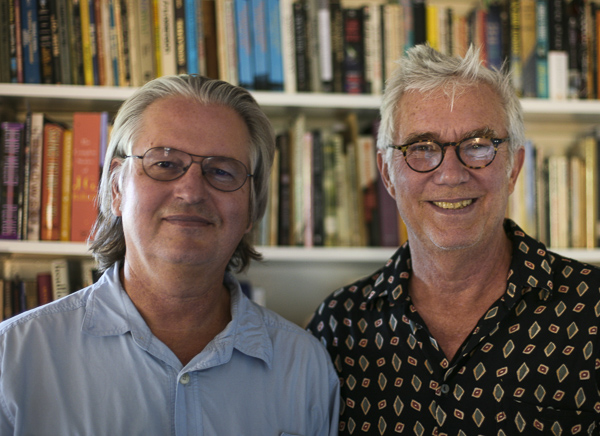 2012. With my even more frequent SF collaborator Bruce Sterling. He was in San Jose for an augmented reality conference.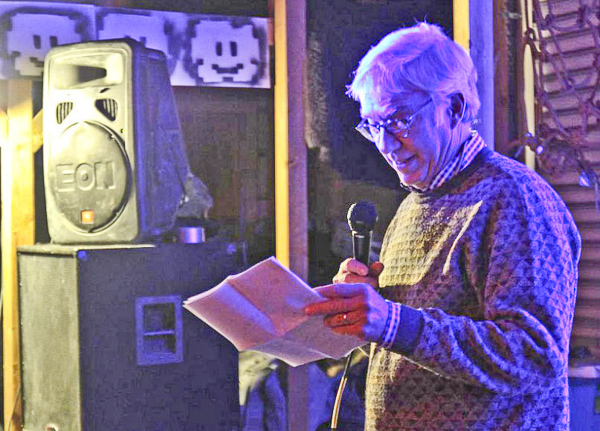 2012. Giving a talk on my Turing and Burroughs novel at a Dorkbot event in San Francisco. Dorkbot is a geekish get-together that happens once every month are two. Motto: "People doing strange things with electricity."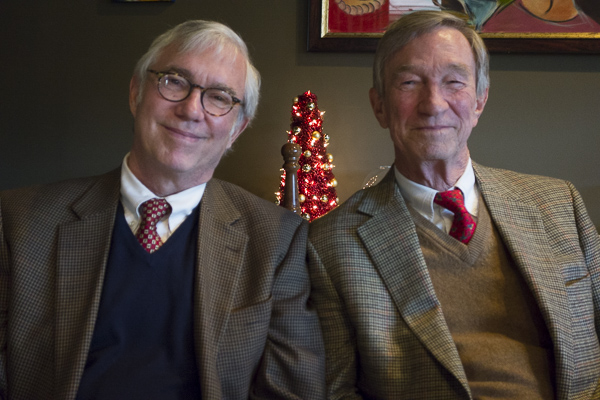 2012. With my brother Embry at his second wedding. As chance (or upbringing) would have it, we turned up wearing nearly identical outfits. Louisville boys.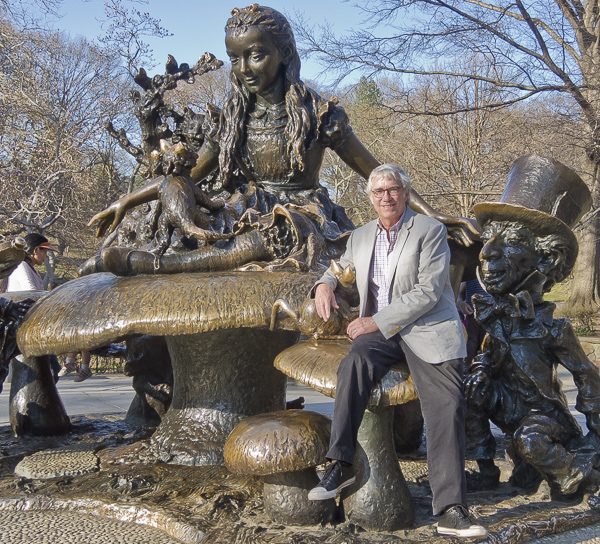 2012. With a classic sculpture of Alice in Wonderland in Central Park. About fifty years earlier my science-writing mentor Martin Gardner posed for a photo with this same sculpture.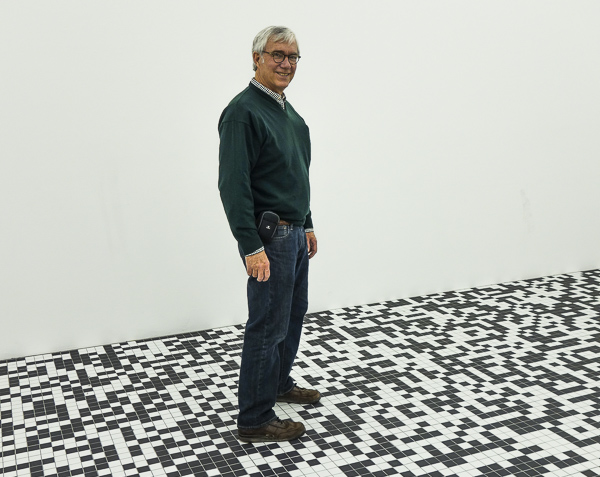 2012. A randomly checkered floor—they flipped a coin for each square. At the Museum of Modern Art in San Francisco.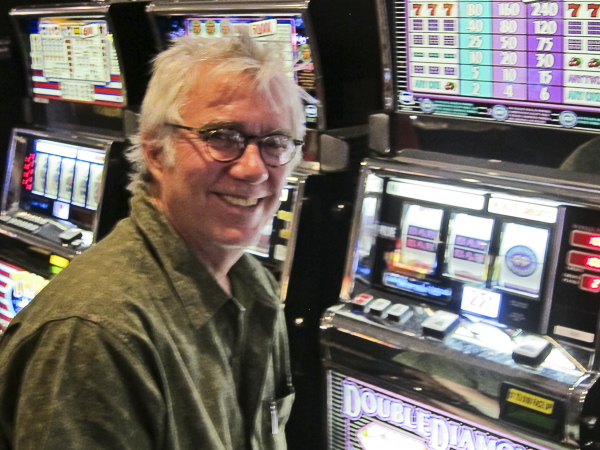 2012. Winning a small jackpot on the road in a motel on the Nevada side of the state line with Utah.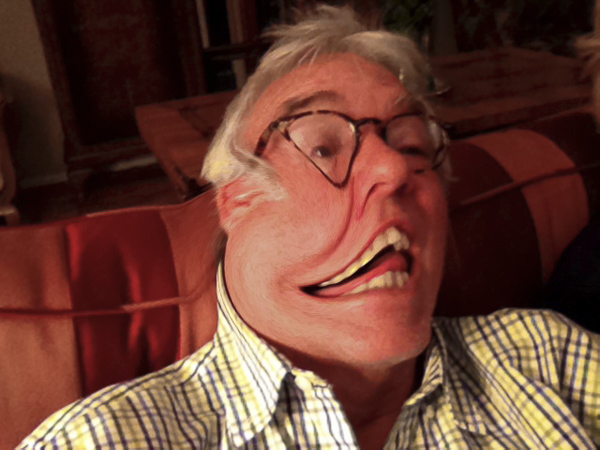 2012. Playing with the image warp tools on my new iPhone.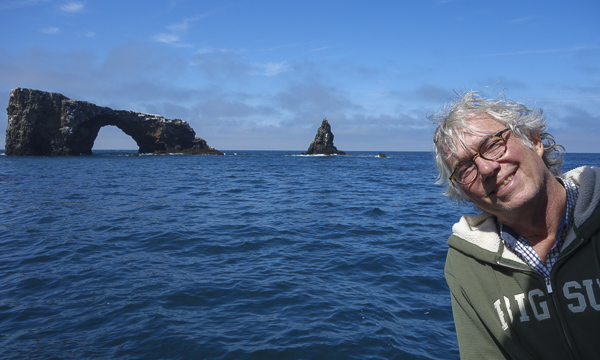 2013. Cruising out to the Channel Islands from Ventura, CA.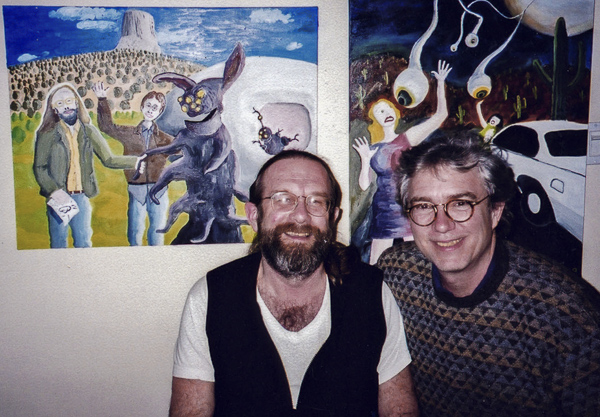 2013. Greg Gibson visiting us in Los Gatos. Posed with my painting of Greg as Frank Shook in Saucer Wisdom.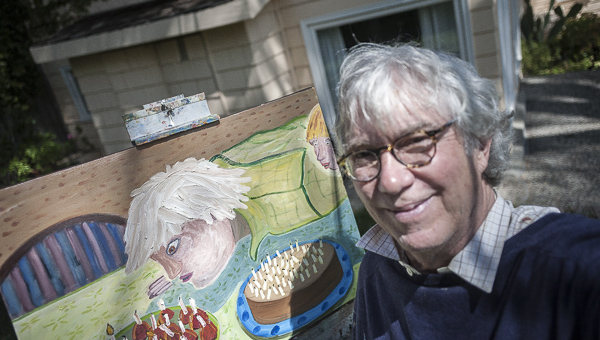 2013. I did a painting based on a photo of me blowing out my birthday candles with my granddaughters helping.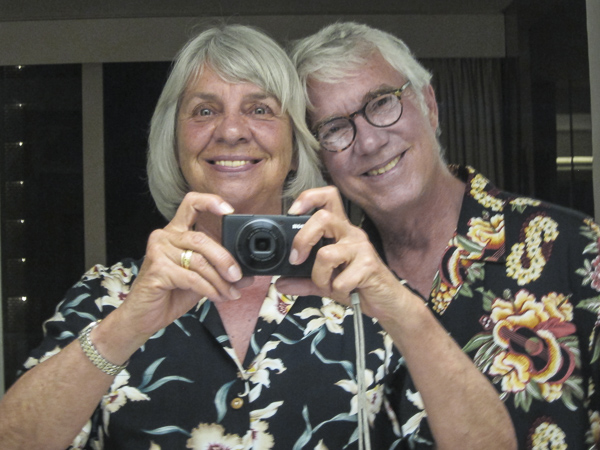 2013. Sylvia and I in Hawaii, decked out in new aloha shirts.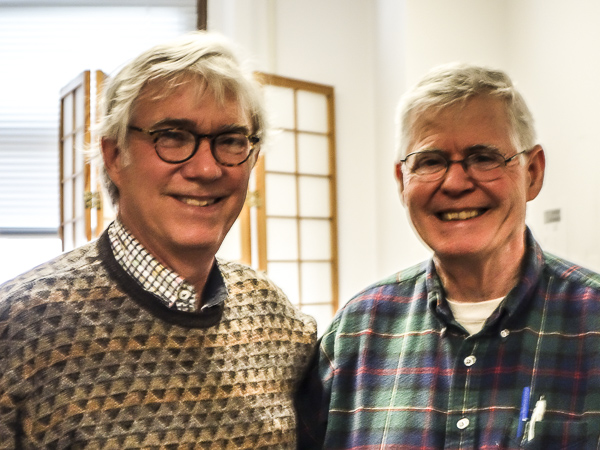 2013. With my long-term editor David Hartwell of Tor Books. This was after Tor stopped publishing me and I'd struck out on my own with Transreal Books.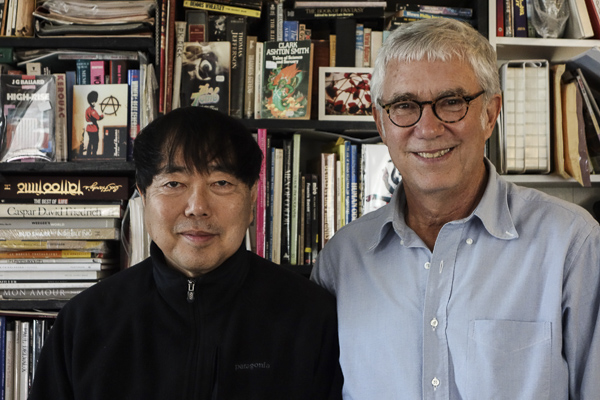 2013. At the perennial SF hipster Vale's apartment in North Beach. He and his wife Marian Wallace taped a long interview with me.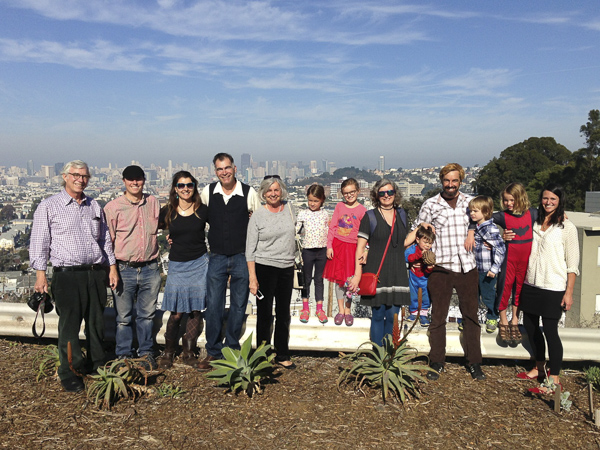 2014. My entire nuclear family, wife, kids, their spouses, the grandkids. And it used to be just me.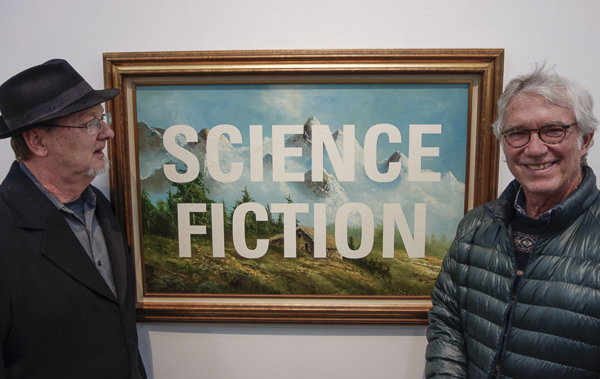 2014. With John Shirley, admiring a painting by Paul Mavrides.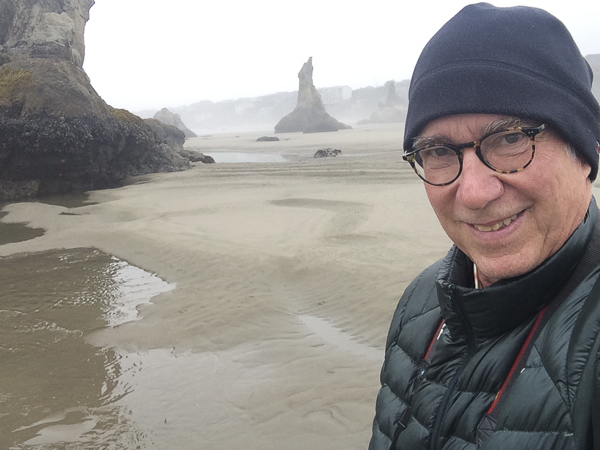 2014. On the wonderfully hallucinatory beach of Bandon, Oregon. Eroded sea stacks.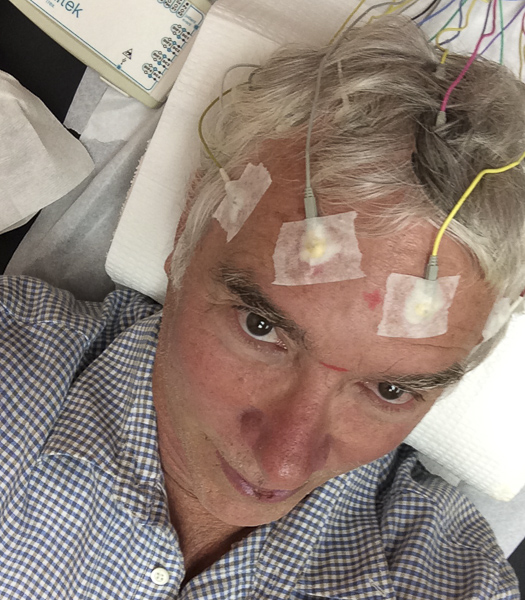 2014. Getting an EEG brain scan. Verdict: irremediably abnormal.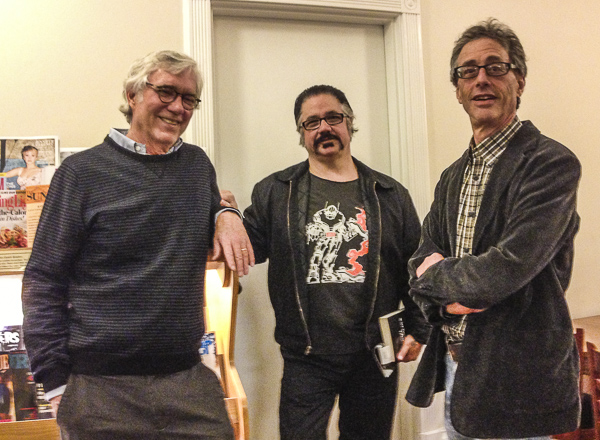 2014. With fellow writers Michael Blumlein and Richard Kadrey at Borderlands Books. I was giving a reading in connection with an art show of my paintings.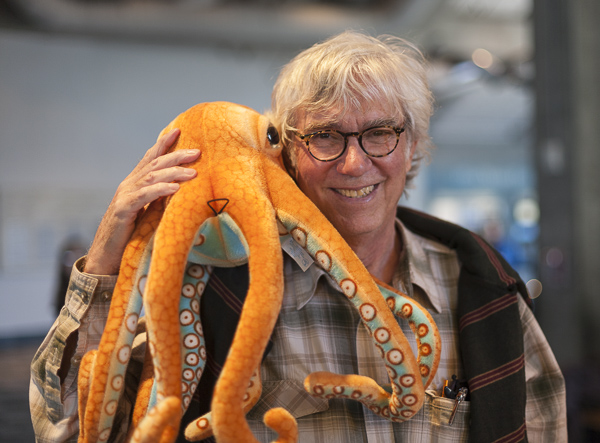 2014. With a stuffed cephalopod at the Monterey Aquarium. Generally speaking I try and include a cuttlefish in every one of my novels.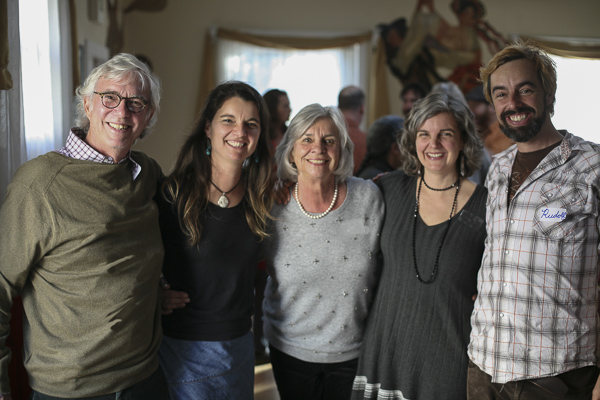 2014.With Sylvia and our three kids at a group Thanksgiving party in the Mission. Yes, I'm wearing my sweater backwards. Because I'm old.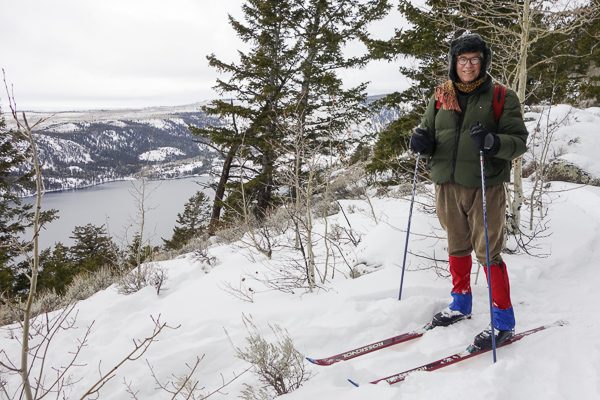 2014. Skiing along a ridge near Isabel's place in Pinedale, Wyoming.