Frek and the Elixir
by Rudy Rucker
Tor Books, 2004.
~$20 in paperback. 560 pages.
~$8 in ebook.


Buy direct from Amazon.

Buy from Tor/MacMillan . The Tor site also has links to other online booksellers.


More info on Rudy Rucker

Page last updated December 11, 2015.
Full Writing Notes Online
Rucker's Full Notes for Frek and the Elixir
This is a 1.3 Megabyte PDF file of Rucker's working notes for the book. On a completely unrelated note, let me remark that Frek appeared as a fashionable accoutrement in a Barneys New York catalog!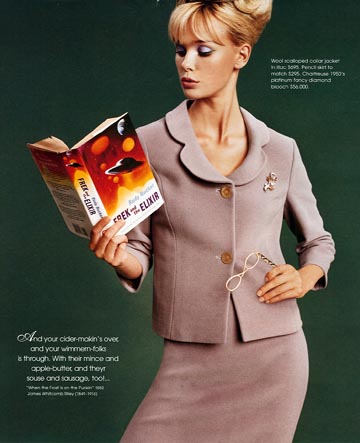 Summary of the Novel
Frek and the Elixir is a profound, playful SF epic.  The central theme is human individuality vs. the homogeneity of monoculture.

It's 3003 and the biotech tweaked plants and animals are quite wonderful — but there are only a few dozen of the old species left.  Nature has been denatured by the profiteers of NuBioCom.  It's up to Frek Huggins, a lad from dull, sleepy Middleville, to venture out into the galaxy to fetch an elixir to restore Earth's lost species.  At least that's what a friendly alien cuttlefish tells him the elixir will do.  But can you really trust aliens?

Frek finds himself in the midst of a galactic struggle for humanity's freedom, accompanied by his talking dog Wow, the down-home mutant Gibby, and an asteroid-raised girl named Renata.  The final liberation depends on freeing Frek's long-lost father from an all-seeing alien known as the Magic Pig.

Frek and the Elixir is meant to be an archetypal saga reminiscent of The Lord of the Rings, the Harry Potter books, and Phillip Pullman's His Dark Materials series — although a little more amusing.
| | |
| --- | --- |
| Visualization of the alien cuttlefish Bumby appearing beneath Frek's bed. (Oil painting by Rudy Rucker, 2001. Ignore the wedding-ring, as this should really be 12-year-old Frek's hand!) | |
Blurbs
I feel like one of Lewis Carroll's friends, one of the first witnesses of a significant and possibly future-classic from a freakish fabulist. The book is like a hallucination. I can't believe the stuff Rudy's got crammed in here; it just keeps coming. I envy the reader who encounters this book and has the top of his skull blown off by it. Truly spectacular and cosmic. And my kids love it too!
--- Marc Laidlaw, Author of Dad's Nuke and The 37th Mandala, and Writer/Game Designer for Half-Life.
Astonishingly good and fun. I am agog. Rucker turns the vanguard of extreme physics into a saga that is at once gripping, hallucinogenic and convulsively funny. He bends language into transdimensional forms, then scampers over their corkscrews.
--- Cory Doctorow, Author of Down And Out In The Magic Kingdom.
One of the top fantastic novels of the year, Frek and the Elixir is an act of the wild but informed imagination. It is based, with unassailable logic, on a denatured world of cartoons and biotech companies. This is one of the best reads I've come across in a long time.
--- Robert Sheckley, SF Grand Master
Oh, excellent! I love books that play with physics --- branes and so forth --- and this is godzoon googl indeed, as Frek would say, and darned exciting ... A splendid book.
--- Diana Wynne Jones, Author of The Merlin Conspiracy and The Ogre Downstairs.
Rucker successfully combines sharp-edged satire with old-fashioned pulp sensibilities to create a frantic tale of dirty double-dealing and high adventure. Readers in search of something different need look no further than this droll saga of the future.
--- Publishers Weekly
Imagine Frodo Baggins as a 31st-century human kid in a transformed Earth where bio-engineering and consumerism have run amok... Frek's grand adventures will leave you simultaneously enlightened, awestruck, dazed, and amused --- "Ruckerized," you might call it --- by an author working at the height of his powers.
--- Locus
Frek and the Elixir is perhaps Rucker's best book, containing as it does such a wealth of material in a compelling story. In some ways, Rucker is a literary descendant of Philip K. Dick, and this book felt to me like the masterpiece of trashy culture, ordinary people, and wacked-out ideas that Dick never quite wrote.
--- Challenging Destiny
Rucker has a clarity of purpose: to entertain with intelligence.
--- Kansas City Star
With this book, Rudy Rucker seems to have boldly ascended a new peak in his career. Frek is utterly believable and empathy-inducing from the first page of the tale. Frek remains both a conquering hero and a 12-year-old boy, showing us that we all may contain avatars bigger than our shells. This book is Robert Heinlein's Have Spacesuit --- Will Travel with the vacuum tubes replaced by wetware and all the knobs turned up to 11.
--- SF Site
Completely delightful and amusing. A great adventure in a book that is an enormous amount of fun and full of charms that will appeal to readers of all ages from about 12 up. Frek and the Elixir may happily become something to read for the millions of fans who are waiting for Harry Potter Six.
--- San Jose Mercury News
Rucker posesses a wild, unfettered imagination, and he uses concepts from string theory and quantum mechanics to power this wide-ranging, almost psychedelic yarn. Fresh, funny and frequently mind-boggling.
--- San Francisco Chronicle
Before you can say "E.T." or "A Wrinkle In Time," Frek and some very odd companions are off on an escapade that will span space, time and numerous other dimensions ... a magical mystery tour of the universe according to string theory.
--- New York Times

(Blurbs for Rudy Rucker's Other Books)
| | |
| --- | --- |
| Visualization of Frek, his dog Wow, and his friend Gibby arriving at Stun City. | |
Monomyth Design Note
In order to give Frek and the Elixir a truly mythic feel, I modeled the book on the "monomyth" template described in Joseph Campbell's classic The Hero with A Thousand Faces (as George Lucas is said to have done for Star Wars.)   Frek and the Elixir was designed from the ground up to match the monomyth so as to give the book the greatest possible resonance.
Campbell's archetypal myth includes seventeen stages.  By combining two pairs of stages, I ended up with fifteen chapters.  Here's a little table presenting the my chapter numbers and titles with the corresponding Cambellian stages.
| | | |
| --- | --- | --- |
| Chap | Title | Monomyth Stage(s) |
| 1 | Middleville, 3003 | The Call |
| 2 | The Thing Under Frek's Bed | Refusal of the Call |
| 3 | In the Grulloo Woods | The Helper |
| 4 | Stun City | The Threshold |
| 5 | Professor Bumby | The Belly of the Whale |
| 6 | Yunch! | The Road of Trials |
| 7 | Renata | The Goddess |
| 8 | Unipusk | The Temptress |
| 9 | The Spaceport Bar | Atonement with the Father |
| 10 | Orpoly | Apotheosis |
| 11 | The Exaplex | The Boon |
| 12 | All Hell Breaks Loose | Refusal of the Return, and The Flight |
| 13 | The Revolution | Rescue from Without, and The Return Threshold |
| 14 | The Shuggoths | Master of Two Worlds |
| 15 | The Toons | Freedom to Live |