Morrow/Avon cover by Romas.

Monkeybrain Books cover by John Picacio.

Transreal Books cover by Rudy Rucker.

This page last updated Februaray 1, 2018.


The Hollow Earth

A Steampunk SF Novel by
Rudy Rucker

1st Edition, Avon Books, 1990. Out of print.
2nd Edition, Paperback, Monkeybrain Books, 2006. Out of print.
2nd Edition, Ebook, Transreal Books, 2013. Available.
In progress: 3rd Edition of The Hollow Earth.
In progress: Return to the Hollow Earth.

Page Contents:
Sequel: Return to the Hollow Earth!
I started work on The Return to the Hollow Earth in April, 2017, and hope to finish it by the end of 2018, with projected publication in 2019.
Hints: Eddie Poe will be back! Along with a pet ballula, shown below with Mason, Seela, and Arf aboard as well. More info to come...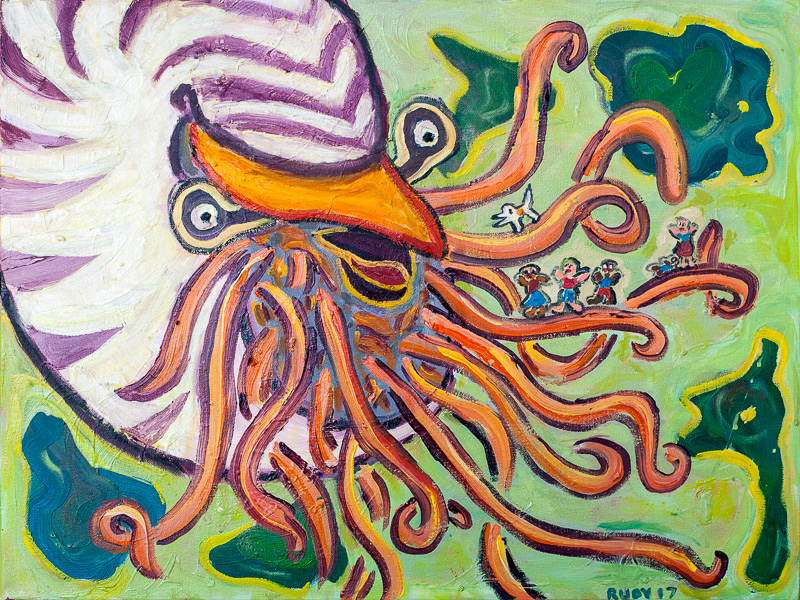 Buy The Hollow Earth
Buy the out-of-print paper editions via Amazon, Alibris, Powell's Books, or Monkeybrain Books.
Buy the ebook from Amazon, or Transreal Books.
Summary of The Hollow Earth
In 1836, Mason Algiers Reynolds leaves his family's Virginia farm with his father's slave, a dog named Arf, and a mule named Dammit. Branded a murderer, he finds sanctuary with his hero, frustrated genius Edgar Allan Poe, and together they embark on an extraordinary expedition to the South Pole, and the entrance to the Hollow Earth. It is there, at the center of the world, where strange physics, strange people, and stranger creatures abound, that their bizarre adventures truly begin.
Blurbs & Reveiws
Rucker never wants for new inventions... Irresistible.
— Washington Post Book World.
Jam-packed with Rucker's dada-gaga, aurora-borealism, and gargantuan playfulness. Rucker is one of my all-time favorite writers. He warms the cockles of my heart and fires up the little gray cells.
— Philip Jose Farmer.
Terrific... A thrilling-wonder sci-fi novel... Rucker's Poe is the most endearingly repulsive character I can recall having met in fiction.
— Fantasy & Science Fiction.
Edgar Allan Poe would have loved this book — and so will you!
— Robert Bloch, author of Psycho.
A craftily conceived adventure story, full of wonder, beauty and humor ... Goofily outlandish ... The Hollow Earth is a treat.
— San Francisco Chronicle.
I never doubted that Mr. Rucker knew the way, and I never lost interest in the plucky young Mason and the redoubtable if reprehensible Eddie Poe, who encounters in real life every one of the nightmares he has so memorably to paper.
— The New York Times Book Review.
It's more fun than anything I've read in I don't know how long, and it's certainly the reigning king of the 'hollow Earth' novels. Rucker has an enviable imagination, an astonishing ear for language, and a rare sense of proportion and humor. I wish books like this would come along more often.
— James P. Blaylock, author of The Digging Leviathan.
Rudy has written the Great American Science Fiction Novel.
— Marc Laidlaw, author of Kalifornia.
(Reviews of Rudy Rucker's Other Books)
Browse The Hollow Earth Online!
Browse the 2nd edition of The Hollow Earth as a webpage. The image below is a map of the Hollow Earth, taken from the editor's note at the end of the book.