The Big Aha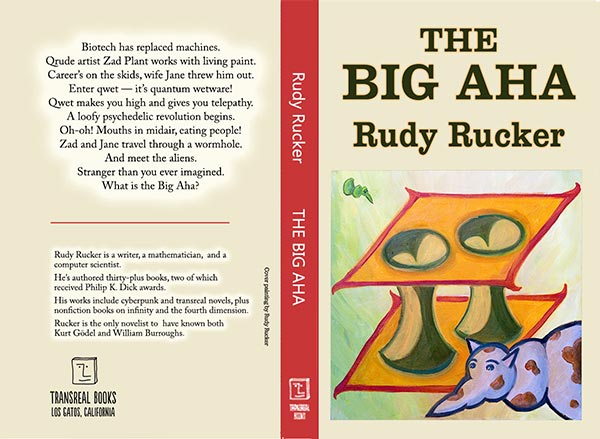 Click for a larger version of The Big Aha cover flat.
by Rudy Rucker
Transreal Books
Hardback, paperback and ebook.
330 pages. 14 illustrations.
Browse the entire The Big Aha novel as an illustrated web page.
Buy ebook and print editions of The Big Aha.
Biotech has replaced machines. Qrude artist Zad Plant works with living paint. Career's on the skids, wife Jane threw him out. Enter qwet—it's quantum wetware! Qwet makes you high and gives you telepathy. A loofy psychedelic revolution begins. Oh-oh! Mouths in midair, eating people! Zad and Jane travel through a wormhole. And meet the aliens. Stranger than you ever imagined. What is the Big Aha?
"Rudy Rucker's latest novel, The Big Aha, is pure transreal Ruckeriana featuring extreme biological and quantum technologies, steamy techno-sex, nasty aliens from higher dimensions — and all soaked in the unique atmosphere of the magical 1960s. … This is a great example of how science fiction publishing is being redefined."
— Giulio Prisco, io9.
The Bg Aha gloriously and objectively exists on an absolute level with all of Rucker's classic work, chockfull of crazy yet scientifically rigorous ideas embodied in gonzo characters and plots.  Like a jazzman, Rucker takes his intellectual obsessions as chords and juggles them into fascinating new patterns each time out…a rollercoaster ride that is never predictable and always entertaining…straight out of some Kerouac or Kesey novel, yet with a twenty-first century affect. Rucker is remarkably attuned to a new generation.  Ultimately, all the craziness and whimsy and otherworldly menaces of Zad's mad odyssey induces true pathos and catharsis in the reader.
— Paul Di Filippo, Locus Online.
Some passages have an oddly beautiful weirdness, tinged with old memories, like a humid summer day... Splendid flights of the imagination.
— Faren Miller, review in Locus Magazine
Rucker has been writing like a mind-meld of Gödel and Burroughs on acid, but with some sort of academic overmind trying, and for the most part succeeding, to run the result through a logical scientific-refereed-paper process... But there is something else to this novel, a characterological sweetness combined with a political passion the nature of which might cause Rucker to deny that it is political... What Rudy Rucker presents and champions is the last and finally successful battle in the culture war dating back to the Transcendental Movement of the nineteenth century that peaked in the 1960s.
— Norman Spinrad, Isaac Asimov's SF Magazine.
Rucker's Big Aha art show at Borderlands in SF.
Rucker discusses The Big Aha in a May, 2013, Locus interview.
Afterword to The Big Aha, describing the origins of the book.
Podcasts of the author's talks and readings.
Email Rudy Rucker if you're interested in doing a review or an online interview about The Big Aha for your newspaper, magazine, zine or blog.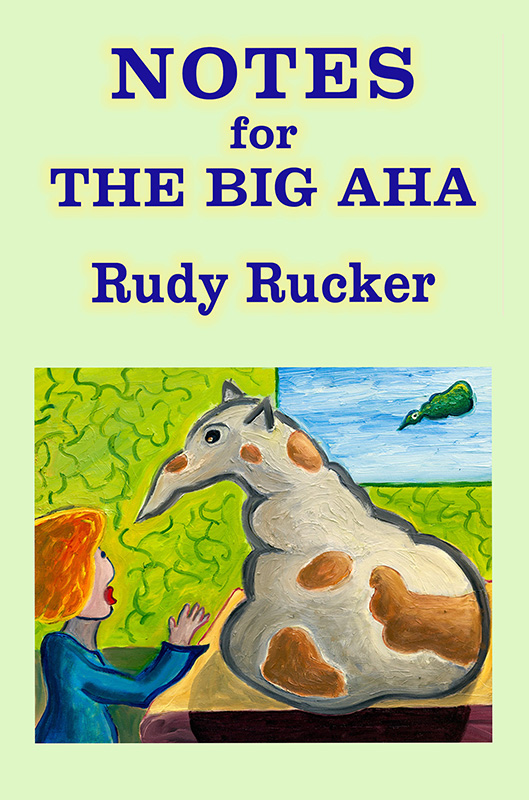 by Rudy Rucker
Transreal Books.
Hardback, paperback and ebook.
350 pages. 34 illustrations.
Browse the entire Notes for The Big Aha book as an illustrated web page.
Buy ebook and print editions of Notes for The Big Aha.
As well as documenting two years of writing a novel, Notes for The Big Aha describes the author's transition to new modes of publishing. Amusing, inspiring, and worldly wise, these writing notes may prove useful and encouraging for your own creative work, not to mention enhancing your appreciation of The Big Aha itself.