Million Mile Road Trip
by Rudy Rucker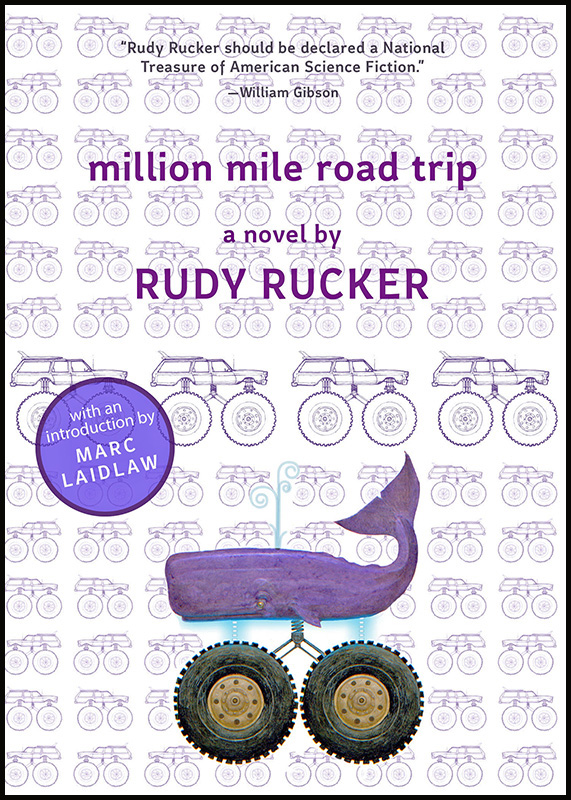 Million Mile Road Trip
Hardback and Paperback
Night Shade Books, May 7, 2019.
Introduction by Marc Laidlaw. Cover art by Bill Carman.
504 pages.
Paperback ISBN: 978-1-59780-984-9.
Hardback ISBN 9781940948386|
Amazon, Barnes & Noble, etc.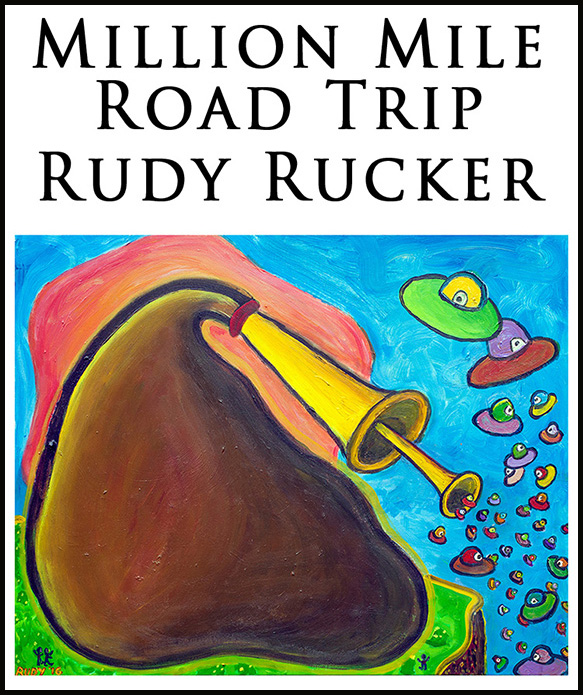 Million Mile Road Trip (Ebook)
Ebook, Transreal Books, May 7, 2019
Amazon, Barnes & Noble, Transreal Books, etc.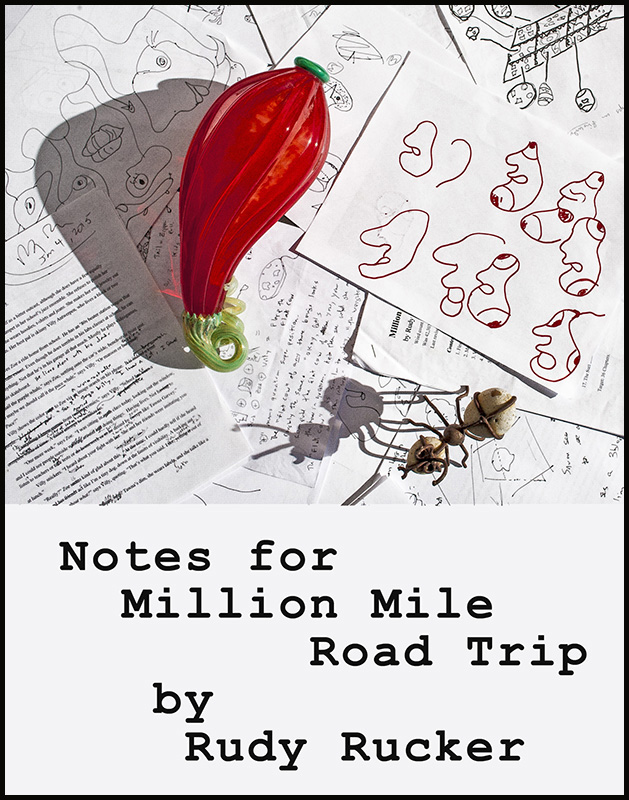 Notes for Million Mile Road Trip
Ebook, Paperback, and Collector's Hardback
Transreal Books, May 7, 2019
390 pages, 40 illos, hardback in full color, paperback in black and white, ebook.
Amazon, Barnes & Noble, Transreal Books
Book Trailer!


Million Mile Road Trip
Rudy Rucker offers his smart, hilarious, and uniquely gnarly science fiction version of the classic road-trip story. When a seemingly-innocent trumpet solo somehow opens a transdimensional connection to Mappyworld, a parallel universe containing a single, endless plain divided by ridges into basin-like worlds, three California teens find themselves taken on a million mile road trip across a landscape of alien civilizations in a beat-up, purple 80s wagon . . . with a dark-energy motor, graphene tires and quantum shocks, of course. Their goal? To stop carnivorous flying saucers from invading Earth. And, just maybe, to find love along the way.
Million Mile Road Trip is a phantasmagoric roller-coaster ride—mind warpingly smart and wildly funny, with a warmly beating heart. Night Shade Books' ten-volume series with Rudy Rucker collects nine of the brilliantly weird novels for which the mathematician-turned-author is known, as well as a tenth, never-before-published book, Million Mile Road Trip. We're proud to collect in one place so much of the work of this influential figure in the early cyberpunk scene, and to share Rucker's fascinating, unique worldview with an entirely new generation of readers."
Notes for Million Mile Road Trip
Notes for Million Mile Road Trip is the length of a novel, and includes about 40 color illos, plus my writing notes over the year it took to write Million Mile Road Trip. I'll produce a casebound color hardback collectors limited edition as part of my Kickstarter campaign. Black and white paperback and color ebook editions will be on sale to the public. And a free browsing version is online here as a web page.
Reviews
There's an alien under the bed and another on the lawn. This is Los Perros, Calif. — playground for Rudy Rucker, setting for his newest novel, Million Mile Road Trip. And things are only going to get stranger from here. ... What it cooks down to is music. What it cooks down to is a jubilant looseness. A freak collision of dialect and voice and neurons well greased, and a man who wants to tell a story about three teenagers going on a road trip through alien worlds without leeching any of the inherent strangeness from it. ... This kind of thing, you just jump in and hang on, warmed by the goofball joy of it all, buoyed up by the high, jazz-cat bebop of the language, the glazed stoner rhythms. And by the end of it, your mind will be inevitably expanded — open to the possibility of almost anything. — NPR Review
Tipping his hat to Thomas Pynchon, Jack Kerouac, and Douglas Adams, Rucker immerses readers in a fantastical road trip adventure that's a wild ride of unmitigated joy. Rucker populates his story with boldly surreal, humorous personalities and environments and moves it at a frenzied, ever-increasing pace. He ties everything together with internal consistency, playful use of language that keeps his ideas alien yet accessible, and a solid grounding in fourth-dimensional math. This wacky adventure is a geeky reader's delight. —Publishers Weekly
A fast-paced, absurd, and entertaining road trip through a fever dream—and that's a good thing. —Booklist
What a trip this new one is. And at the end you find yourself somewhere you never imagined. —Marc Laidlaw
Few living sci-fi writers are as quietly influential as Rudy Rucker. The recipient of the first-ever Philip K. Dick Award, he is best known for the Ware series, that seminal cyberpunk tetraology, but he's written dozens more novels in a variety of genres, not to mention influential works of non-fiction. He also founded and defined science fiction's Transrealist movement, which some argue has become a crucial element of modern-day genre writing. — Intro to Rucker interview on B&N SciFi & Fantasy Blog.
From the Author
I've always wanted to write an SF novel about a motley group of characters taking a long journey to visit a lot of planets, some of the travelers human, and some of them alien. To make it more fun, I wanted them to be riding in a car. Why a car? Well, we already have plenty of SF novels about tourists in spaceliners, emigrants in generation starships, and troops in the space navy. In a car, there's no captain, and you can ride with the windows open, and you stop wherever you like.
Real-life road trips end before you want them to. You run into a coastline. The road stops. I wanted a road trip that goes on and on, with ever new adventures, and with opportunities to reach terrain never tread upon before. But how to do that in a car? I peeled Earth like a grape, snipped out the oceans, shaped the flattened skin into a disk, and put a mountain range around it. Then I laid down many more of these planetary rinds, arranging them like hexagonal tiles on a vast floor. Behold mappyworld! As it happens, a million mile road trip in this world will run across about a hundred planet-like disks. Million Mile Road Trip!
To make the process more fun, I often do paintings of scenes in my novels while I write them, or before I write them. The ebook's cover, higher up on this page, shows the novel's principal villain is a giant, living, alien bagpipe who spews out flying saucers. His name is Groon.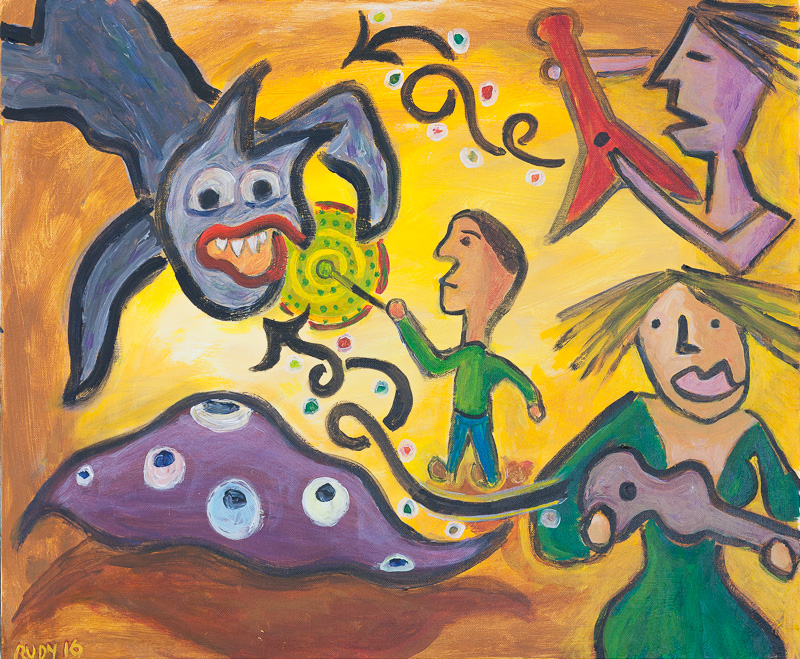 The heroes of Million Mile Road Trip are three high-school kids with bad attitudes. And the aliens they encounter are, to say the least, flaky. Consider, for example, the tollah dog attacking the aristo pupa as shown above. And the kids are protecting the pupa. I love the classic gimmicks of SF in the same way that a rock guitarist loves power chords. The trick is to bring fresh life to the fab old tropes. Given that we don't exactly see mappyworld floating around in our space, I needed to stash it in a parallel world. By way of revitalizing this very old notion, I brought in some little-known facts about the higher-dimensional geometry of tunnels between parallel worlds. Real math!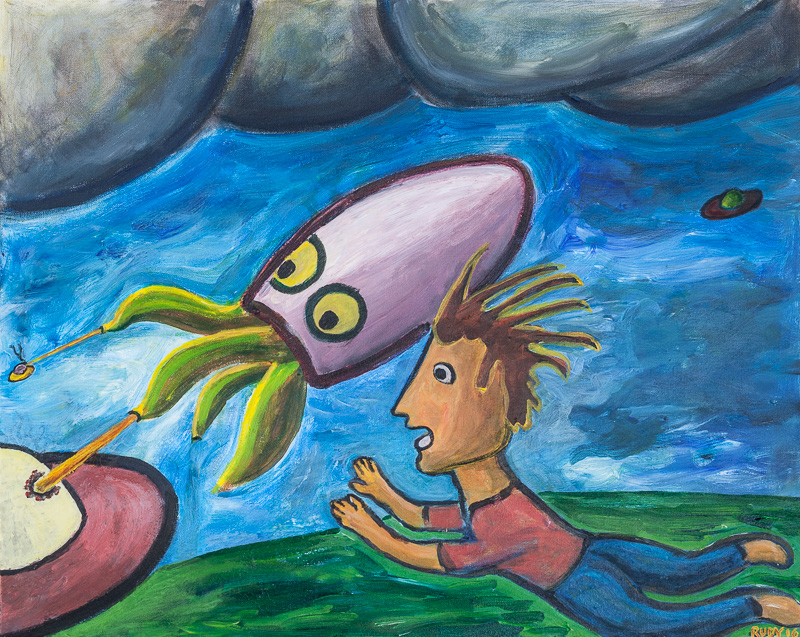 Also the book includes flying saucers—and they're not boring machines, no, they're live beings made of meat. The aliens don't ride in flying saucers, dude, they are flying saucers. I don't understand why more people don't realize this! Be that as it may, you can't really have flying saucers in a novel without a full-on "Attack of the Flying Saucers." And what better setting for such a scene than—the annual graduation at my hometown local Los Gatos High School! Behold: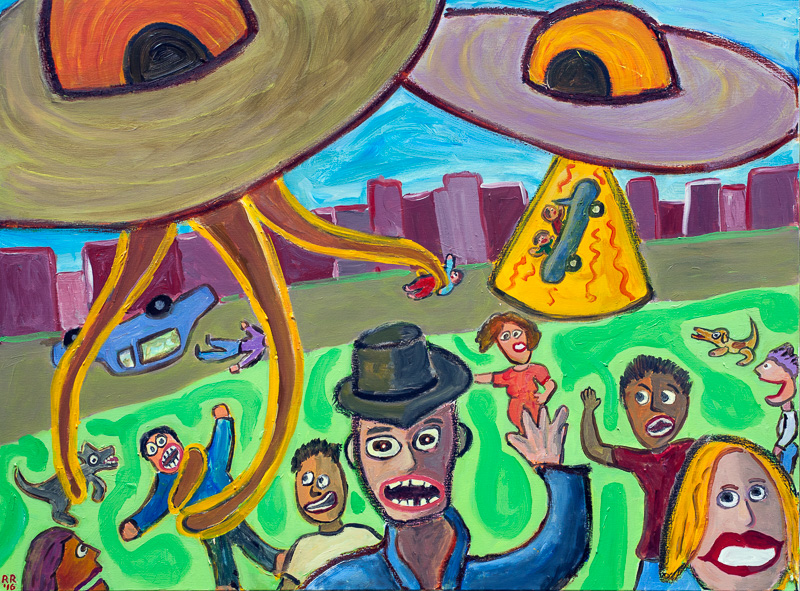 A literary element that influenced my composition of this book is the style of Thomas Pynchon. I wanted to write a novel in the present tense like he does, producing an effect like a real-time stream of consciousness, adding on phrase after phrasen, working like a carpenter on increasingly rickety scaffolding that they're assembling as they go along.
Thanks to My Backers
I ran a Kickstarter to generate extra support for Million Mile Road Trip and for the Notes for Million Mile Road Trip. Many thanks to my backers, many of whom have supported me in other Kickstarter campaigns . I couldn't do what I do without my base of loyal fans. I've listed their names here in alphabetical order.
AgentKaz, Alan Robson, Albert Henry Tyson, Alex Baxter, Andrew "failrate" Baker, Andrew Ward, Andy Agnew, Aris Alissandrakis, Arthur Murphy, Beat Suter, Benet Devereux, Benjamin H Henry, Bob Hearn, Bob Vernon, Brian Dysart, Bruce Evans, Carl Z, Chad Bowden, chris cavanagh, Chris Day, Chris Lindsay, Chris McLaren, Chris van Gorder, Cliff Winnig, Colin Alevras, DaddyChurchill, Daniel Monson, Dannen Harris, Darwin Engwer, Dave Bouvier, Dave Holets, David Good, David H. Adler, David Kirkpatrick, David Rains, David Schutt, Derek Bosch, Don Tardiff, Doug Bissell, Doug Churchman, Dr. Ralph J. Garono, Edward Winston Bear, Edwin Metselaar, Emilio, Erik Biever, Erik Sowa, Fraser Lovatt, Gabriel McCann, Gaia Maffini Mazzei, Gary Bunker, George & Hedvig in Budapest, Greg Deocampo, Greg Goddard, Gregory Scheckler, Ian Chung, Jaap van poelgeest, James Ramsay, Jeff Aldrich, Jeffrey T. Palmer, Jim Anderson, Jim Cavera, Joe Sislow, John Monroe, John Paul Spain, John W. Fenner, John Winkelman, Jonas Karlsson, Jonathan Hamlow, Jonathan Korman, K. Clark, K0re, Karl W. Reinsch, Karl-Arthur Arlamovsky, Ken Nickerson, Ken Sherman, Kevin J. "Womzilla" Maroney, Larry-bob Roberts, Leah A. Fenner, Lee Fisher, M. Cox, Madeleine Shepherd, Mark Anderson, Mark Martinez, Michael Becker, Michael Weiss, M-Jo Baker, None, Patricia Miller, Patrick Edmondson, pete23, Peter Yeates, Petri Kanerva, Philip Rubin, Pookie, Rafael Laguna de la Vera, Raja, Julie, and Jason, Ramon Cahenzli, Ray Cornwall, Raymond McCauley, Richard Ohnemus, Rick Floyd, Rob Messick, Rod Bartlett, Ronald Pottol, Scott G Lewis, Scott Jon Siegel, Simon Travis, Space Captain Hellers, The Hackers Conference, Thomas Lockney, Tim Conkling, Timothy M. Maroney, Timothy Wyitt Carlile, Todd Fincannon, Vasyl, WhatBear, William Maddler, William Orson Harris III, Wongoon, and Yoshio Kobayashi.
And check out Rucker's nine newly released Night Shade reprints!
Page last updated May 14, 2019.