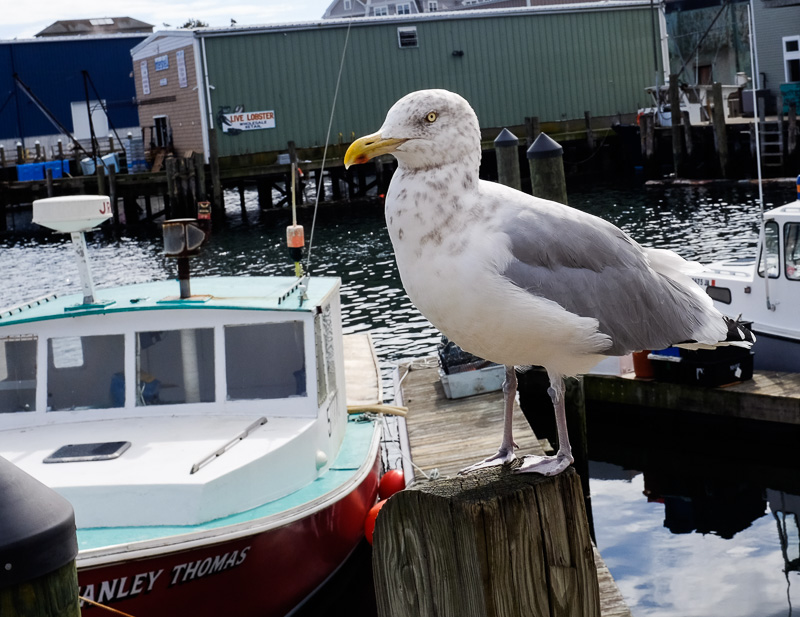 So Sylvia and I went back East to attend the wedding of Celia, the daughter of my old pal an comrade in arms Gregory Gibson. Before the wedding we looked around the port a little. A seagull the size of a chicken.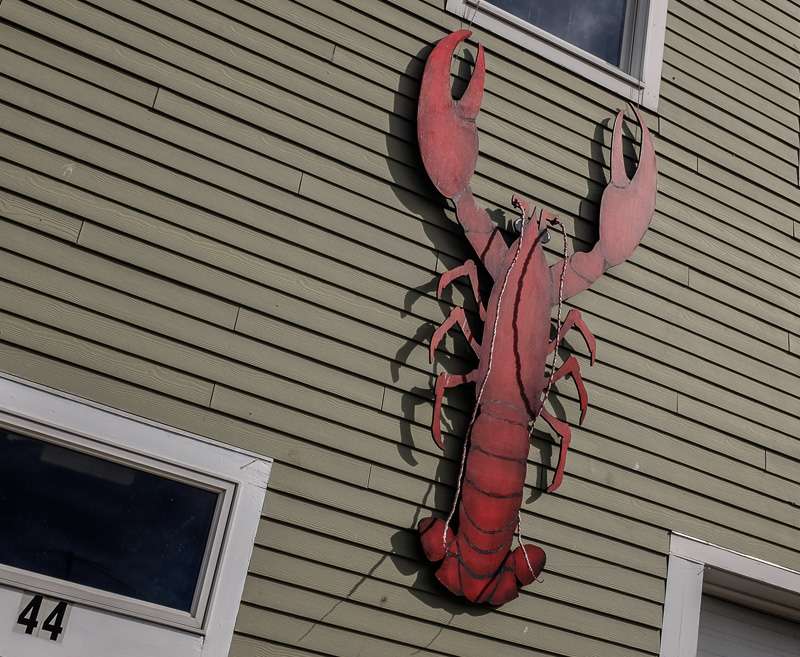 Gotta have a lobster-related photo, right? I like his rope antennae.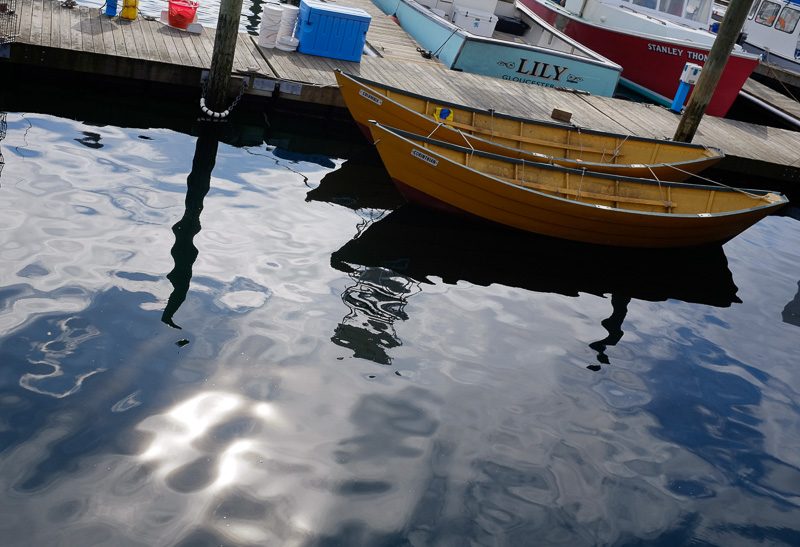 And, as always, I look at the reflections on gently undulating harbor water in fascination. I used to say those would be hard to paint, before I knew how to paint a little bit, but now I know it's not that hard to paint these lively globbers, although it helps to have a photo to work from, as imagination tends to be not quite wild and gnarly enough to generate those natural shapes.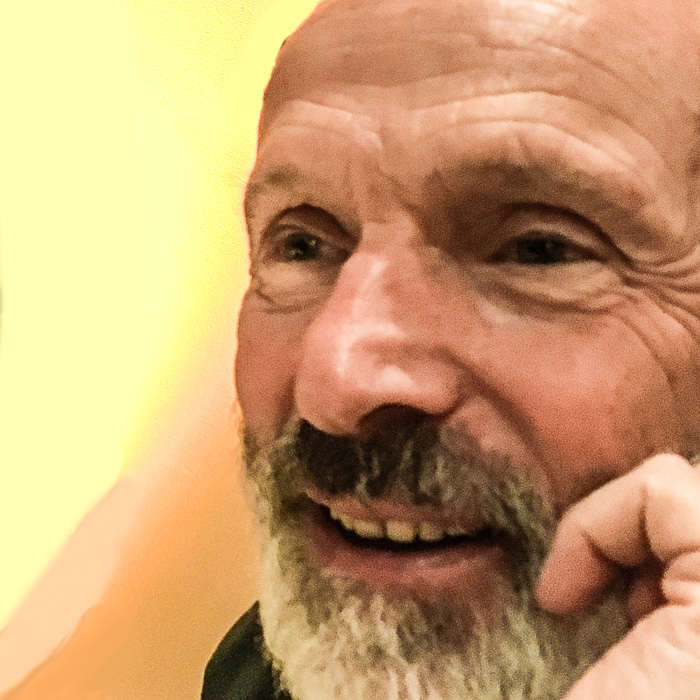 Speaking of painting, my old friend and college-days hero Barry Feldman was at the wedding too. He's very much a painter, it's pretty much all he's done for his entire life, and I'm talking about the last fifty years.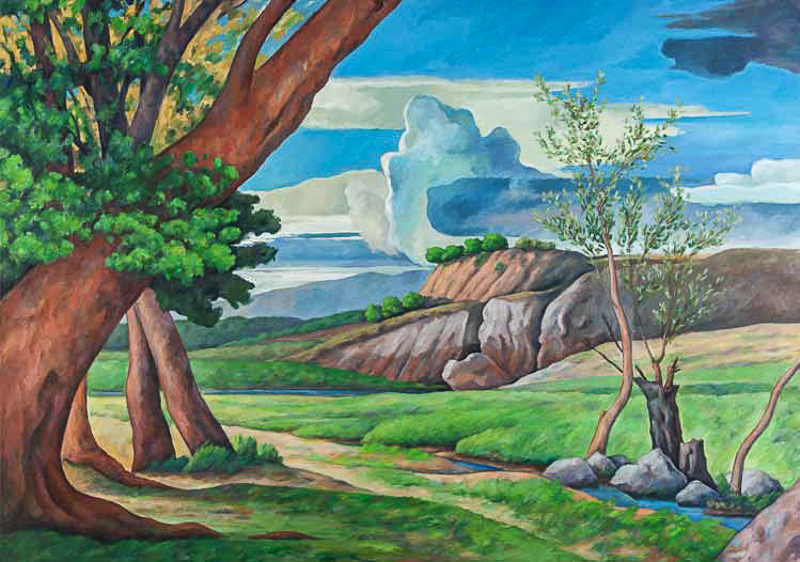 Unfortunately, hardly any of Barry's work is online, but here's an image of one of his recent works. (Copyright (C) 2016 Barry Feldman, all rights reserved.) Barry spent the last three years creating fourteen oil on canvas, 125 x 175 cm, paintings based on the backgrounds of various paintings by the 17th century painter Poussin—the series is called "Poussin: Restructured." Shown below is the Poussin orignal that was the basis for the painting above.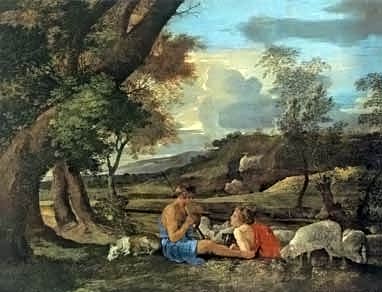 Barry empties out the stage and brings us into the space. His version has his characteristic Cezanne shimmer, an airy open scale, clean edges, and a vibrant palette. Delicious. In person Barry has an unsettling, gnomic quality, but he paints like an angel. A humble laborer in the fields of the Art. Redeemed by the Muse. I really hope his latest batch gets a good show in a great gallery or museum. I know of two other paintings by Barry online. One is here with a bio note, and the other is in Gregory Gibson's "Bookman's Log."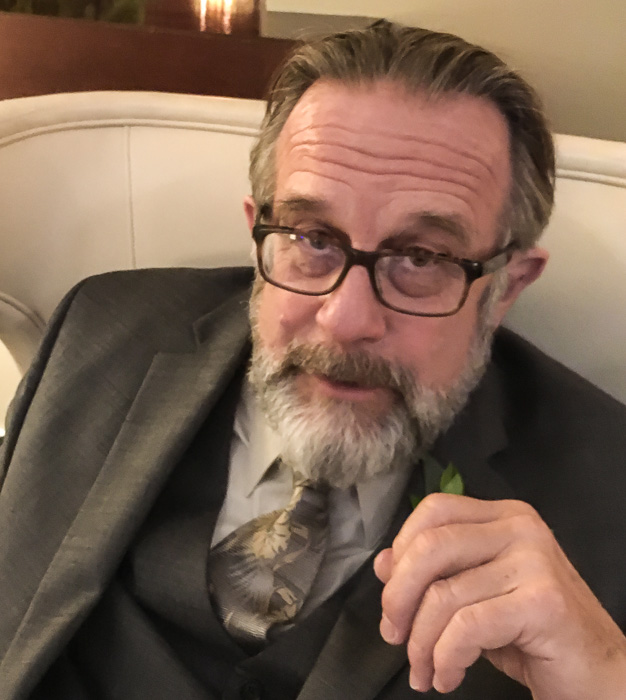 Here's a photo of Greg himself, at the wedding, kind of grumbling about the vastness of the event, but also enjoying himself in a big way. The two modes are not mutually exclusive.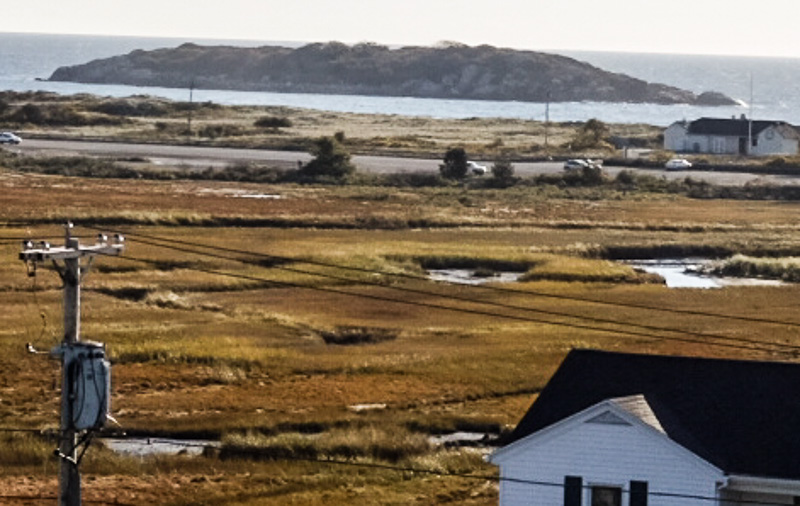 In Gloucester, we stayed at the Vista Motel, which is on Good Harbor Beach on Cape Anne. I recognized the shape of the island off the beach, it's called Salt Island. And this flipped me back into a night when I visited Greg alone. He was living in a basement apartment on Webster St., a vet of the Navy now, this would have been around 1971 0r 72, I'd just gotten my Ph.D. in math. Greg and I stayed up all night drinking and smoking pot. At one point Greg was shaking and said he was anxious about freaking out and I pointed out that he was just cold, and that all he needed to do was to put on a thick sweater, and this worked, and Greg said I was a genius. We stayed with the program and in fact stayed up till dawn, and walked across the low-tide strait to Salt Island. And when we got back to shore, and the sun was rising, and we were walking along the beach, with the ocean waves roaring incessantly in my ears along with the buzz of being so ecstatically high, and the seagulls cawing, and Greg's kind visage and friendly voice next to me, and I thought, "I'll always remember this moment, this is how it will feel to be in paradise." On Mount Parnassus.
So it was a real kick to see Salt Island from the Vista Motel. I'd kind of forgotten about it in the intervening years.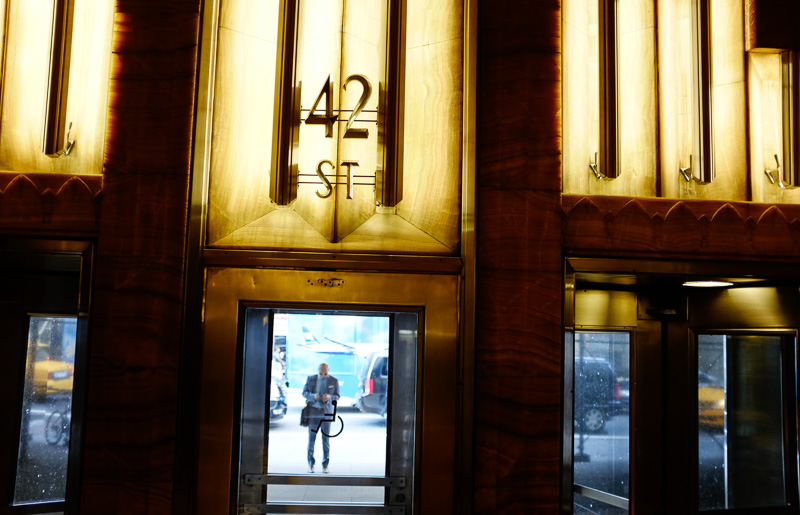 After the wedding we took the train from Boston to NYC, which was exciting, and went to a hotel we like, the Library Hotel near the main NYC library, the one by Bryant park with the lions. As usual I walked over to the Chrysler Building to check out the lobby…I love that Deco stuff. Got a nice shot of a man framed in the door.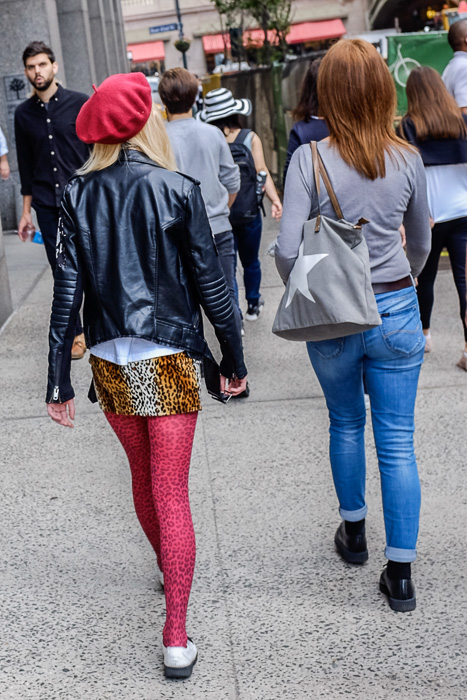 Always good to see the hip, fashionable NY women.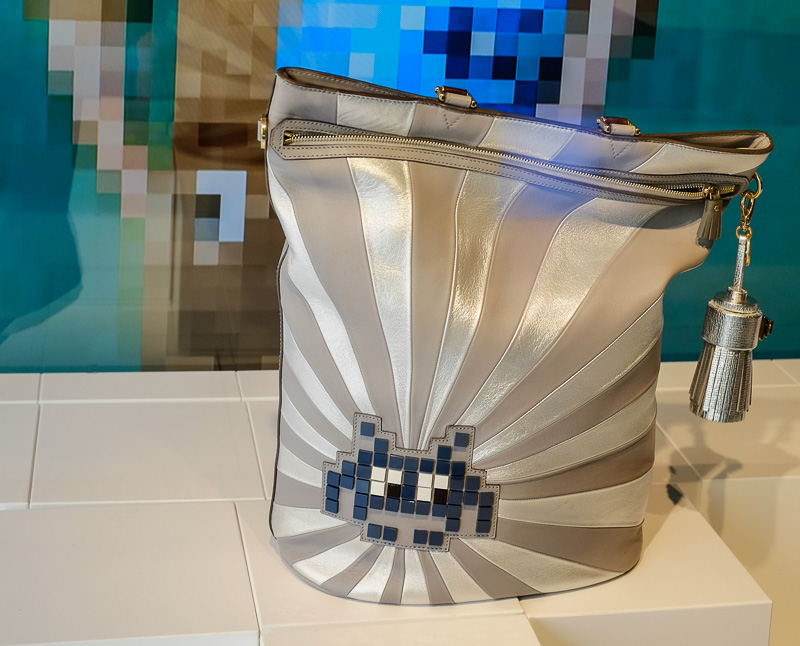 At one point we were walking along Madison Ave in the 50s or 60s and spotted this Anya Hindmarch "Space Invaders" purse, retailing for something like $2K. Really nice leather and craftsmanship. But I to think that a woman who could afford this purse would probably only use it for a couple of weeks…until all her friends had seen it…and then move on.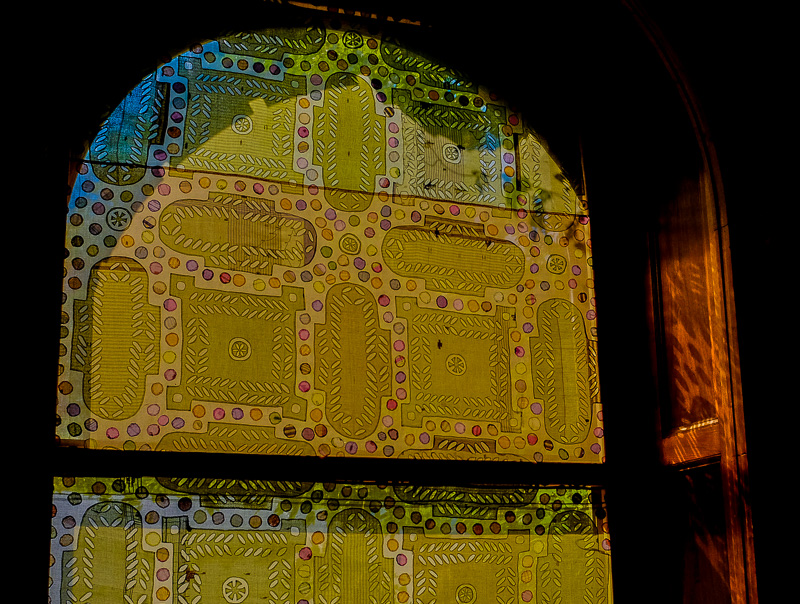 For a change of pace we hit the Cooper Hewitt Design Museum on Fifth up near 91st street. They had a nice little show about three women doing fiber art with scraps or selvages. Love this scrap-built curtain over a window in one of the richly paneled Andrew-Carnegie's-house-type rooms.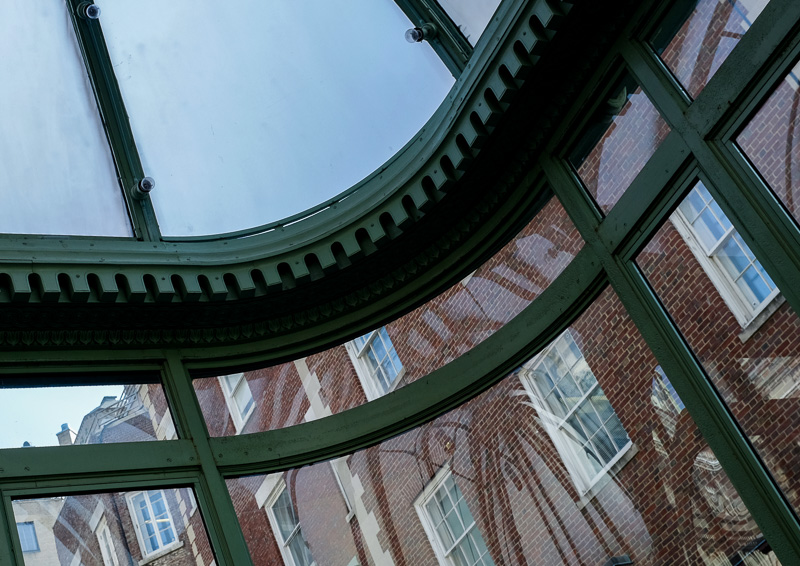 Fab breakfast nook in the museum with a curved glass ceiling. The reflections. Travelling in a time capsule.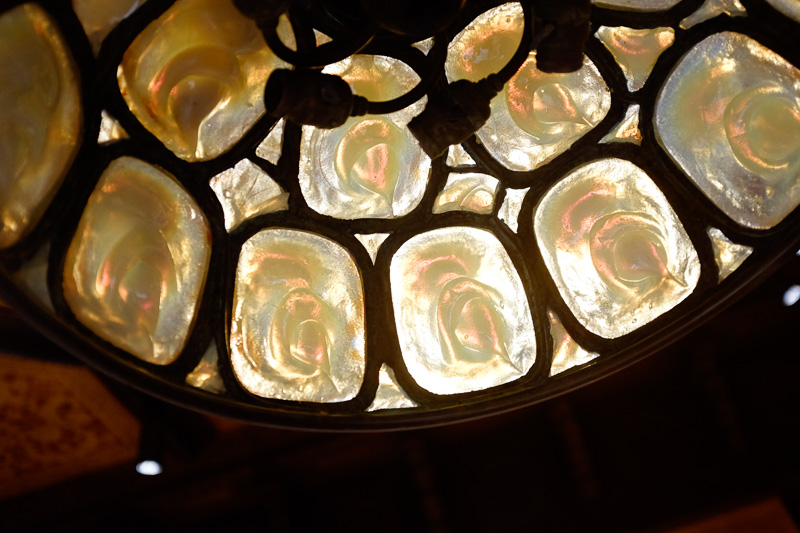 A room of Tiffany lamps, including this "turtle back" number.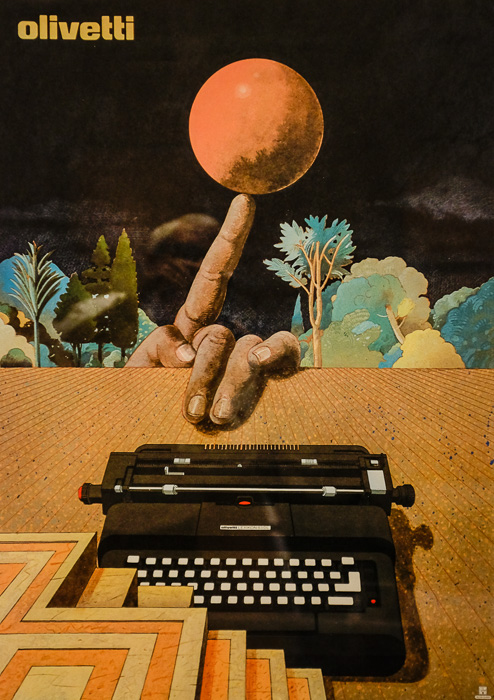 And a "modern" Olivetti typewriter poster. My first typewriter was a flattened down Olivetti portable. I'd write my pastiche poems on it, and my school papers, and my short stories…like one about a guy who dies in a car crash the night of his high-school graduation…not that I was fated to get off the hook that easily, no man, I had half a century and more to go.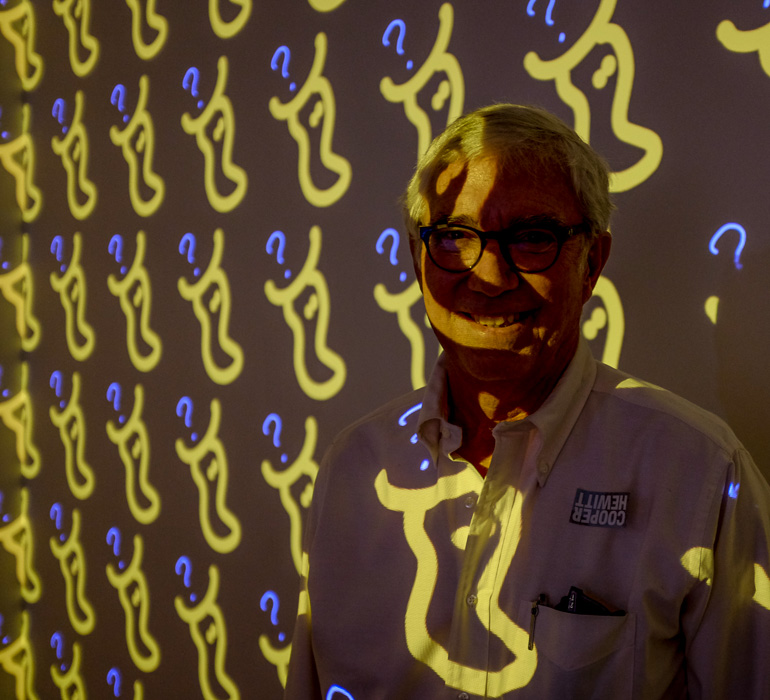 The design museum had this room where you could draw a pattern on a screen, and the machinery would project the image onto the walls in wallpaper-like repetitions. As I often do, I drew a curious cow.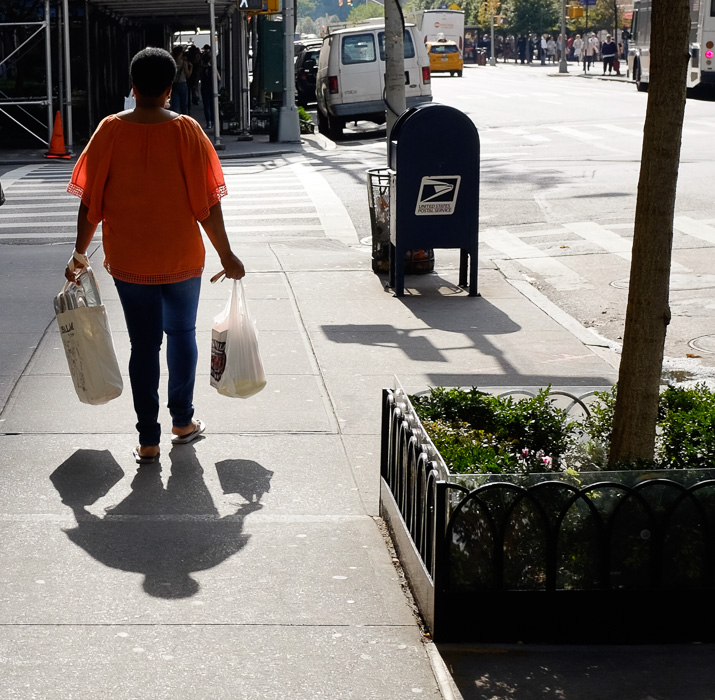 Exciting in Manhattan just to see so many people, and so many different kinds of people. I like this lady's shadow behind her. It was really hot while we were there, almost eighty, in October. Global warming seems to be coming on a lot faster than we expected.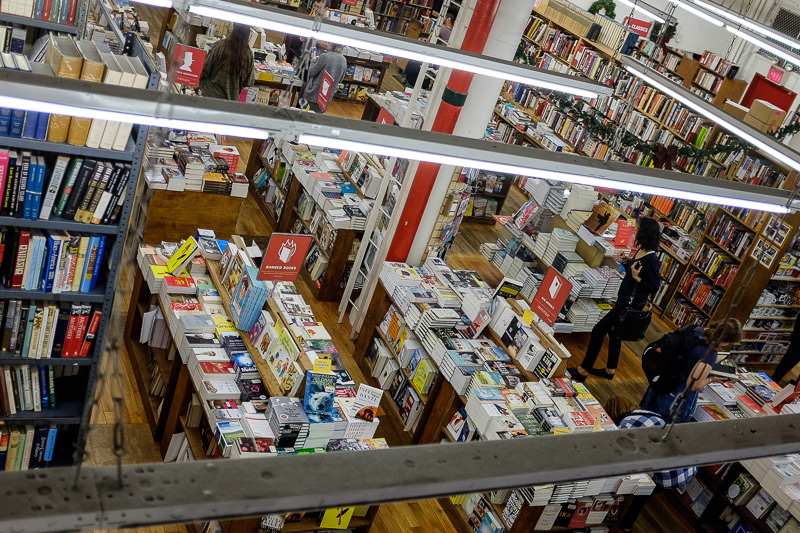 Another spot we love visiting is Strand Books on Broadway below Union Square. "18 miles of books" they claim. I always find books that are perfect for me here…and these are books I'd never heard of. I bought a book on type design, and wrote down the name of more books on a scrap of paper that I lost. I'm utterly unable to keep track of scraps of paper or of receipts on the road. I saw a new book by Roger Penrose I'm curious about "Fashion, Faith, and Fantasy in the New Physics of the Universe," also a bio of Diane Arbus, also a new big book by Andy Goldsworthy called "Ephemeral Art" and on the cover he's throwing a kelp strand into the air, and the 3D tangle squiggle of the long stalk in the air is the ephemeral art. So cool.
I'm going to order the Penrose, even though I well know that I'll never manage to read it, any more that I read the others, but maybe this time I'll get smart.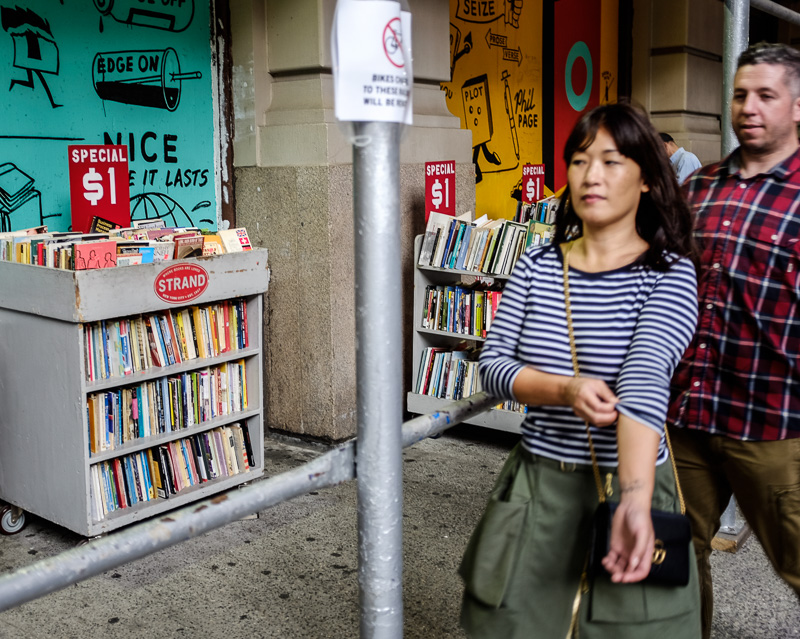 Strand Books has a dollar bin outside. And passers-by. Kind of flinching at my camera. I was using my nice little Fujifilm digital X100t with the fixed 22 mm lens for most of these pix.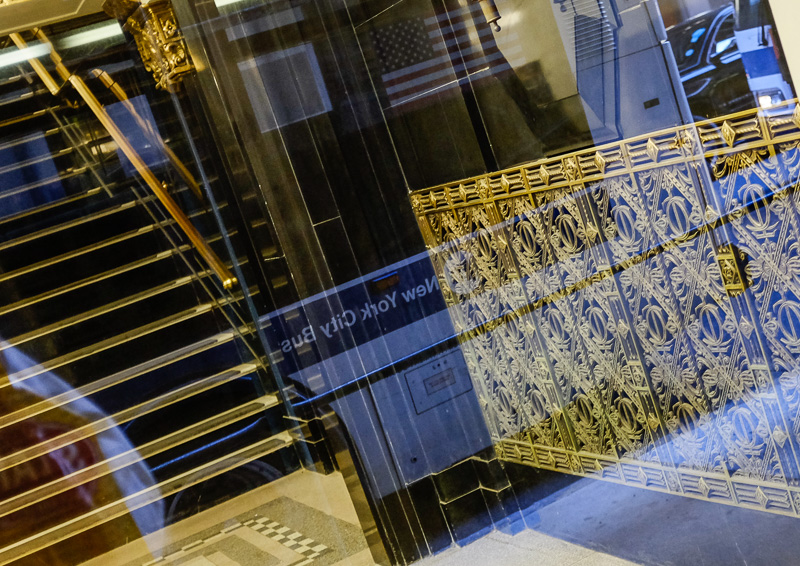 Nice, nice wrought or cast iron grill inside a building, nice shot with the stairs, and I took the image into Lightroom as I always do, and tilted it ("It's not tilted" says Gary Winogrand in my head), and used the "Clarity" slider to pop the reflections harder.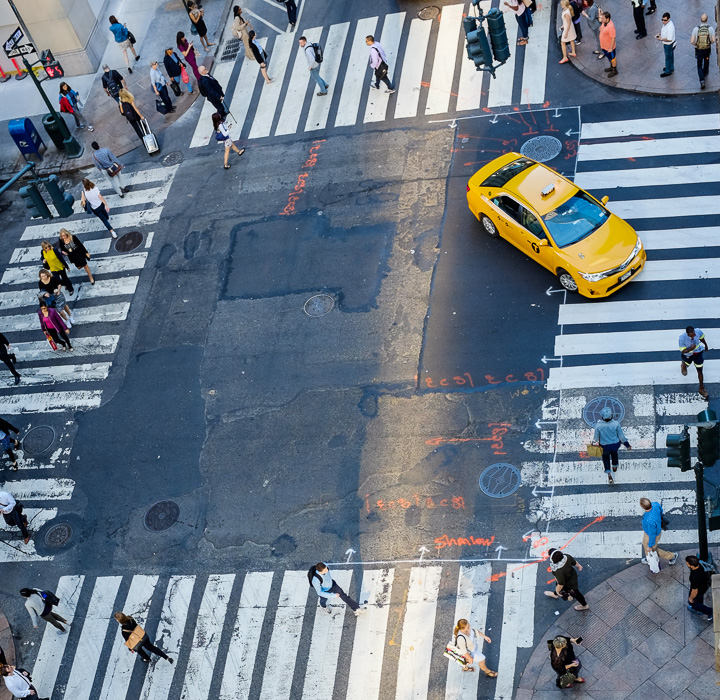 Mandatory shot of the crosswalks from our sixth-floor window. "Don't lean out so far!" says Sylvia.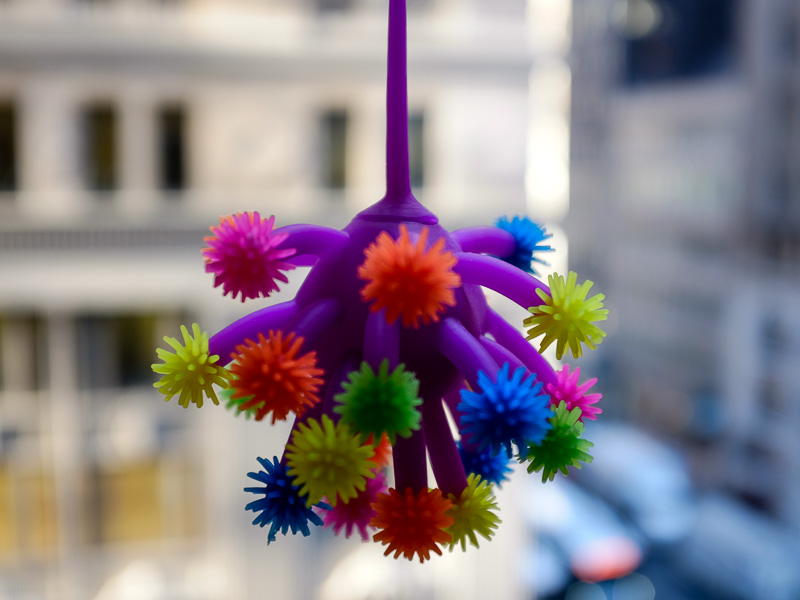 I like these "Googly balls" that are gross adhesive soft plastic in wild colors with flashing light pods inside. And this one is a new level…the old ones were "hairy" spheres but this one is fractalized with tendrils, got it at a shop inside Grand Central Station, and dangled it in our window. Such beauty, and fine "bokeh" with the background out of focus.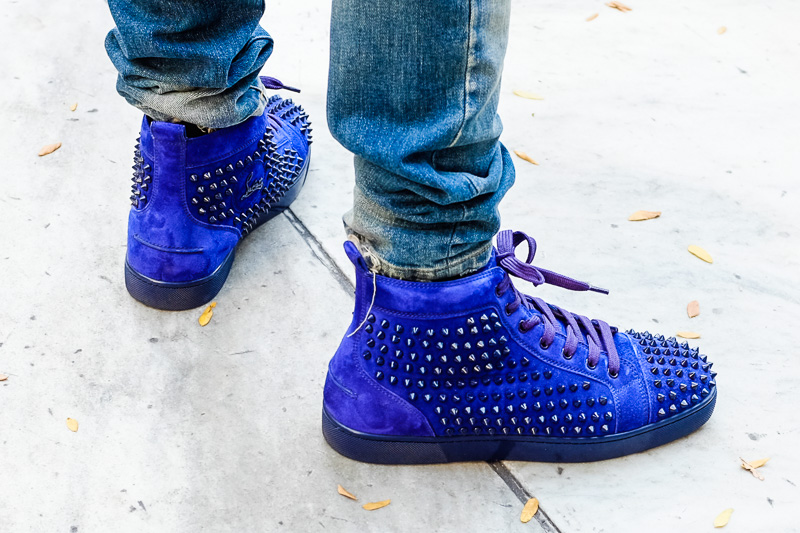 Blue shoes, and how.
An eco-art street-theater routine in front of the library. The people in white coveralls were making little fenced-off areas and sprinkling the little pens with artificial green grass. Something to do with suburbia.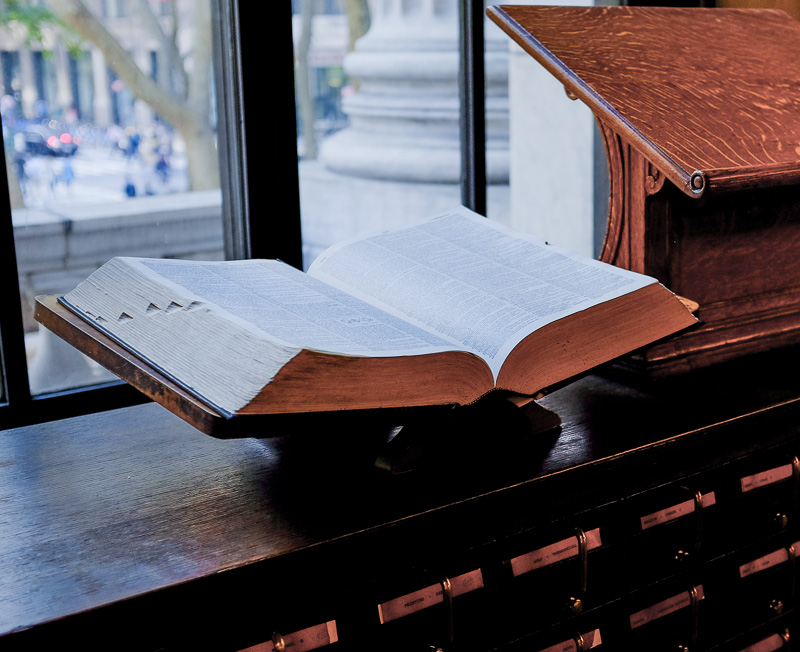 In the NY public library, always great to poke around these hallowed super-heavy-stone spaces, Cyclopean in scale. Dig the Big Book in the library on the one hand and the blooming, buzzing city world outside. "Can I look it up?"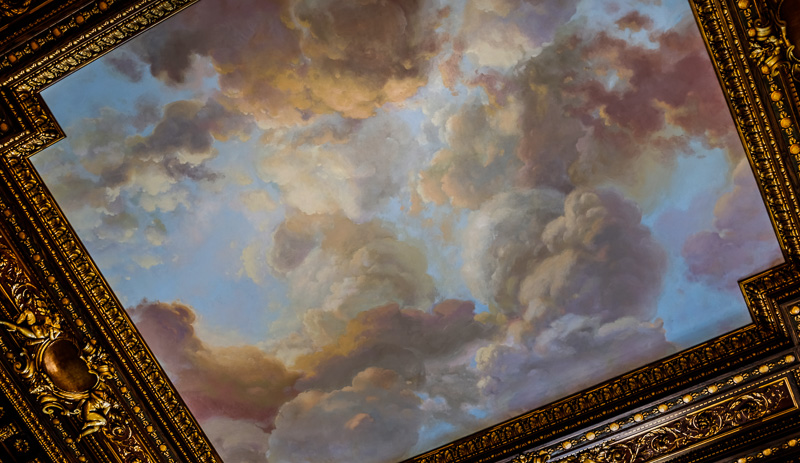 They'd renovated the Rose Reading Room on the 3rd floor, with its really charming four sky panels on the ceiling. I'd like to do a painting like this, maybe I'll give it a try.
Noticed some nice old election buttons in the NY Library. "I'll be my ass on Willkie," yeah.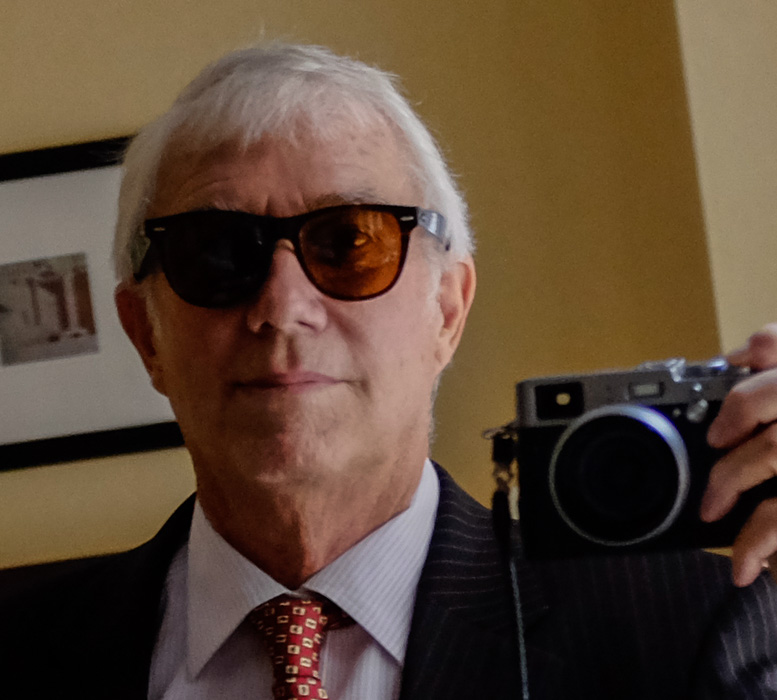 My lit agent John Silbersack met me for lunch at his Manhattan club, the Century Club. You have to wear a tie there, I think. So I donned my wedding suit and Ray-Bans.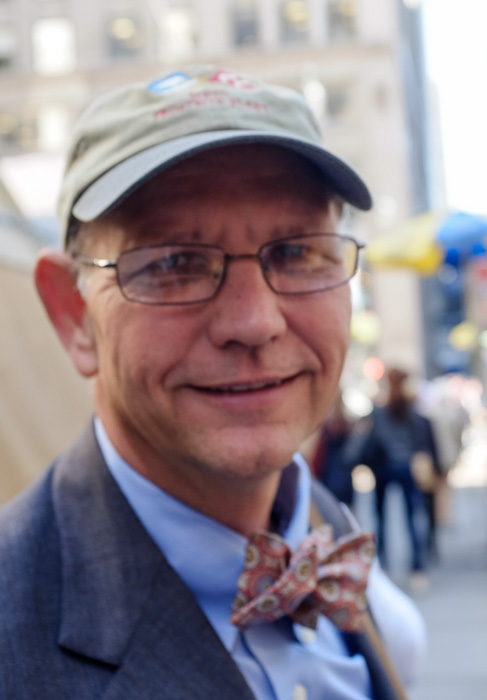 Here's John S. after our lunch. He always wears a bow-tie. A nice guy. He thinks we have a shot at selling my new "Million Mile Road Trip" to an SF or YA publisher, but it's not a sure thing, as the gamut of acceptable types of SF titles continues to contract.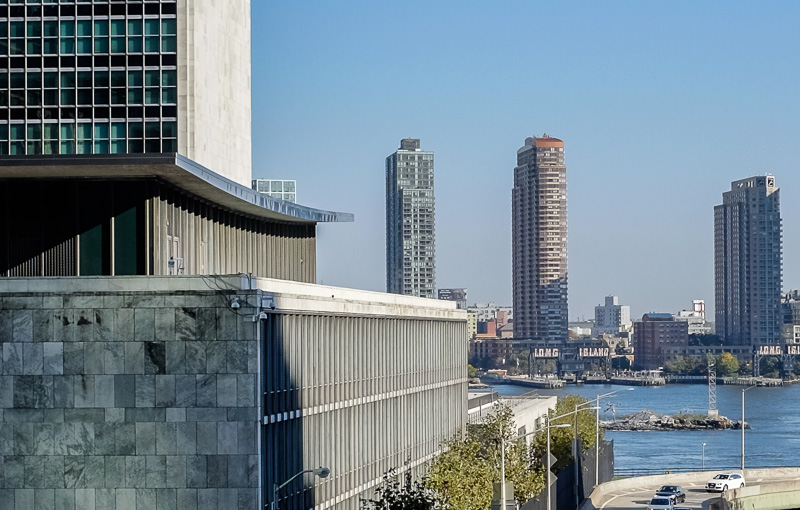 At certain risk to life and limb, I rented a CitiBike from one of the numerous automated stands, $12 for half an hour, and rode East on 41st street to the UN building. I'd hoped to reach the water over there, but they've got that FDR drive. This zoomed-in view of the UN and Brooklyn, it looks like an old-time SF magazine cover.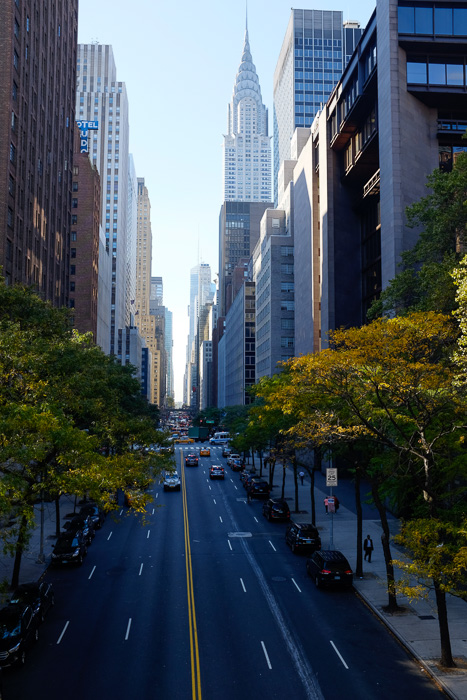 The canyons of New York City are exciting…not something you see in other cities.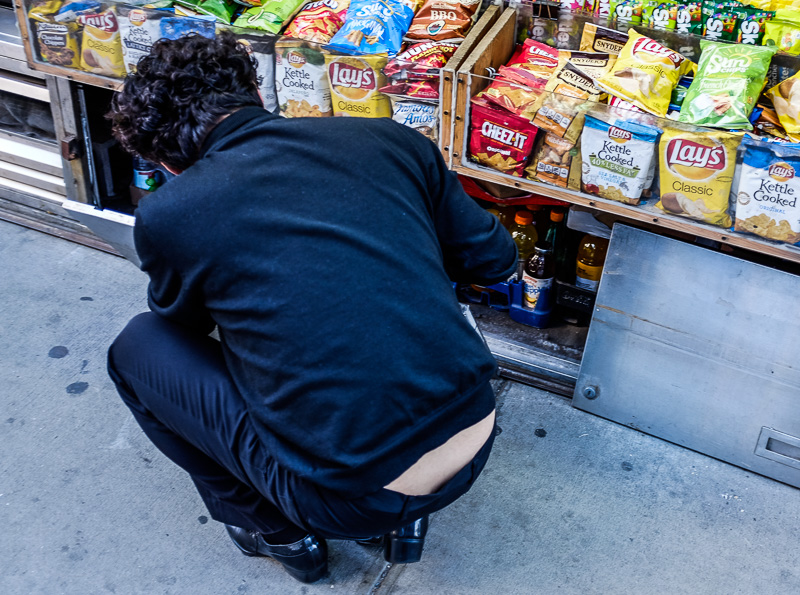 A microgrocer tending his push-cart store's supplies.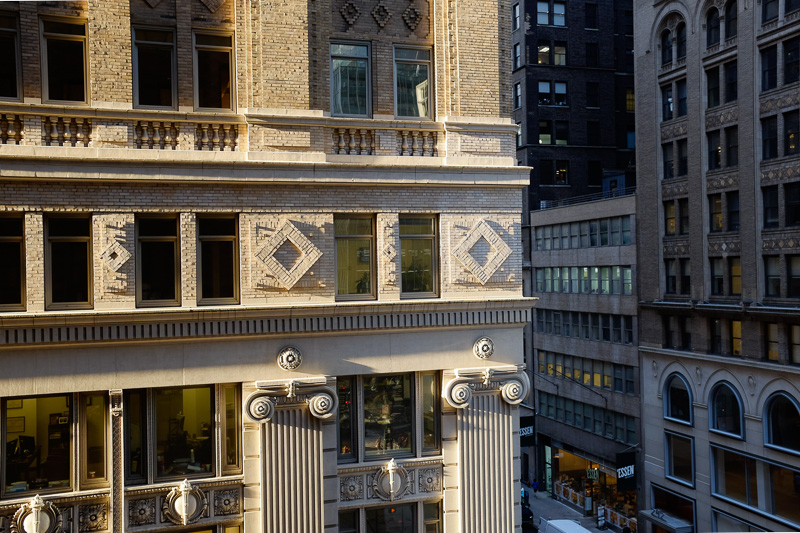 Nice brick deco decoration on the building across 41st St. from our room. We could look at some office workers in there too. One lady was there every day from about 7 to 5, moving around mounds of white sheets of paper on her desk. A very Franz Kafka Workman's Insurance Company Of Prague type job.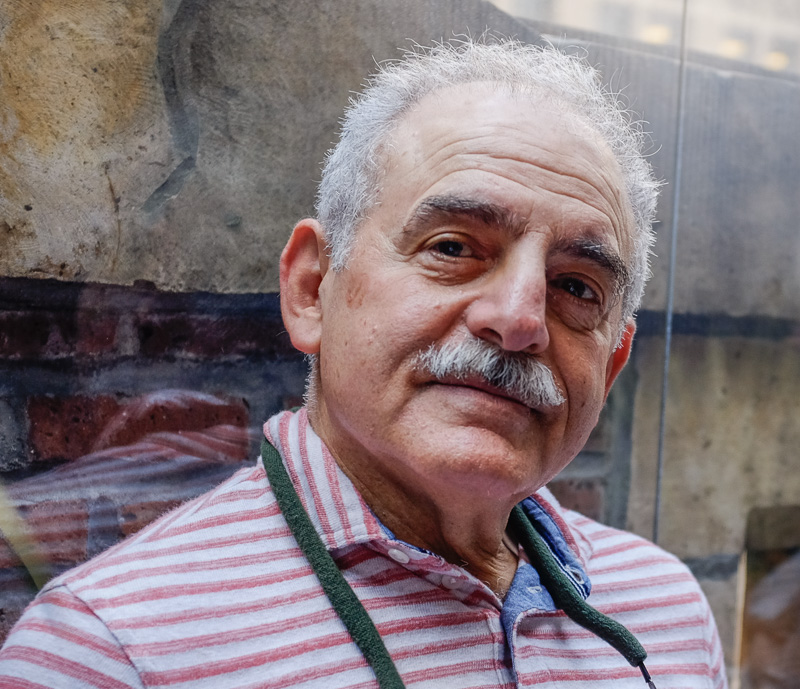 We got together with our college friend Roger Shatzkin and looked at the new Whitney down in Chelsea. Sylvia and I were there last year, but it seemed like a whole different museum, with practically all the things on display being different this time. A really rich collection.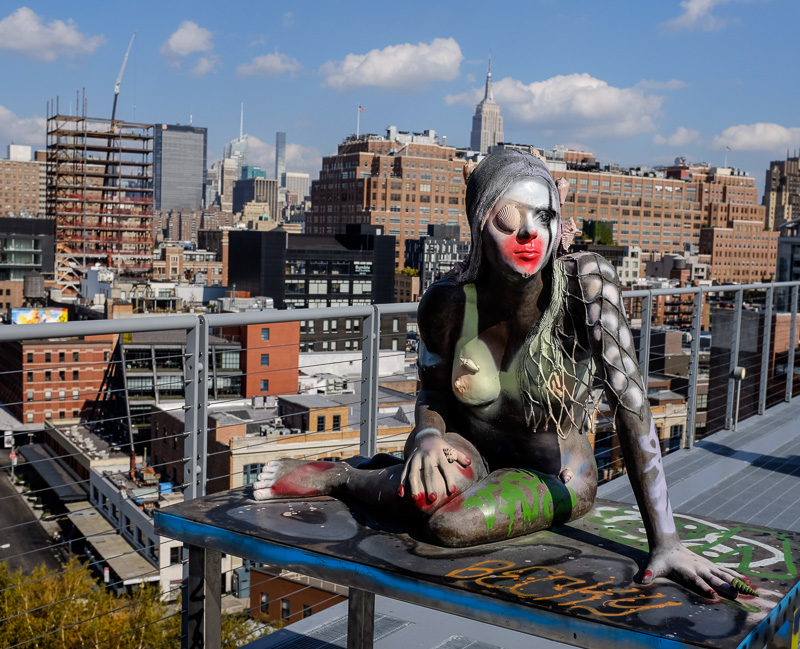 They have a patio cafe on the 8th floor, and more patio on the 7th and 6th. Awesome building, fairly utilitarian, but really well arranged. Dig this sculpture sitting on one of the benches. A scary mermaid, kind of, or maybe a zombie corpse. She has shells on her body, and that lipstick job, what a mess.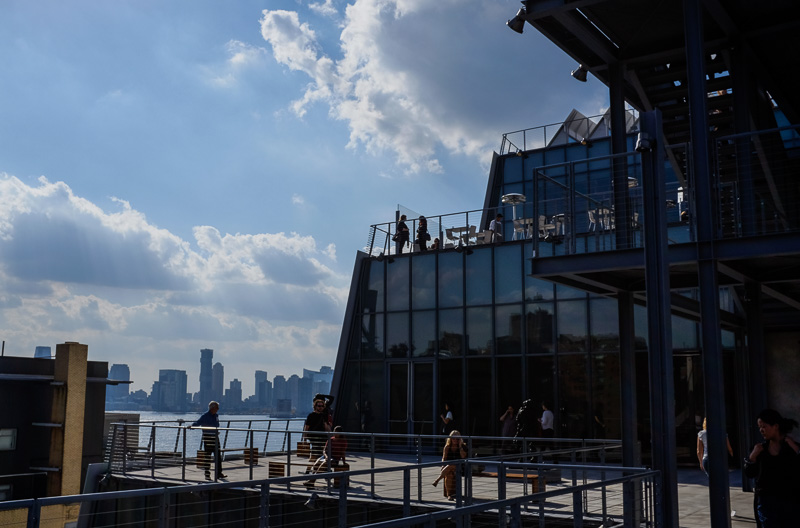 Glorious sky over the Whitney and Jersey. Such an uplifting public space.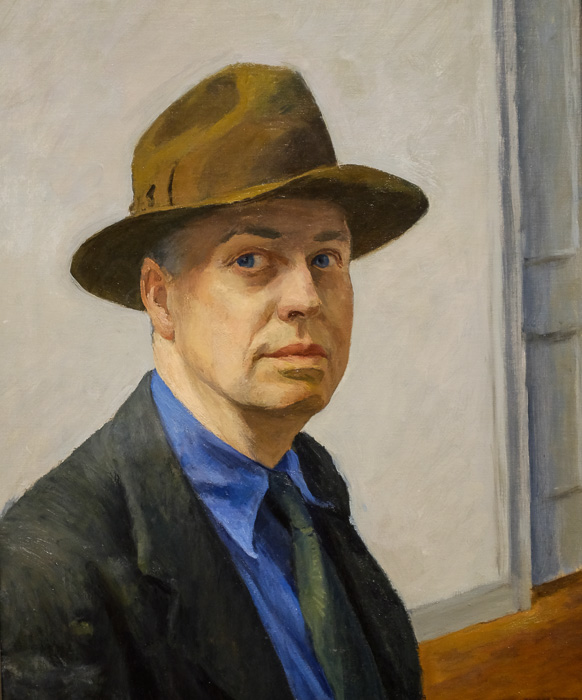 The theme of the main show was "Portraits," and here's Edward Hopper's portrait of himself. I like his hat. He always looks pretty serious. The space in his paintings has this gelatinous feel.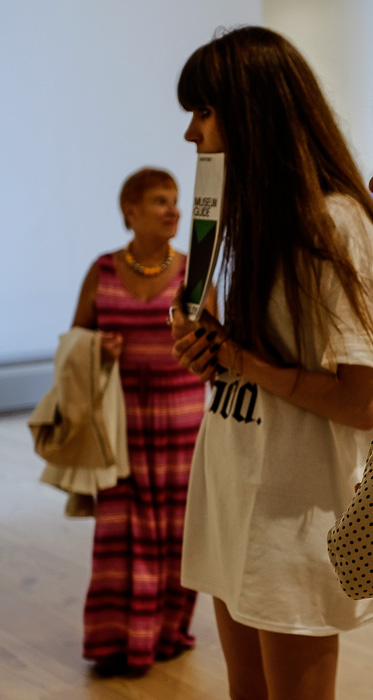 Mysterious woman wearing a long T-shirt as a minidress, and holding the museum map over her lower face the whole time, and with a Chrissie Hynde hair-do. Later I saw her leaving with a really fat forty-year-old guy, also in a T-shirt. Ah, the artistic demimonde.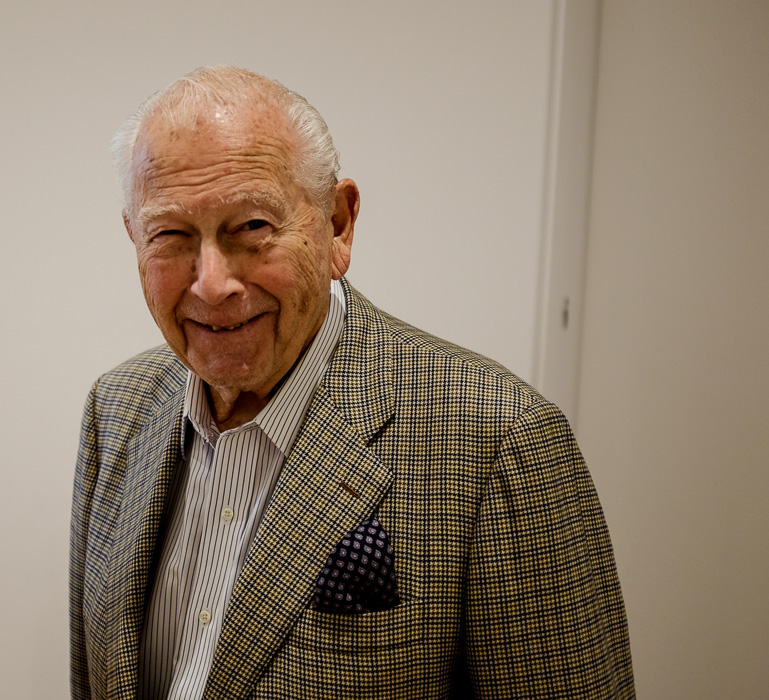 This well-dressed elderly man walked up to me in the Whitney and pointed at my Fujifilm camera and said, "I owned that company!" Meaning the Fuji camera company. I told Roger about this, and he was impressed. I went over the the man and asked if I could take his photo. He pointed at my camera and exclaimed, "I owned that company." So now I'm having doubts. The man's chic and wealthy wife or female companion steps in to correct him. "No, dear, it was Leica that you owned." Who knows…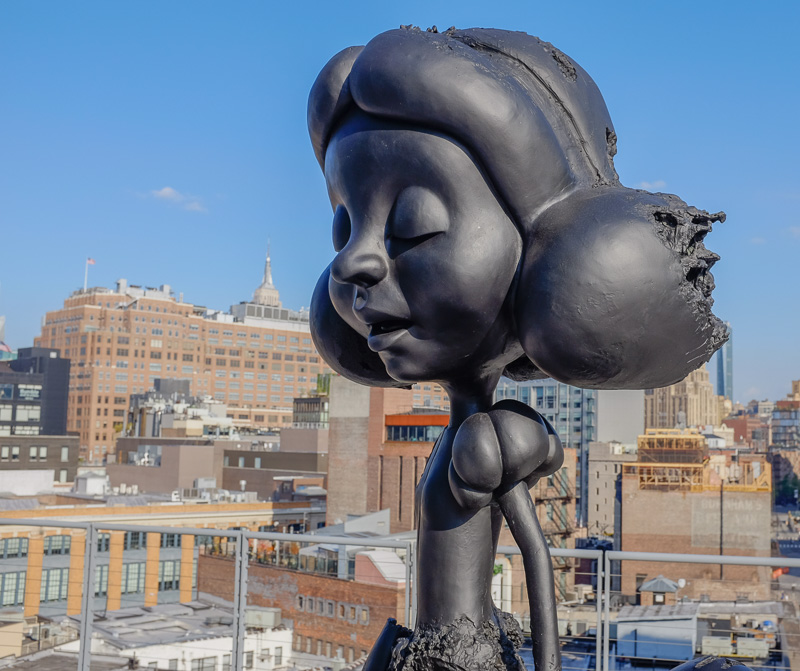 I know it's fairly cheap to be photographing works of art…fish in a barrel…but here's an odd sculpture on one of the patio/balconies with a good view of Manhattan. A work in the Juxtapoz style, kind of cheesy really, but it's very well executed and somewhat sinister.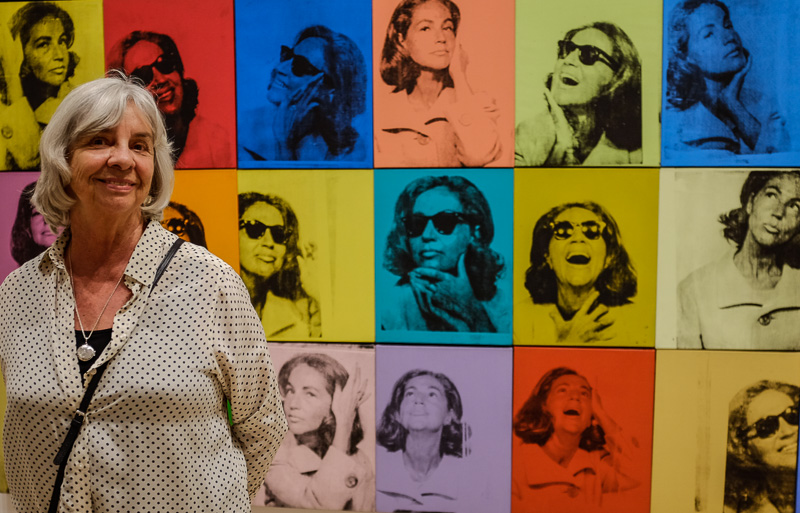 One last art photo, Sylvia in front of Andy Warhol's 1963 "Ethel Scull 36 Times," based on about 300 Times Square photo-booth shots that her and Andy made while Andy was telling her jokes.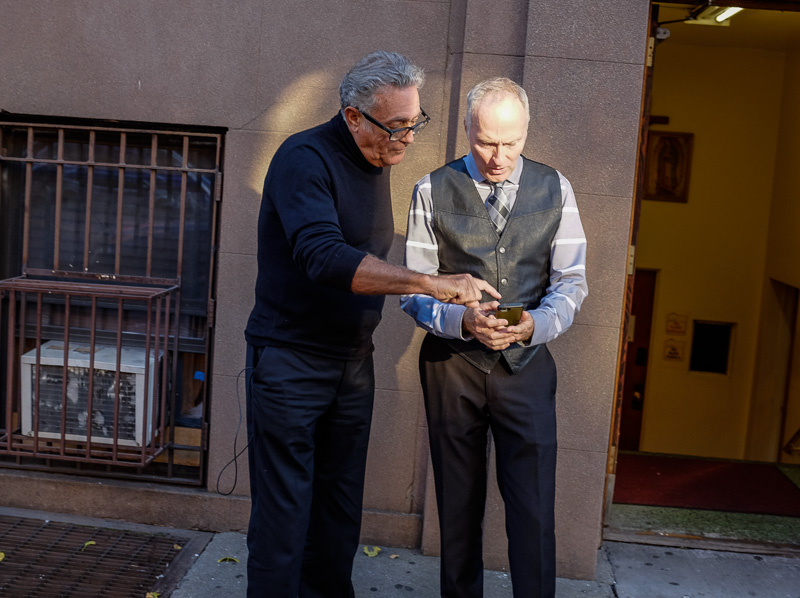 A street photography shot of two guys on 14th Street studying a smart phone. I like the "saint lighting" on the one guy.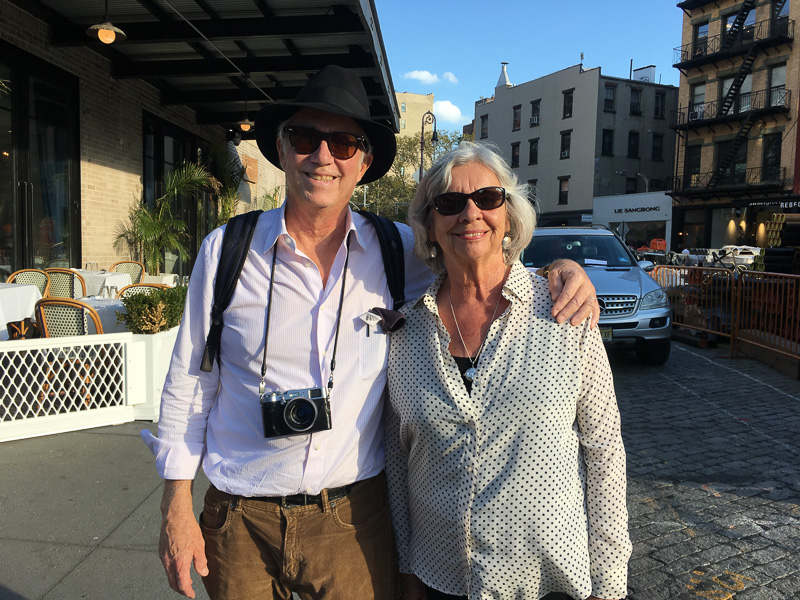 Sylvia and me near the Whitney. I'm wearing one of her father's old hats.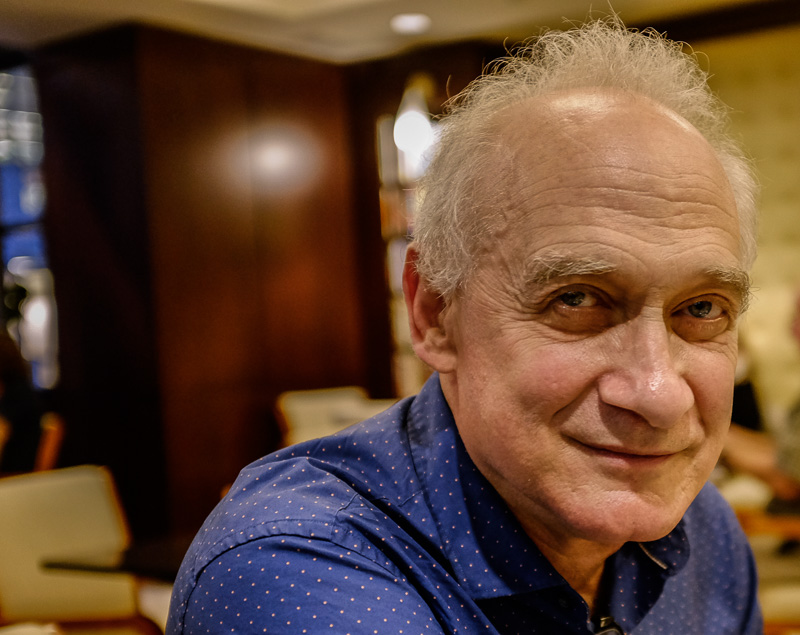 We got together with our cinematographer friend Eddie Marritz as well. Nice to laugh with friends from…50 years ago, yeah. Back then we were too young to take life seriously, now we're too old to take life seriously. I guess maybe there were some serious patches in the middle and, okay, I guess health problems are supposed to be serious, but never mind. Today is all we ever have. And it's a good today when you're with dear friends.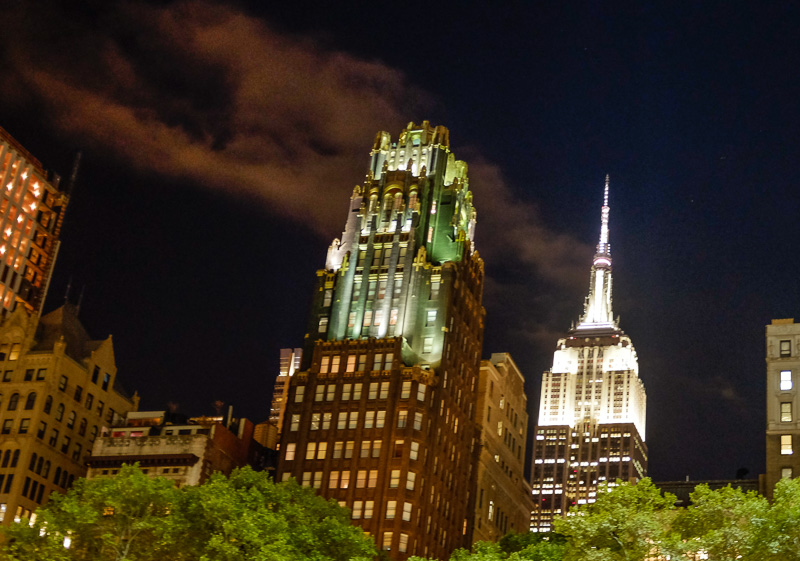 We went out to Bryant Park, looking at the great mid-town buildings over the patch of green. This is the Radiator Building. The style is said to be "Gothic Deco." And it looks like a radiator, awesome.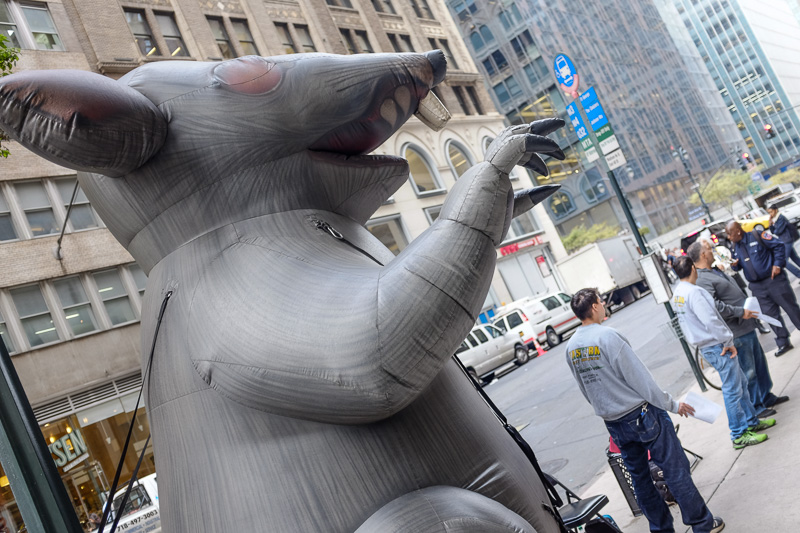 I've seen this inflatable rat in New York before. Some guys cart it around and inflate in in front of any building where the construction workers are having a fight with the contractors. Everyone likes the rat.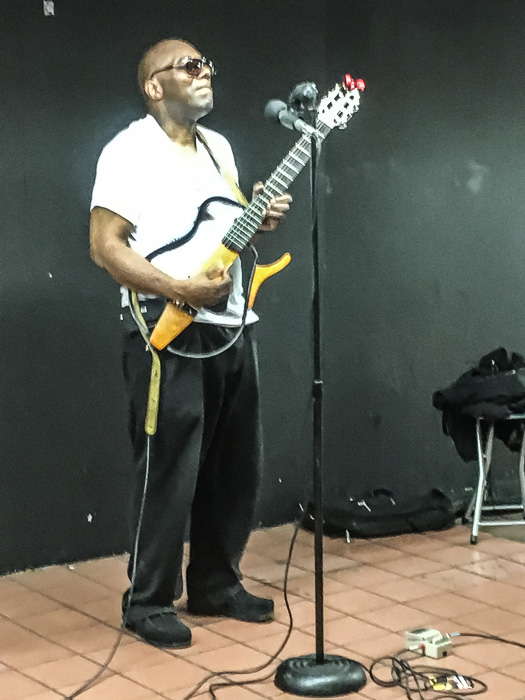 The performers in the subway stations can be awesome. This guy, by the Lexington line at Grand Central, was playing B.B. King "The Thrill Is Gone." Wonderful voice and rich guitar sound. Note that the frame of the guitar is empty, it's a sketch of a guitar.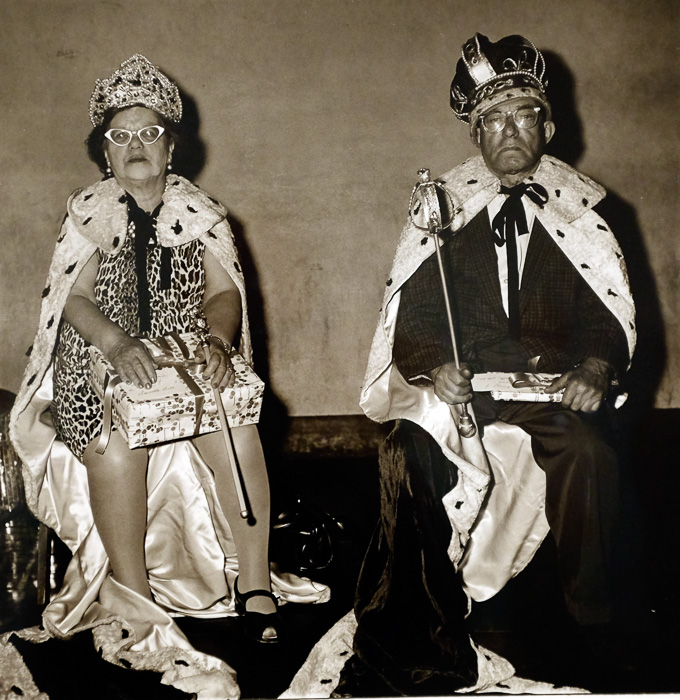 The next day Sylvia and I went to the old Whitney building, on Madison Ave near now called the "Met-Breuer" after the architect Breuer who made it…such an ugly, cold, unpleasant, "brutalist" building. They had a show of Dianne Arbus photos from the start of her career, like 1956-1962, when she was using a 35 mm camera instead of a Rolleiflex, and I was eager to see them. The show was disappointing, on the whole. The old photos seemed technically flawed (on purpose?), that is, out of focus and underexposed, most of them, and not printed with her later skill.
A nice thing about the show was that, as well as the early works, they had a complete set of the famous "boxed set" of ten photos that Arbus was working on at the time of her death in 1971. These are from the late sixties, mostly. The one shown above is "'King and queen of the senior citizen dance, N.Y., 1970."
Looking at this one with Sylvia, I said, "This my nightmare of what our fiftieth wedding anniversary party will be like."
"Better if it's like that one," she joked, pointing to the photo below.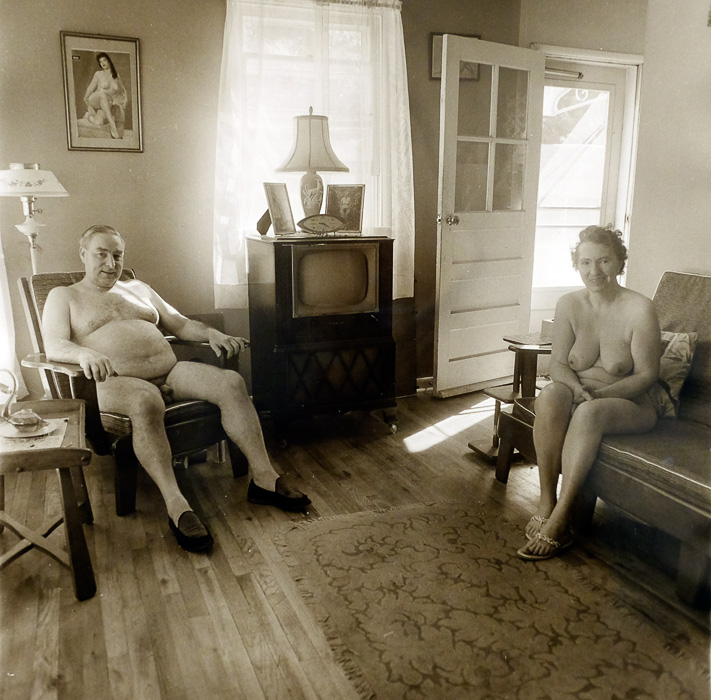 This one is "Retired man and his wife at home in a nudist camp one morning, N.J, 1963."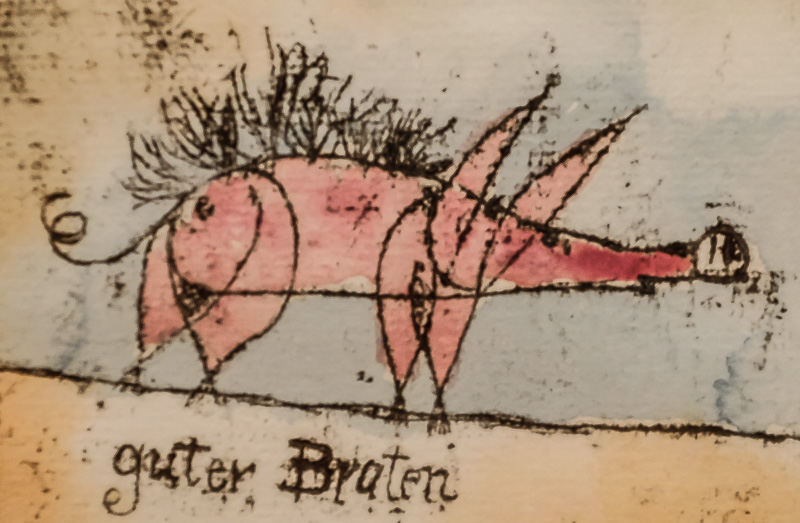 The museum also had a Paul Klee show, nothing much, although I did like this little image of a pig labeled with German for "Good Roast." The pig's mouth is good.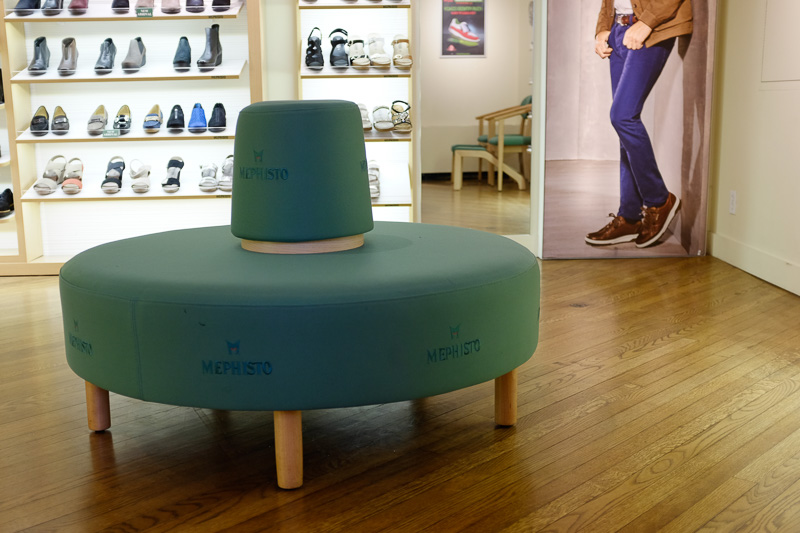 A Mad Ave shoe store. I like that cushion.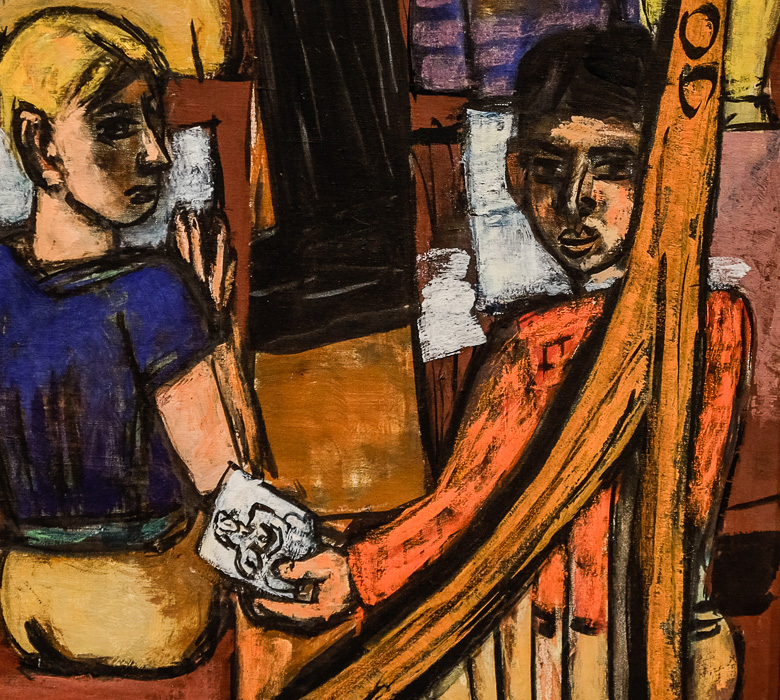 For our last museum we hit the Met, they had a Max Beckmann show. Here's a detail showing Beckman as a "bad" school-boy, holding his drawing of a naked woman. R. Crumb once did a self-portrait like this.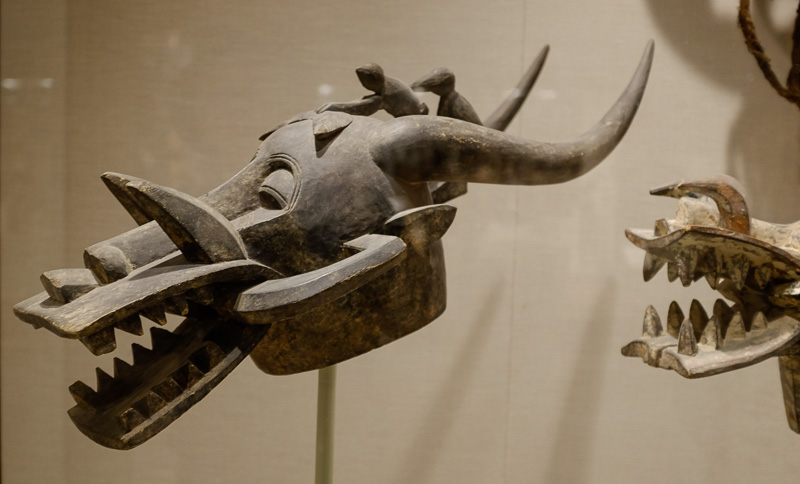 Fabulous African masks in the Met. The one on the left, it just couldn't be better. And I like the "pursuing" bit of mask on the right.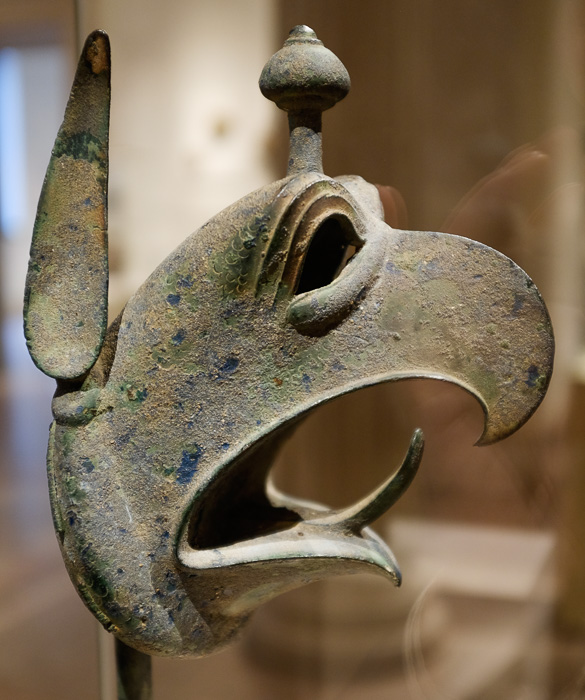 Winding it up, here's a bronze griffin from an ancient Greek punch bowl. Always so mind-opening to realize that thousands of years ago people were just as smart and artistic as we are now. Making beautiful things to express their feelings and dreams. Long may we wave.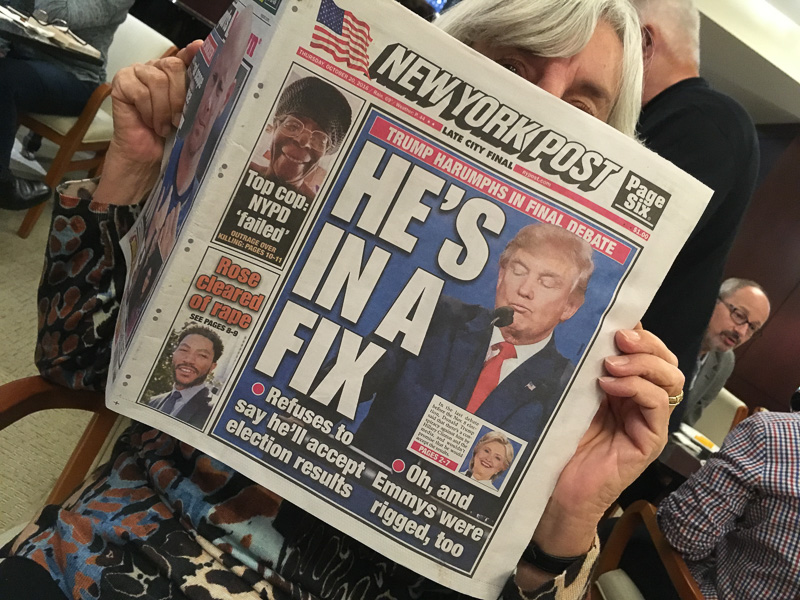 Well, almost all of us. Great fun seeing the daily headlines on the New York Post. So vigorous and New-York-ish.