I finished another painting recently.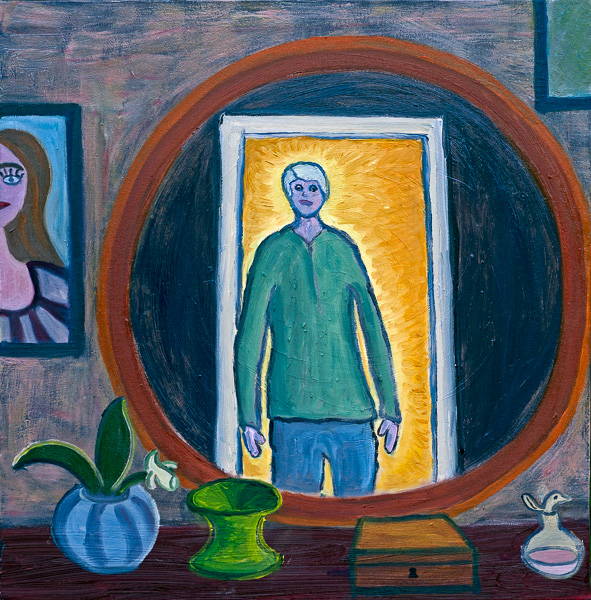 "In Her Room," oil on canvas, September, 2013, 22" x 22". Click for a larger version of the painting.
This is a painting of our bedroom, showing my wife's mirror and some of the things on her dressing-table. That painting on the left is by her, it's called Kate Croy. I got the idea for the painting when I was coming into our room, and it was dark, and the hall-light behind me was on, haloing my silhouette in light, and I saw myself in the mirror. I like the little objects on the dressing-table, they're like symbolic icons in a medieval portrait. That green shape is a bridge between two realities.
I put together a revised 2013 edition of my art book, Better Worlds. The book includes high-quality images, and a descriptive catalog of my paintings.
You can access the book in a variety of ways. First of all, you can buy it as a quality paperback. This is a high-quality art book that sells for well under the list price of $25.
I've also made a free and lightweight PDF file. This small 2K file includes all the catalog commentary, but with only small thumbnails of the paintings.
I made a large free web page. This 12 Meg file includes big images of the paintings as well as commentary. Large file size means it takes a few minutes to load into your browser.
There's a Kindle Ebook. Commercial ebook edition.
Free Creative Commons ebook editions, in two formats. Large file sizes means the downloads take a few minutes.
MOBI, for use with the Kindle.
EPUB, for use with the iBooks, Chrome and Firefox readers, Nook, etc.
Enjoy.