More pictures of Berlin today, taken in late November, 2011. This follows on my earlier post, "Berlin #1".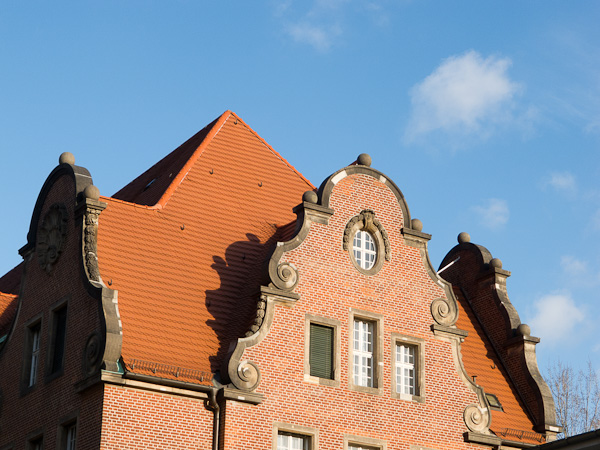 Despite the WW II bombing, there's still a lot of nice old buildings around. And of course the industrious Germans have rebuilt many of those buildings as well. I like this type of nineteenth century look. Serious attics and garrets up there.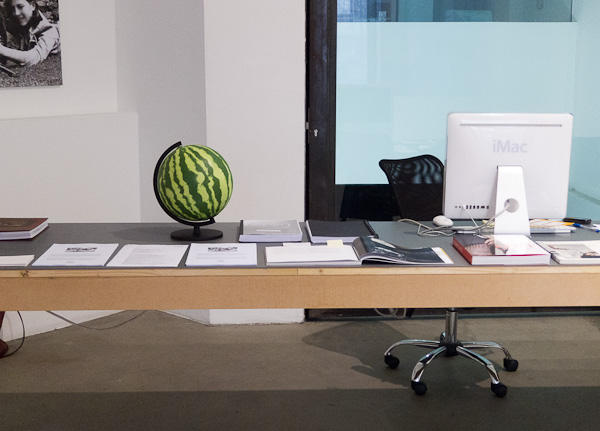 I wandered into an art gallery featuring a show by an Italian woman whose current motif was round watermelons. They even had a melon/globe on the desk.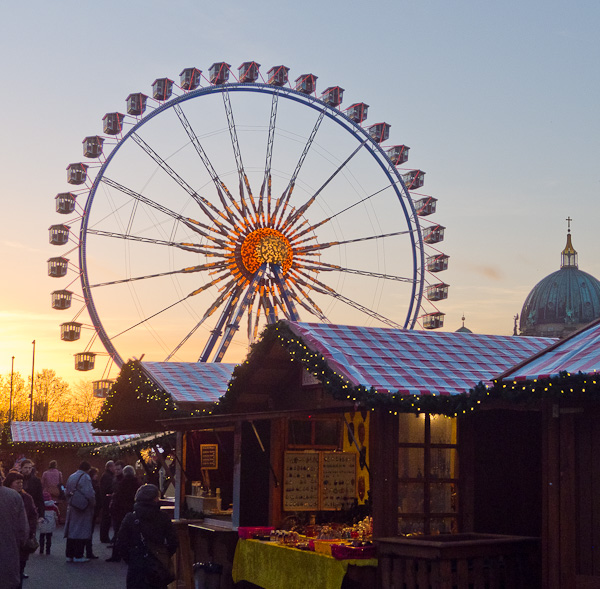 The big Wheel at the Christmas market near our hotel. Der grossen Rad. The Berliner Dom in the background.
We went to another Christmas market, this in the Gendarmenplatz, one of the more elegant squares in Berlin with, I think, three separate cathedrals on it, also a concert hall. The Christmas markets are mostly about food, as opposed to being about classy, crafty decorations for your tree. This one restaurant had set up an enclosed dining room, heated, and with a transparent roof. A real treat.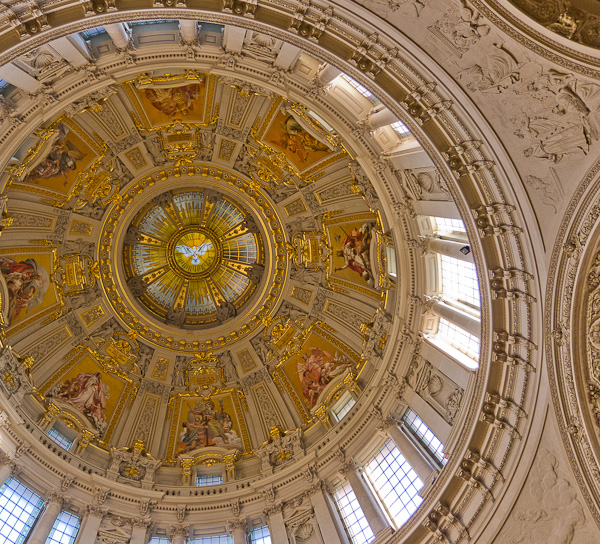 Looking up into the dome the awesome Berlin cathedral, that Berliner Dom…it's a Lutheran cathedral, meant to be a match for the Catholic ones. I love how the great dome's circles work together in this kind of image. Mathematics on parade.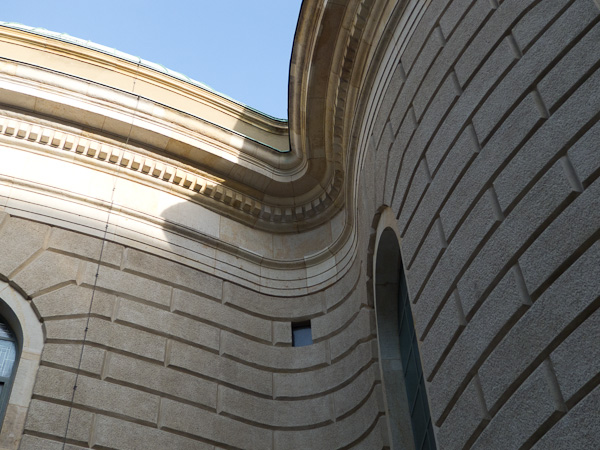 The round church of St. Hedwig has lovely curves. In the future, we'll grow our buildings and everything will be like this.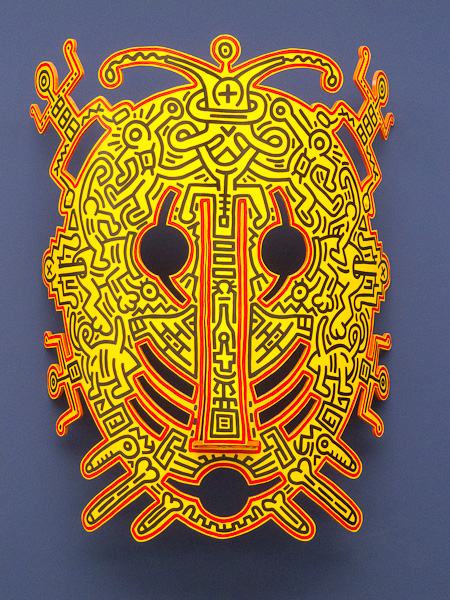 Berlin has many museums. As Berlin was, for a time, two separate cities—East and West—many standard cultural institutions, like museums, concert halls, and opera houses, are duplicated, one for each half.
This one museum is in the old "Hamburg train station," and it has contemporary art, including this great eight-foot-tall mask by Keith Haring. I think it's the best of his works that I've ever seen. Wonderful cafe in this museum as well.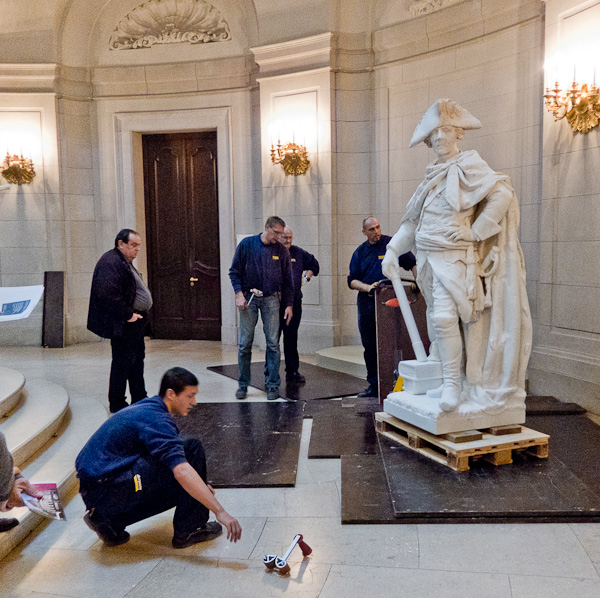 I like these guys moving around a statue of some high-level guy. Kind of a metaphor for…something.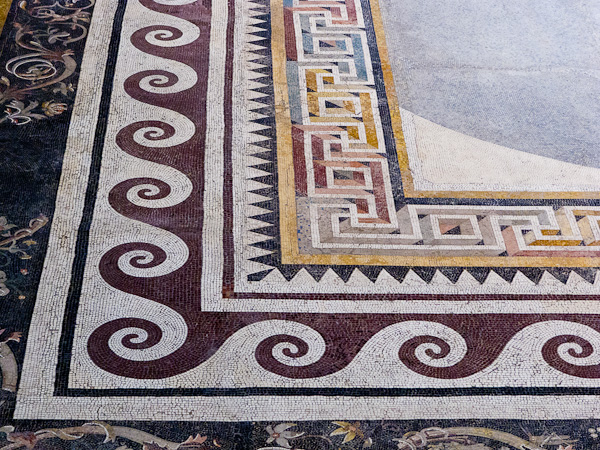 In the Pergamon museum we looked at some Greek antiquities, including this tiling of a floor. I like how the square forms in the inner ring do a visual reversal like a Necker cube. And the wavy yin-yang nested scrolls on the other ring.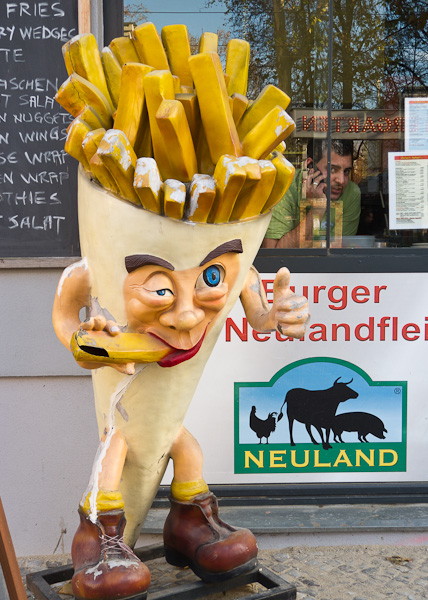 We went to a residential neighborhood where lots of young parents live. I always like these food-people statues, particularly when they get this battered street-person look. And he's eating frags of his own brain. Fry-brain.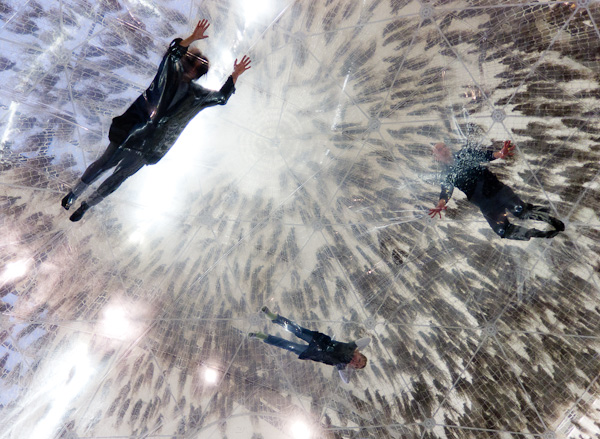 The Hamburger train station museum had a special installation of big inflated plastic domes by an artist. This one had two levels, and I went inside to look up at the people on the next level. Very spacy.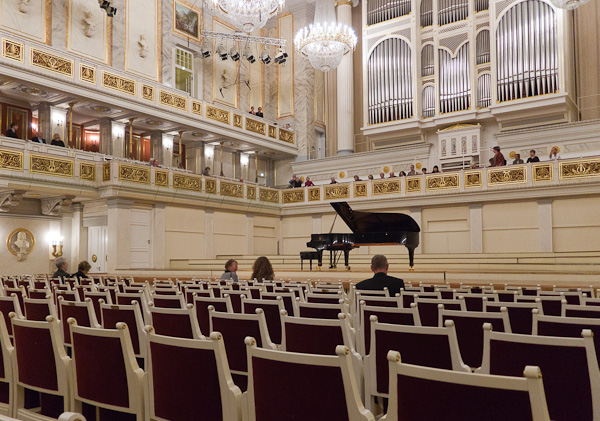 We saw a piano soloist in the concert hall off the Gendarmenplatz square. The inside of the hall was insanely elegant, like Viennese pastry.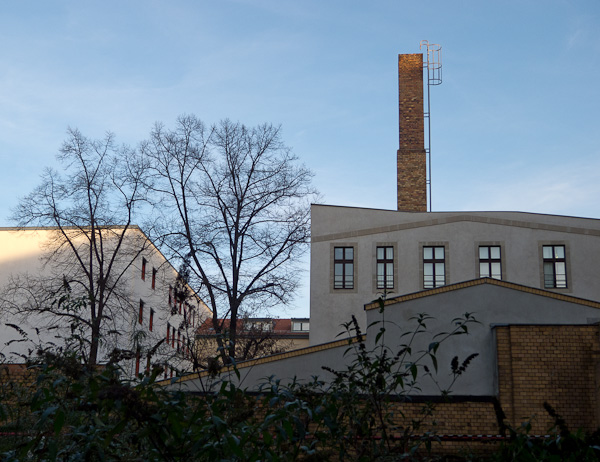 One day we rode an urban-rail train a few miles out of the center of Berlin, going deep into the old East zone. The buildings in the East zone have this very solid, utilitarian look.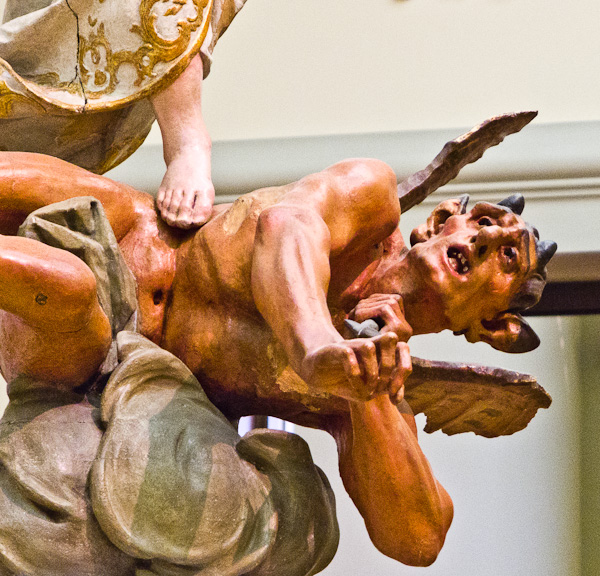 A cool old statue of a devil seen in a museum. As seen in artworks, devils always seem to be having more interesting lives than angels. I think an angel is in fact standing on this guy, but he's making some plans anyway, sleazy city slicker that he is.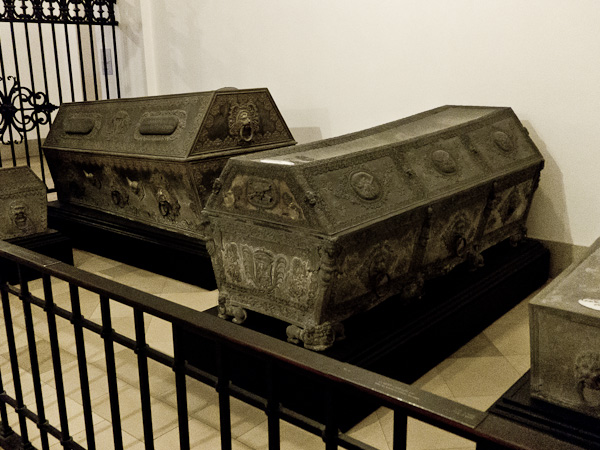 The basement of the Berliner Dom is this, like, living-room or non-living-room filled with giant, ornate nineteenth-century caskets for members of the then-ruling families. Kind of a horrible place, deeply creepy.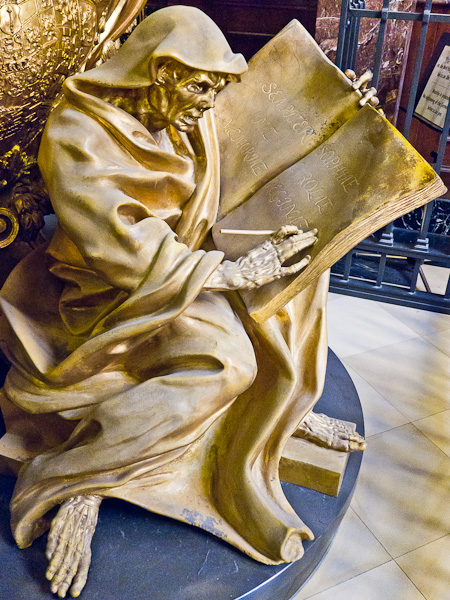 A statue of Death perches at the foot of one casket. "Oh, here's your name. Got your spot all set for you here."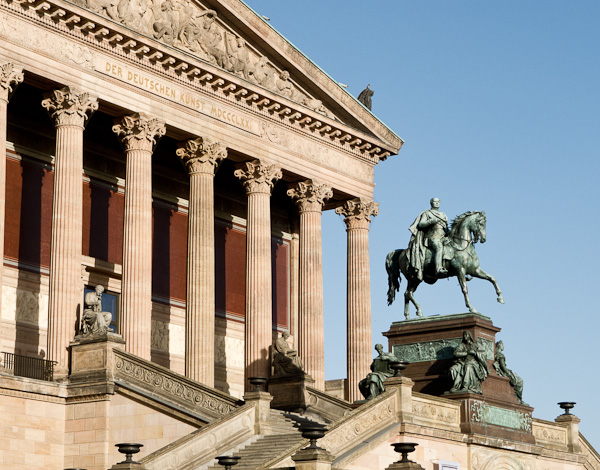 A seriously classical-looking museum on the Museum Island. I love this kind of extravagent stuff. To hell with that 1950s-1960s "less is more" crap. More is more.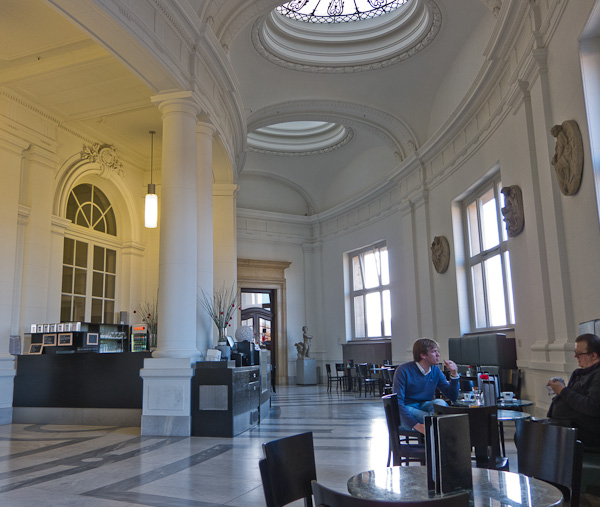 We wandered into this cafe of the Bode museum on the Museum island. Monumental European luxury, a marble-columned cafe with a hundred-foot-high ceiling. And marzipan cake. And hardly anyone else there.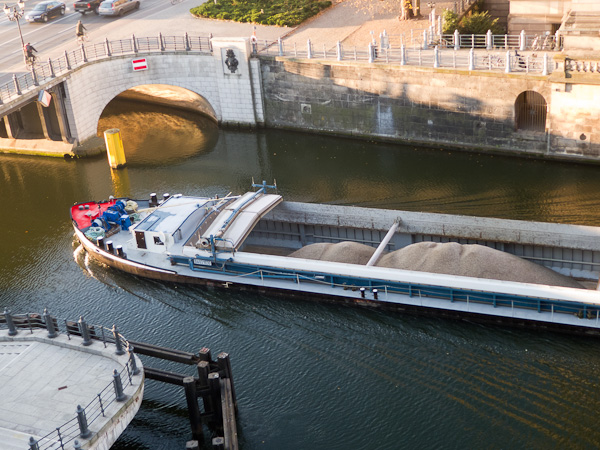 Looking down at the Spree River from our hotel we could see an occasional barge chuffing by.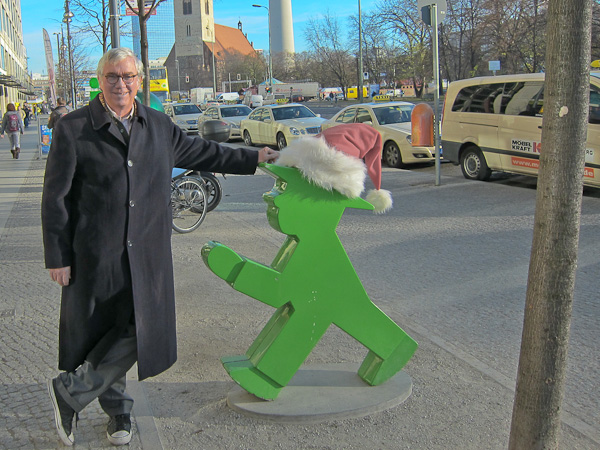 The East Berliners had their own icons for the traffic lights, including this "Ampelman" or "Traffic Light Man." He's kind of a mascot of the city now.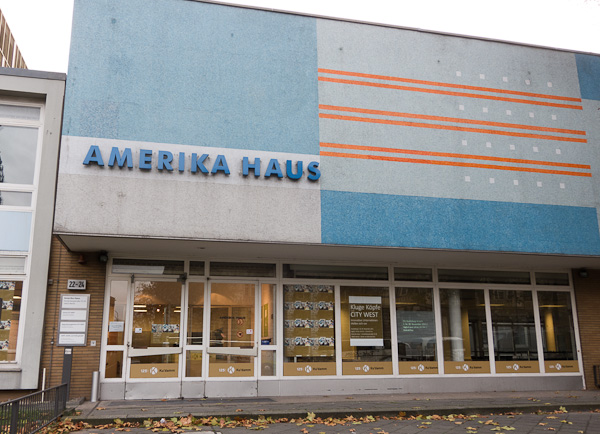 Wandering around town we passed a weathered old Amerika Haus or "America House." These are libraries with American books and magazines, in English, set up in the 1950s to promote a sense of unity with the US. They all looked exactly like this one. When I was a boy visiting my grandmother in Hannover, Germany, I liked to go to the local Amerika Haus to get science-fiction books.
I still remember finding a story anthology with a tale about a guy who goes to a lecture on the fourth dimension and dozes off during the lecture to find himself surrounded by sentient higher-dimensional spheres. I don't remember how that story ends. Maybe the guy gets a Ph.D. in mathematics and becomes an SF writer!