I'm just back from a nearly month-long trip to Australia with Sylvia. It was, in part, an academic speaking gig. We were in Melbourne, Sydney, Cairns, and the Great Barrier Reef. I'll blog some of my travel notes and trip photos over the coming days.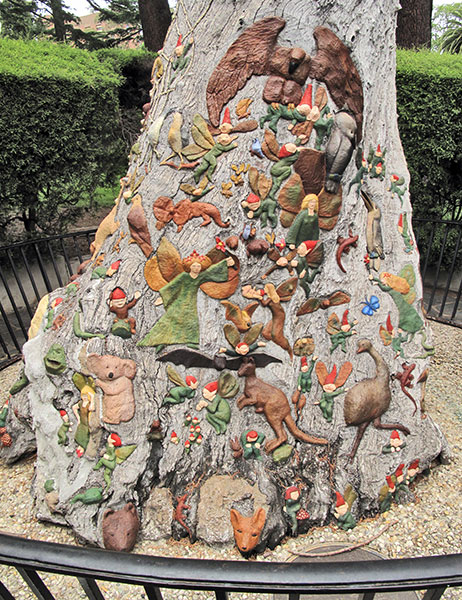 [Carved "fairy tree" in Fitzroy Park in Melbourne.]
Flying into LA at night on the trip down was impressive. It's an image I've seen in films, the great grid of lights— but to be there in person felt…epic. In a plane you can also look straight down and sense your height—it's not just a panoramic view. You're embedded and, to some extent, at risk. I was thinking of all the things people were doing down there at that very moment—eating, watching TV, fucking, getting high, arguing, with one or two even in the process of dying or being born.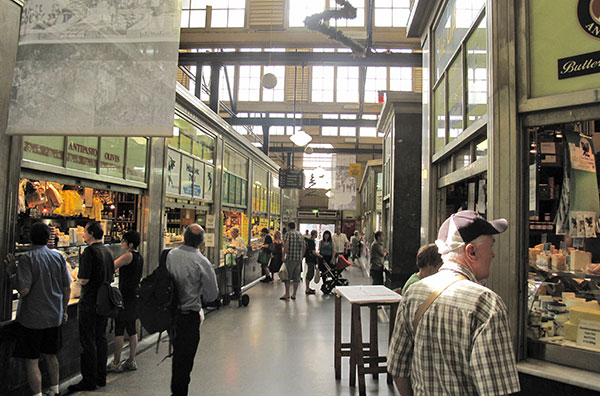 [In the Victoria Market buildings in downtown Melbourne.]
We left on Tuesday and arrived early on Thursday morning, thanks to the International Date Line. We've been busy Turing ants the last two days, leaving trails hither and yon, scavenging scraps of food, culture, shopping. In some ways it's like the U.S., in that it's a young country, but there is a European feel as well. In the downtown part of Melbourne, there's quite a few impressive old stone buildings, and an old shopping arcade with a tiled floor and a fancy ceiling. Indeed, many of the blocks have interesting little alleys or "laneways" cutting them in half, often with cafes on the laneways.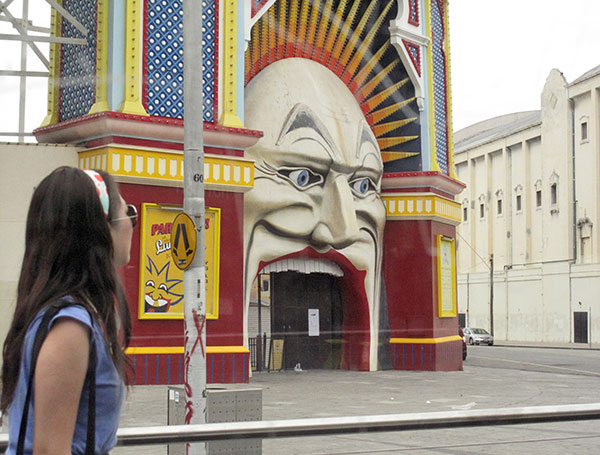 ["Luna Park" amusement park entrance in St. Kilda district of Melbourne.]
The city of Melbourne is pretty big, 3 million, and there's many faces to see. Many fair British types, but lots of Chinese and Vietnamese, and some Indians and Indonesians as well. Some of the Brits are pasty and lumpy, but many are handsome or beautiful. From 1901 to 1973, the country had a "White Australia" policy of excluding non-white immigrants—ironic, of course, in the face of the fact that the Aboriginal natives are dark-skinned. You hardly see any Aboriginals in the cities of Melbourne and Sidney by the way—they seem to live up north or in the central and western deserts.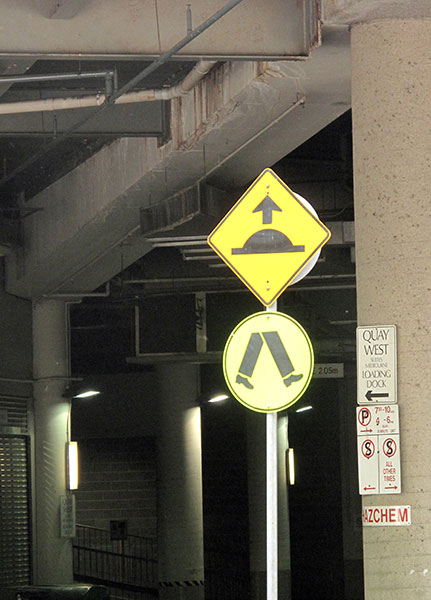 We rode a streetcar to a funky beach suburb, like Santa Cruz but grottier and bigger. St. Kilda. At the beach it was 100 degrees Fahrenheit and the bay water was listless and utterly flat, with dead blue jellyfish on the shore. We had a nice lunch in a beachfront place, glad to be in some air conditioning, I had a Pacific fish called trevalley, it was good. After lunch we went wading and suddenly a squall was whipping up waves and blasting us with blowing gritty sand. The wind was maybe 70 mph, with some rain in it, and we all hid inside. And then the squall was over and in that half hour, the temperature had dropped to about 75. The Australians didn't seem surprised.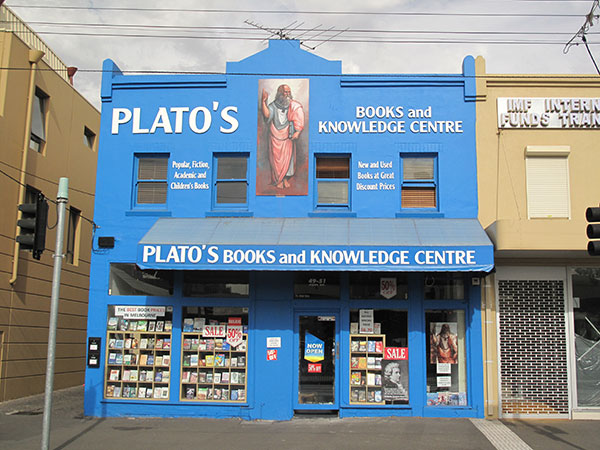 It's interesting to keep on exploring the city. Cities are like fractals, or like Nature herself—as you delve deeper, you keep on finding new details. We were in Melbourne so long—eleven nights—that it started to feel like when I spent a semester in Brussels a few years ago. It moves beyond sight-seeing and becomes a matter of living in a new place.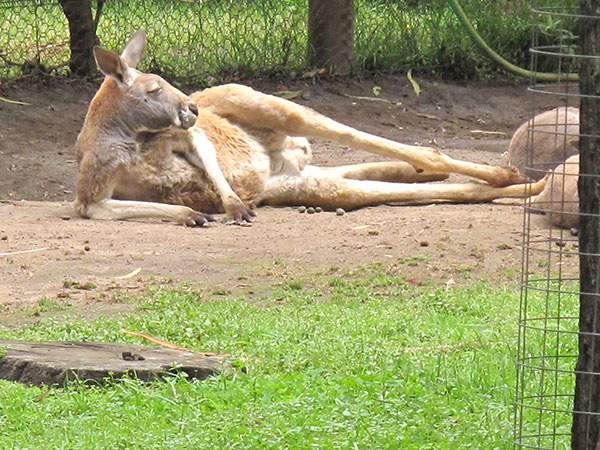 [Kangaroos lie on their backs and scratch like dogs.]
Being on vacation, at first I didn't feel too much like writing, which means that I felt a little blank. Writing wakes me up, centers me. But not feeling compelled to write is kind of relaxing. Like I've retired from life.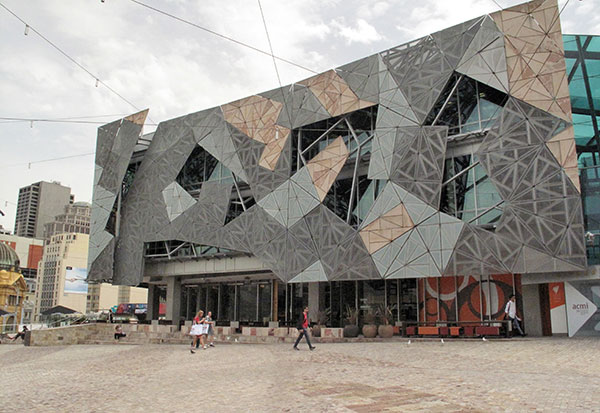 [Federation Square is cool.]
We're sight-seeing, doing things like having a chai latte tea at the Riverland pub terrace between the Yarra River and Federation Square. The teapot is full of pods and seeds and leaves floating in steamed milk. I have a special sieve for straining this invigorating ichor into my cup.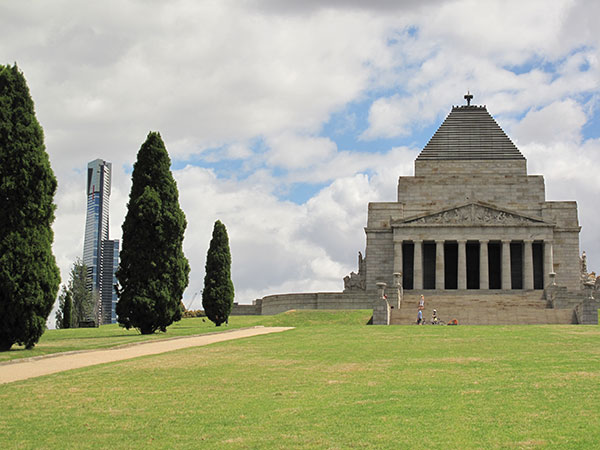 [A Shrine of Remembrance for the war dead in Melbourne.]
All in all, this is one of those trips when I don't really know what I'm doing or why I'm here. It's all kind of pointless and random, like, why am I giving these talks, and why Melbourne? Well, because they paid me to come. It's nice to be out of my normal life, with a new city and so many unusual people to see.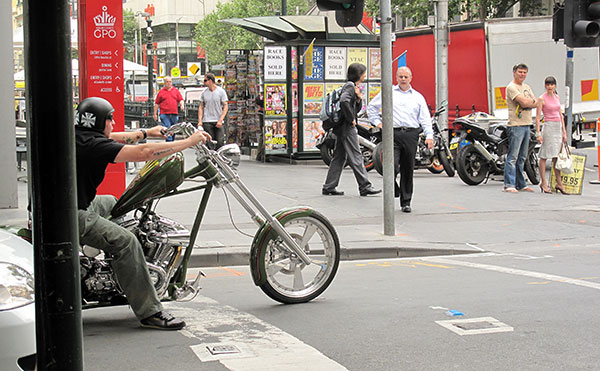 [Street scene in Melbourne.]
Everyone has been very friendly in Australia, I feel it's a similar to Canada in the sense that it's an English-speaking country that isn't so conflicted and torn by internal contradictions as is the U.S.