In order to hook up Earth with my fictional land of Flimsy in my novel-in-progress Jim and the Flims, I've been thinking about using an STM (Scanning Tunneling Microscope) to poke a hole in an atom or, even better, into an electron. And this produces a tunnel to an alternate world. Simple!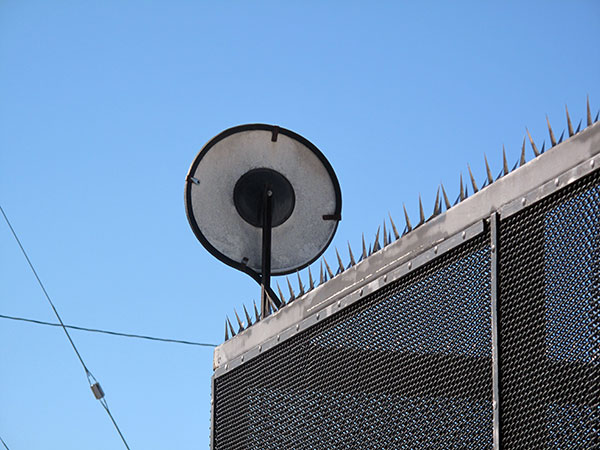 Really you'd need some SFictional way to amp up the power of the thing—maybe I fall back on that hoary SF-movie expedient of a well-timed stroke of lightning on a nearby power pole. I see this happening on some slacker's hobby porch, not in an intergovernmental lab. I gather that it's possible to build your own STM at home.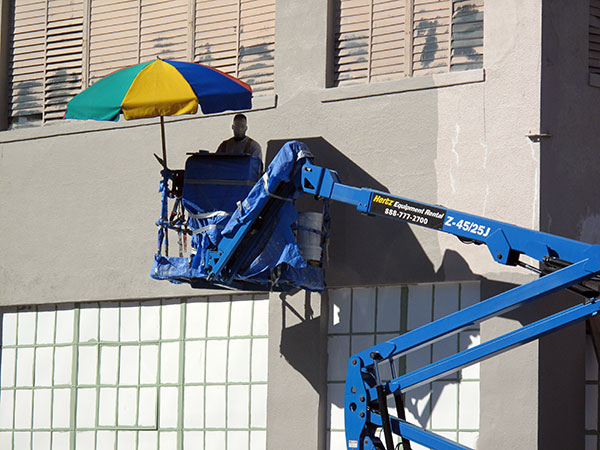 Somehow he's virtually riding on his picometer needle and … Zzzzzt!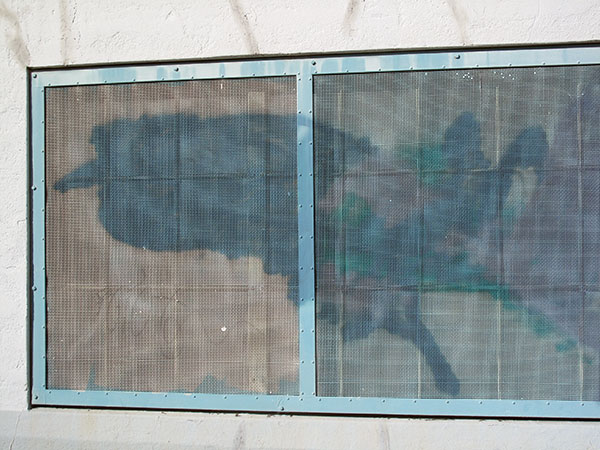 There's some nice STM pictures on the IBM Almaden Labs site. (The photo above shows the results, however, of San Francisco graffitti removal, not the machines at IBM.)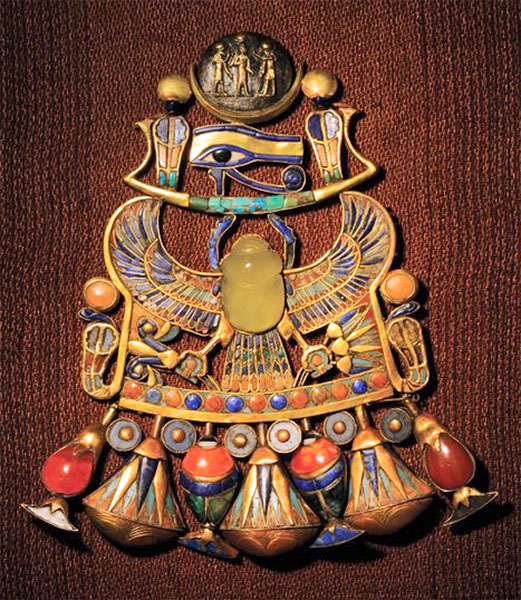 Photo by Kenneth Garrett, Copyright (C) 2008, National Geographic
We went to see the King Tut show at the De Young Museum in San Francisco this weekend. It was a good show, with some gorgeous things. I loved this "pectoral" or necklace.

[Photo from www.suite101.com, Credit: Credit: Egyptian Museum/Andreas F. Voegelin]
Even better was the gilded coffin of Tjuya, who may have been Tut's mother-in-law. Ride the boat to heaven.
I pick up cultural associations of the 1920s and 1960s when I look at Egyptian art. Howard Carter discovered Tut's tomb in the 1920s—I just read Carter's fascinating account of it in a Dover reprint called The Discovery of the Tomb of Tutankhamen—this is a great little book. And in the 1920s there was a fad for Deco and Egyptian stuff.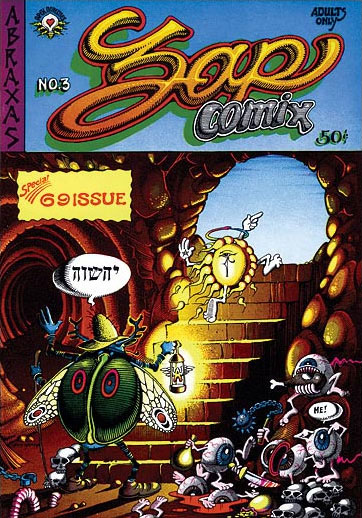 [Art by Rick Griffin for Zap #3, (C) Rick Griffin]
The psychedelic rock posters and cartoons of the 1960s often used to feature flying scarabs—I think particularly of the work by Rick Griffin.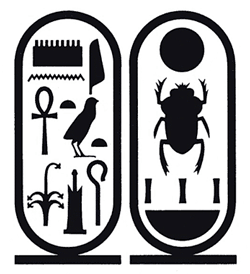 [Found on Wikimedia Commons.]
This pair of cartouches contains the hieroglyphic signs that render Tutankhamen's name. I'll give an explanation that's partly or even largely wrong. (A cartoonist named Chris Cooper has posted a more accurate illustrated essay about Tut's name.)
The cartouche on the left is his more informal name, Tut (chicken) + Ankh (hippie cross) + Amun (earth, air, and sea) and under that a Crook for Ruler, an On (butter churn?) for the city Heliopolis, and a Papyrus plant for Upper Egypt, or Thebes. The cartouche on the right represents his throne name, "Nebkheperura." Here we have Ra=God (sun disk) + Khephri (Scarab) + Neb (Basket, stands for All).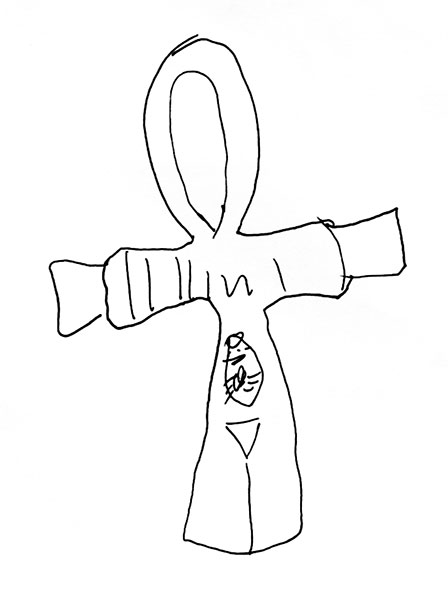 Sylvia pointed out that one of the ankhs on display had a woman's lower body sketched on it, right below a Nebkheperura cartouche. I'd never thought of the Ankh that way.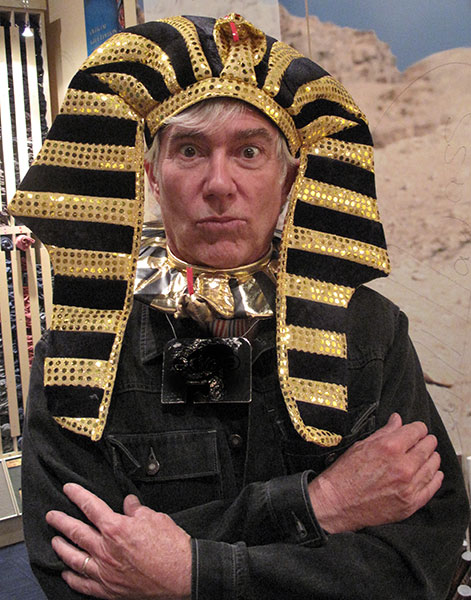 It felt so weird to come out of the tomb-like show into the museum shop, three thousand years later, and a half a world away from Tut's tomb and everyone is imitating Tut and taking pictures.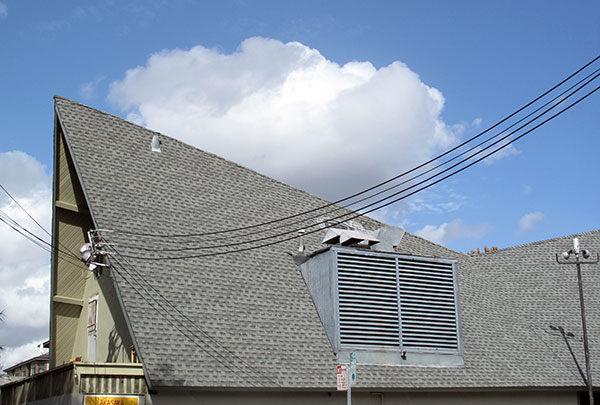 [Sarcophagus-like Scanadavian pancake house on Telegraph Ave. in Berkeley, converted to a sushi resaurant.]
Certainly there should be some Egyptian stuff in my fictional land of Flimsy. A flying snake. A great scarab. But maybe in a diner.