Now and then aspiring screenwriters tell me they'd like to do a script of my novel Software. I encourage them, but don't enter into agreements with them — the guys I want to make agreements with are, of course, producers. I definitely don't want to p*ss away time collaborating on spec scripts. I prefer to p*ss away time making complicated web pages!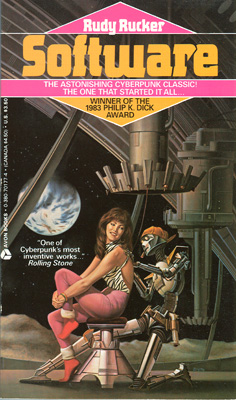 Here's one of my favorite covers for Software (Avon 1987), with a classic-type robot tuning up a cute android-type robot. Not a scene that's actually in the book, but, hey, it should be.
Software was in fact under option for the last ten years of the 20th Century, and I have eighty pages of journal notes about this experience, including three unsuccessful Software treatments I wrote during that period. And today, just for the hell of it, I decided to post this info as: Software in Hollywood (1990 – 1991).
Do note that the film rights for Software are presently available.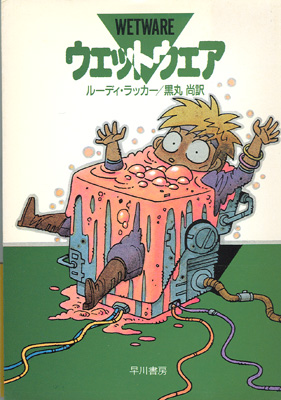 Like Software, Wetware won the Philip K. Dick award; I think I'm still the only person to get that award twice. This is the Japanese cover; just about all my science-fiction was translated into Japanese in the 1990s. I like this image a lot, it picks up on thing about couples soaking themselves in "love puddles" filled with a drug called merge.
Unfortunately Wetware is a little hard to find these days, I think Avon let it go out of print. This was maybe the most cyberpunk of the Wares. Some other guy wrote a book with the same title a year or two ago, not to be confused with mine. I was annoyed when that happened, and to make it worse, his publicity said something like "in tradition of writers like Philip K. Dick…" If they're gonna lift my title, what would be wrong with saying "in the tradition of Rudy Rucker…"?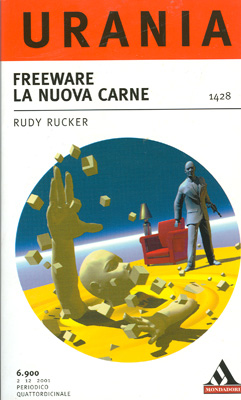 I've had a good run in Italy lately, here's the Italian Freeware. What seems to happen with individual countries is that someone will get hip to my work, and most of my books get translated over a period of five to ten years. Germany did me in the Eighties. France seems like it might be starting up.
The film rights to Freeware are under option to Multiversal Entertainment.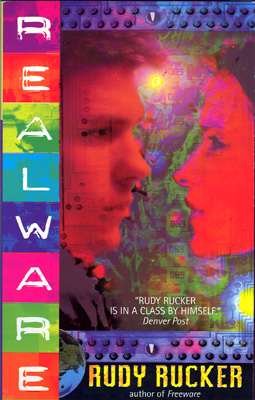 Last in the Ware tetralogy is Realware. Will I ever write another Ware? Probably not, but you never know. Right now, I wish Avon would publish the four together in a single massive volume, but I don't think they want to bother.
Re. Hollywood, my best shot these days is that Michele Gondry wants to make a movie of Master of Space and Time, which he's optioned. I talked to him a little about it, and he's pretty encouraging. We'll see.